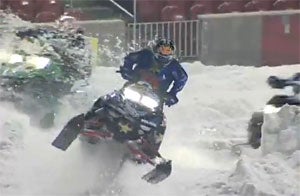 Where would we be without YouTube? The world's favorite Internet video portal is a great place to watch a variety of snowmobile action, including highlights from the AMSOIL Championship Snocross Series event in Sandy, Utah on Jan. 9.
We've actually got two videos for you. The first looks professionally done and features great snocross action from Rio Tinto Stadium. Besides confusing Polaris racer Ross Martin with Team Arctic's Tucker Hibbert, it's quality stuff. The footage is quite good and clearly comes from a trackside camera. Check it out after the jump.
Get the Flash Player to see this player.
The next video from the Utah event comes from a handheld camera far up in the stands and features freestyle action from the team at Slednecks. The camera work is a little shaky, but most of the trick are captured.
Get the Flash Player to see this player.