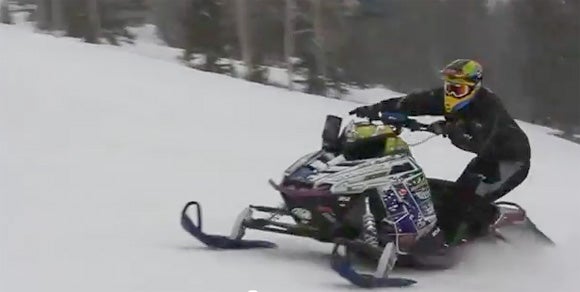 Even for mountain riders, the snowmobile season is coming to a close. This weekend marked the penultimate round of the Rocky Mountain Snowmobile Hillclimb Association (RMSHA) – the Beaver Mountain Hillclimb in Logan, Utah.
Get the Flash Player to see this player.
Keith Curtis was the man to beat to beat on the weekend, winning the 600 Stock, 800 Stock, 800 Improved and 1000 Stock classes, as well as the Stock King title aboard his 2012 Polaris Assault.
Other notables included Erin Beukelman (Polaris), who earned wins in 700 Improved and 1000 Improved, along with the Improved King title, while David Sharp Jr. (Ski-Doo) won the 800 Mod class, multiple podiums and the Mod King title, and Cody Burningham (Polaris) topped the Semi Pro Improved class and took home the Semi Pro King crown.
The event also spawned a cool time lapse video, which you can see below the jump.
http://vimeo.com/39980772