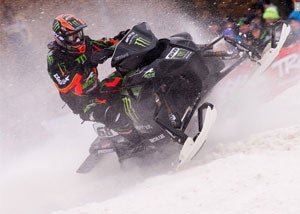 After agreeing to a broadcast deal with UStream in August, the ISOC has announced another major broadcast deal. All 16 rounds of the 2012-13 AMSIL Championship Snocross Series (ACSS) will be featured on CBS Sports Network.
"We can't even begin to explain how monumental this deal is for the entire snowmobile industry," says Carl Schubitzke, director of operations and racing for ISOC. "CBS Sports Network is synonymous with excellence in terms of sports broadcasting and everyone at ISOC is pumped to be on board with such a professional organization, with a broadcast heritage that's second-to-none in the industry."
Beginning with the ACSS season opening round in Duluth, Minn. (Nov. 25-27) and running through the season finale in Lake Geneva, Wis. (March 16-18), CBS Sports Network will broadcast 16 half-hour race shows – all in HD – on Sundays at 10:30 a.m. EST. The AMSOIL Championship Snocross – as an added bonus – will also air in an evening repeat of each show during the week.
CBS Sports Network's coverage of the 2012-'13 AMSOIL Championship Snocross Series begins Sunday, Dec. 30th, at 10:30 a.m. EST.