Ski-Doo Racing Report: Duluth National Snocross

Ski-Doo racers put together what can only be described as a dominating performance at the ISOC snocross series opener in Duluth, Minn. With four Pro and Pro Lite classes up for grabs, Ski-Doo racers took wins in all of them.
Robbie Malinoski had a phenomenal weekend as he led the Ski-Doo/Scheuring Speed Sports podium sweep in Pro Open Sunday afternoon, adding to his Saturday night win and establishing a substantial points lead. Having a great weekend of his own was defending Champion Tim Tremblay who claimed a third on Saturday and second on Sunday with rock solid rides every time he hit the racetrack. Completing the Sunday sweep was Darrin Mees, who claimed his first Pro podium in third, backing up an eighth-place run on Saturday. Everyone suspected the Scheuring Speed Sports team would be tough and saw the potential for a podium sweep, but most wouldn't have expected it so early in the season.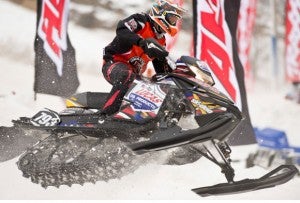 In the Pro Lite class David Joanis brought home the gold on Saturday and Renaud Alexandre took care of business on Sunday, with Dylan Hall covering second position, to complete the Ski-Doo Pro class sweep.
New to North America as a racer, Marica Renheim came over from Sweden with brother Adam when he joined the Warnert Racing team as a Pro rider. Marica put on a show in taking the Pro-Am Women's class – she'll be one to watch, for at least one more round unless she cancels plans to return home at Christmas.
In the hotly contested Sport class, with over 100 entries both days, Jesse James Bonaduce put together a flawless ride and race win on Saturday.