When the green flag drops on the 2013 snowmobile racing season, Drift Racing will be on the gas and at the front thanks to a growing team of racers and crew. From its high-tech race wear to its ultra-warm jackets and pants, Drift gear will help its athletes reach the top in snocross, oval and cross-country with everything from grassroots Junior class riders to multi-World Champions.
"Racing and high-performance riding is built into the DNA of Drift Racing," said Tom Schaefer, Drift Gear supervisor. "Our gear is inspired by the passion to win shared by all of our racing partners and fans."
Look for the newest Drift Racing gear on these racers and teams in 2013: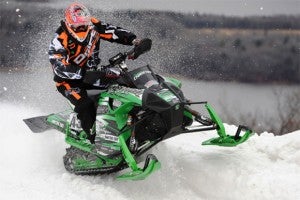 Christian Bros. Racing – The Christian Bros. team hits the snocross and cross-country circuits with huge talent and proven champions. As the ISOC Snocross Team of the Year, CBR is poised to be on the podium with pro's Logan Christian and Garth Kaufman; Junior ripper Evan Christian; plus Tyler Adams, who is new-to-CBR-for-2013 and notched a Junior class victory at last year's Eagle River Snocross event.
The CBR cross-country juggernaut will return as the undisputed leaders this season, having captured five Pro 600 class victories (out of six) last season. They are led by two-time defending high point champion Ryan Simons and D.J. Ekre, and will be joined by newcomer Zach Herfindahl, who rose to the top of Semi Pro classes last season.

Read more