Zach Herfindahl wrapped up his successful rookie Pro cross-country racing season with two more podium finishes at the USXC Warroad 100. A rough race course along the shores of Lake of the Woods in northern Minnesota challenged all riders, but Herfindahl fought to a second-place finish in the 100-mile Pro 600 race and a third place spot in the 40-mile Pro Open event.
"I had a good weekend," says Herfindahl. "I wasn't far behind the winner in both races so I feel good about the two podium finishes."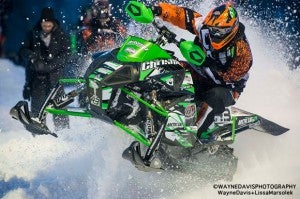 While the cross-country team was busy in Warroad, Logan Christian, Evan Christian and Tyler Adams were hard at work chasing podium spots at the ISOC RAM Trucks Snocross going on at Buffalo River Race Park in Fargo, ND. During Friday's racing Logan went 3-3 on his DRIFT Racing/Troy Lee Designs Arctic Cat and finished sixth in the final. On Saturday he went 3-1 and in the final was in second place after the first turn when he was run into by another rider resulting in his running board getting pushed into the tunnel, the pipes getting dislodged and a broken chain case.
"Getting run into was a big bummer," says Christian. "I was having one of the best race days of the season. I had a great start, we were dialed in for the track and I felt like I could have won that race."

Read more