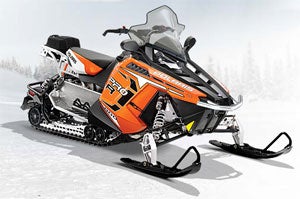 The 2012 Polaris Snow Check Select early order program offers riders more sleds and more choices – but they're only available for a limited time.
A snowmobiler ordering a new 2012 Polaris through Snow Check Select can select features such as the sled's windshield height, accessories, and on selected models, the engine, sled color, convenience features, track and seat.
Available exclusively through Snow Check Select is the 800 Rush Pro-R LE, a limited-edition model with ultra-performance Walker Evans shocks, a deep-lug Cobra track, Rox adjustable handlebar riser, exclusive graphics package (with two exclusive color options), trellis-style storage rack and a personalized nameplate.
"We designed Snow Check Select so Polaris riders can order their new sleds with the exact equipment and style they want," says Scott Swenson, VP of the Polaris Snowmobile and PG&A Division. "They'll take delivery of new sleds with their choice of performance, comfort, convenience and graphics."

Read more