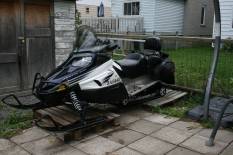 2010 Arctic Cat TZI LXR SOLD
TOP OF THE LINE LUXURY SLED
Year : 2010
Color : white/blue Metallic
Mileage : 400 Miles
Location : Cornwall, ON, CA
Price : $ 10,400
Product Description
Don't follow the pack. Lead 'em with the best of the best in touring. Stand out while beating them to the punch on the frozen tundra with the TZI LXR. It's as unique as it is powerful, making it a force to be reckoned with in the realms of style and performance. The "Body-Saving Ride Technology" goes that extra mile with a rigid Twin SparTM chassis, and adjustable IRPTM to customize your ride. The rear suspension will make that wintry journey one that you won't feel later. Lastly, touring bags, a digital gauge and a detachable passenger seat show anyone on the trail that you're a leader, not a follower. Dual halogen [4-bulb] Headlight, UHMW plastic Saddleless Ski Material, Digital/analog tachometer, Digital/analog speedometer, Dual stage trip odometer, Electric gas gauge, Low oil light, Coolant overheat light, Electric Start, Remote electric start, Push-button reverse, Mirrors, High/low hand warmer, High/low thumb warmer, Heated driver and passenger seats, High windshield, Detachable passenger seat, Rack, 3 storage bags, Passenger handwarmers, Passenger wind deflectors, Adjustable backrest, Accessory outlet,Deluxe clock. Brakes: Hydraulic Disc
Front Suspension/Shocks: AWSTM VII double-wishbone A-arms with FOX® Zero Pro IFP shocks and sway bar
Rear Suspension/Shocks: Slide-action frame with coupling blocks, adjustable torsion springs and hydraulic twin tube front-arm shock, 2" dia. rear-arm shock, fiberglass overload, Torque Sensing LingTM rear arm
Track Length X Width: 144.00 x 15.00 in.
Lug Height: 1.25 in. Purchased new in fall of 2011; lady/owned & driven only 1 winter;Sled is in MINT condition and only issue is that it is too much machine for me. I have to downsize.
I have added a front sports bumper. ice scratchers, new spare belt and custom cat cover.
New list on this sled before taxes is $14,999 sacrifice price@ $10,400 neg.
Thanks for looking


Insurance Quote

Insurance is an important part of owning any Snowmobile. Compare Snowmobile insurance rates and policies with free no-obligation online quotes. Snowmobile Insurance

Trailers

Looking for a solution to haul your snowmobile? Compare snowmobile trailers with our comprehensive snowmobile trailers buyer's guide. Snowmobile Trailers