2018 Arctic Cat ZR 200 SOLD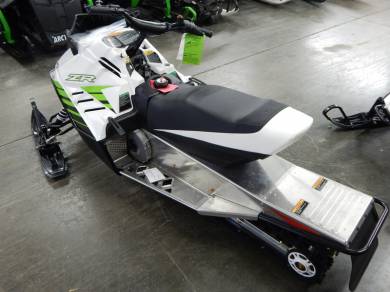 Year : 2018
Color : White
Location : Big Bend, WI, US
Price : $ 3,749
Product Description
BRAND NEW YOUTH SLED!

2018 Arctic Cat ZR 200Features may include:
The headlight on the ZR 200 offers a low beam and high beam. Go from seeing down the trail to seeing way down the trail with a flick of a switch.
This 192cc, fan-cooled, 4-Stroke engine puts out 9 HP of memories. The power your little rider wants and the reliability you need to keep them riding.
The Arctic 200 drive system gives you the performance traits of any of our full-size snowmobiles. With a fully-functional primary and secondary clutch, you will not only feel that top end, but also the low and mid-range this machine offers.
Say goodbye to cold hands. Our new hand warmers provide plenty of warmth for your little racer.
Bumpy trail? No problem. The ZR 200 front suspension provides excellent bump absorption with hydraulic twin tube shocks.
This snowmobile may be small, but it provides big comfort with a slide-rail suspension that utilizes an adjustable torsion spring and coil-over rear shock.
When it comes to brakes, Hayes knows how to keep the fun going. With a hydraulic brake grabbing a disc on the driveshaft, you can focus more on the going versus stopping.
Its like sitting in a cockpit of an F14 fighter jet. Ok, maybe not, but you do have everything you need right at your fingertips. High and low headlight switch, hand warmer switch, ignition key and choke.
Like the ZR 200 itself, this LED taillight is smaller but still packs a big punch. The taillights bring out the visibility on the trail and let people behind you know when you are stopping.
93-IN. COBRA TRACK WITH 1-IN. LUGS
Featuring a cupped lug design for superior handling, acceleration and braking on soft, loose trails. Want more? This track has got it. Its traction teeth give you extra grip on hard-packed surfaces, while its 1-in. paddles provide traction on or off the trail.
Image Gallery
Company Profile
Road Track and Trail
Contact Name Sales Department
Tel 262-662-1500
Fax 262-662-2009
Address W228 - S6932 Enterprise Drive
City Big Bend
State Wisconsin
Country United States
ZIP/Postal Code 53103