2002 Ski-Doo Mach Z - Sport 800 Triple SOLD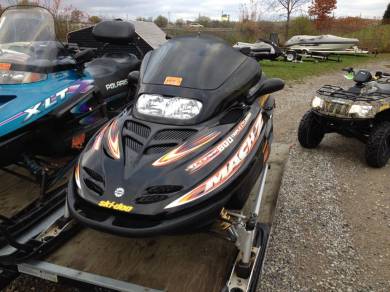 Year : 2002
Color : Black
Mileage : 3,503 Miles
Location : Mason, MI, US
Price : $ 2,750
Product Description
USED SKI-DOO FOR SALE IN DETROIT GREAT SHAPE VERY FAST READY TO RIP CALL 248-446-0000

There's no better feeling than pulling along side another sled, knowing you're faster than they'll ever be. Then leaving them in a cloud of snow dust as you race, like a bullet, into the great white open.



If you love intimidating power, you're going to fall hard for the 2002 Mach Z snowmobile. Its bad-to-the-bone personality starts with the black on black paint, and runs all the way through the snarl of the engine. Squeeze the trigger on this high performance speed machine and get your instant adrenaline fix. Because the Mach Z is all about speed. The throaty Rotax, 800cc triple/triple turns the Mach Z into a rocket on snow. The sled's high horsepower output and bulging, muscular styling let other riders know you're nobody to mess with.



From the first time the Mach Z hit the track it's been enjoying immense racing success. And so will you. This speed demon has dominated the straight-aways winning the NSSR Brainerd pavement drag 5 years in a row. What's more, the sleek, bad boy design, and bold graphics make the Mach Z look fast just sitting still.
Image Gallery
Company Profile
Grove's Motorsports
Contact Name
Tel 517-676-5667
Fax (517) 676-0205
Address 525 North Cedar Street
City Mason
State Michigan
Country United States
ZIP/Postal Code 48854