2004 Ski-Doo MX Z Renegade 800 SOLD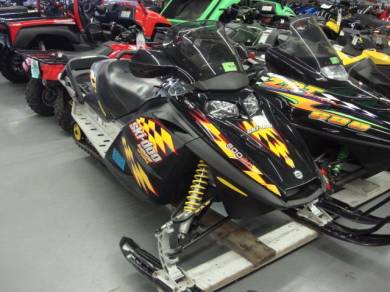 Year : 2004
Color : Deep Black
Mileage : 5,060 Miles
Location : Mason, MI, US
Price : $ 4,800
Product Description
VERY NICE 800 RENEGADE $4800 OBO CALL JOE (517)676-5667

A no compromise sled. For the rider who wants to ride in every condition: trails, bumps, or deep snow.
Today, more riders are enjoying both the thrill of cross-country riding and the rush of mountain riding. But only the Renegade has mastered the two. The new 2004 model is built on the same REV platform that has been tearing up the Snocross circuit. Which means big things for the sled thats already been applauded in the media for combining the best of both styles of riding. Without compromise.
This multi-talented machine brings the riderperfect ergonomics of the new REV platform to the trail to isolate riders from the abuse of beaten down trails. Then it uses the same superior weight distribution to help climb the steepest mountain terrain. Its whisper light frame floats over endless tracks of fresh powder. While its optimized weight distribution enables riders to boondock and sidehill easier than ever before.
The following factory installed options are available in spring only:
Electric start
1.75 in. track
Image Gallery
Company Profile
Grove's Motorsports
Contact Name
Tel 517-676-5667
Fax (517) 676-0205
Address 525 North Cedar Street
City Mason
State Michigan
Country United States
ZIP/Postal Code 48854