2188 M-139 South
Benton Harbor, Michigan
49022
269-927-6186
Get a Price Quote from a Dealer in your area
Harbor Sports and Cycle Reviews Write A Review
Do Not, Repeat Do not use this service department. Told me that my Stator was bad and it was just the regulator/rectifier. There technician does not understand that the regulator is part of the charging system and needs to go back to school (if he ever went to one. Their general manager refused to refund the diagnosis fee saying "well it's not a perfect world" Heck yeah it is not a perfect world when you hire techs that have absolutely no idea about what they are doing and do not perform diagnosis according to the shop manual. THEY NEVER TOOK OFF THE BODY PANELS TO PROBE THE CONNECTORS! They just told me the stator was bad, said the part was unavailable and had me pick up the bike. ABSURD that a general manager wold "stand behind his tech"
I HAD THREE 20 YEAR OLD YAMAHA ATV'S THAT NEEDED REPAIRS. THE DEALER FROM WHOM I BOUGHT THESE MACHINES REFUSED TO LOOK AT THE MACHINES. HE SAID THEY WERE TOO OLD AND THE DEALERSHIP NO LONGER WOULD REPAIR THEM.
BROUGHT THE MACHINES TO HARBOR SPORTS. THE SERVICE MANAGER WAS VERY HELPFUL. NO HASSLE. REPAIRED QUICKLY. VERY PROFESSIONAL.
I am part of the Service Team at Harbor Sprots and Cycle. We get you back on the Trail, Road, Track or Water right now.

Polaris Snowmobiles, ATV's and UTV's

Honda ATV's, UTV's, Motorcycles, Power Equipment, Generators

Sales and Service
Featured Snowmobiles
Most Popular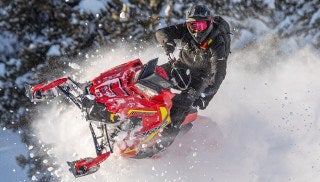 Polaris Working on Turbocharged 2-Stroke Snowmobile Engine
Find a Snowmobile Dealer near you
Enter your ZIP code below to search for Snowmobile dealers near you.