Porter's Toys For Big Boys
1723 16th Ave W
Brookings, South Dakota
57006

Get a Price Quote from a Dealer in your area
Porter's Toys For Big Boys Reviews Write A Review
Terrible employees at this dealership. Owner has no idea how to run a business. Bought a 4wheeler from them; yes they made a good deal but showed no gratitude to me at all when I went to pick it up. Didn't even get a thank-you.
Took my sled in to get it fixed - owner said it would take a day or 2. After 3 days I called them and they still hadn't even looked at it. Waited for another day and I called THEM again and they said the mechanics were out of town until next week. Picked up the sled and called them out on it. They just laughed and didn't even say sorry for the mistake. I have NEVER dealt with a dealer that treated me as bad as these guys and I will never be going there again.
I purchased a 2013 Sportsman 550 with plow blade.
Had some issues with winch and starting the ATV. Personnel gave me a different option on winch, limit switch, and I suggested different blade. Communication is terrible. Did not return phone call, when they said they would get back with me. Seems to be lack of communication among employees. Work not getting done when they said it would. Just bought a brand new machine and I feel like I'm a bother. I don't sense any emphasis on service and customer satisfaction. If I feel like I'm a bother, whether I purchased anything or not, there is a problem here. I suggest to not use this dealer.
Featured Snowmobiles
Most Popular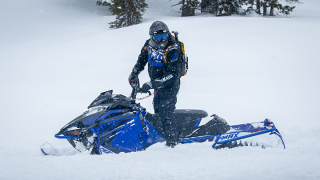 Yamaha to Stop Producing Snowmobiles
Find a Snowmobile Dealer near you
Enter your ZIP code below to search for Snowmobile dealers near you.