2001 to 2011: Yamaha's Decade of Change
A decade ago Yamaha was just another two-stroke sled builder
Story by Jerry Bassett, Photography by Jerry Bassett & Yamaha, Apr 08, 2011
Can you believe that we are already just over a decade into the new century? Does it seem like things have gone quickly? Snowmobiles have four-stroke powerplants pushing 200-horsepower in packages that weigh less than 700 pounds fully fueled. When you compare a 1960's vintage sled to a modern 2012, it seems as though snowmobiling has made major changes in technology. One snowmobile company has made a complete reinvention of itself in less than a decade.
In 2001 Yamaha had yet to produce a production four-stroke snowmobile. In fact, the hot sled for Yamaha was the SRX 700, a high-performance three-cylinder two-stroke. One of the company's top-sellers was the Viper 700, a slightly less potent trail hot rod that retailed for US$7,399.00 in early 21st century dollars. But there was no four-stroke, although there were rumors of Yamaha working on one. The RX-1 with its R1 motorcycle-based four-cylinder, four-stroke motor would break cover the following year. And the rest is Yamaha four-stroke history as now all of its trail snowmobiles are powered by Yamaha four-strokes.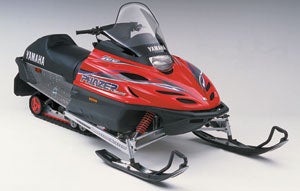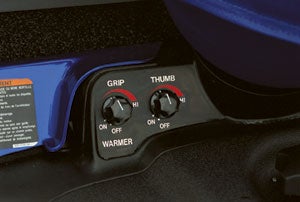 At the turn of the century there were four-stroke powered sleds. Arctic Cat used a three-cylinder 660cc Suzuki-built micro-car motor to power its 4-Stroke Trail as well as the 4-Stroke Touring. Arctic Cat claimed they had delivered the "…first 4-stroke snowmobile from a major manufacturer." The new Cat was said to deliver 20 to 25 miles per gallon with reduced emissions while being extremely quiet in its operation. We wouldn't dispute the claim, but few snowmobilers pounded in the overhead doors at Arctic Cat dealerships to get them.
The purpose of the 4-Stroke Trail and Touring models was more political than sales. Arctic Cat promoted the 4-Stroke model as a sled that could be used in Yellowstone Park by tour operators who were being beat up by environmental groups who wanted to close the park to snowmobiles. Arctic Cat used its enviro-friendly sled to prove that snowmobilers could use the park and be more environmentally friendly than the thousands of cars, trucks, buses and RVs that went through the park in the summer time. Even when Polaris, Yamaha and Ski-Doo advanced Yellowstone-friendly snowmobiles years later, the anti-snowmobiling forces remained unconvinced and managed to force a usage ceiling on the number of sleds to enter the park. The battle carries on to this very day with the only end in sight being a total ban of snowmobiles in Yellowstone Park. We doubt that even a fully electric snowmobile would placate the "anti" forces.
But that's not what Yamaha or any of the other sled makers are proposing. Indeed, when Arctic Cat produced its first 4-stroker, Yamaha was all two-strokes and a legitimate competitor in the powder snows with its Mountain Max 700. The sled sported a torquey 698cc triple that drove a 144-inch track. Weighing in at a claimed 515 lbs, the Mountain Max 700 was lighter than Arctic Cat's 590-pound triple-cylinder Mountain Cat 1000 with its 151-inch track length. That Cat was the heaviest of the powder players. Yamaha was still lighter than the 800cc Mountain Cat, but heavier than Ski-Doo's Summit Highmark 800 and any of the Polaris RMK models.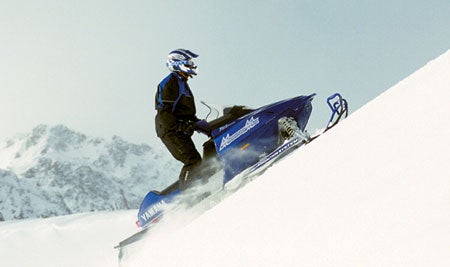 In 2001 Yamaha offered the full complement of models. There were the high performance two-strokes and a selection of solo trail sports like the electric start and reverse gear equipped SX Viper 700 ER and Vmax 700/600 ER models. Utilizing the popular single-piped triples, Yamaha offered nicely equipped two-up models like the Venture 700/600. The Mountain Max added a longer track but retained the same basic three-cylinder two-strokes.
About this time Yamaha seemed to be in a holding pattern. It had competitive sleds, but nothing extraordinary to separate it from the pack. Pricing was competitive and Yamaha had that "quality" thing going for it. But the company didn't push it like it did a couple decades earlier when Yamaha was the company of "quick, quiet, quality."
Still, there wasn't anything in the 2002 mix of sleds that would tip you off that Yamaha was about to become the 4-stroke company. Everyone knew that Yamaha sleds were getting a bit dated, but that was no big tip off. All the sled makers needed some refreshing. While only Arctic Cat used A-arm front suspensions, every other sled maker stayed with the proven "Indy" style of trailing arm front ends. They worked.
But in the early years of the new century's first decade, snowmobiling was about to undergo a major change. Yamaha highmarked that change. In 2003 the company re-invented itself by committing to four-stroke technology and double wishbone front suspensions. The RX-1 may not have been the first snowmobile powered by a four-stroke, but it certainly was the first "performance" four-stroke snowmobile.
After attending the Yamaha RX-1 unveiling a decade ago, this writer wrote simply that that the RX-1 was first and foremost a true snowmobile that rode and handled like a high performance sled. It was impressive. Yamaha entered the four-stroke world cautiously, sort of! The RX-1 was all new, but just one piece of a marketing plan that would convert Yamaha from two-stroke also-ran to four-stroke leader.
The two-strokes would hang on as Yamaha worked hard to convert folks in the face of a tough competition backlash, which tried to paint the Yamaha four-stroke as unproven, heavy and ill handling. It worked a bit, until all the other companies developed and delivered their own four-strokes, fundamentally agreeing that Yamaha had been right that four-stroke engined models could work as high performance sleds. We figure Yamaha sold itself. The power delivery hit hard like a true performance model. And there was (is) that unique-to-snowmobile sound that you get when going from idle to wide-open throttle. The Yamaha quad lets you know that it is really a high revving super sport motorcycle in snowmobile clothes. Add in EXUP and the current Genesis quad lets you know its heritage.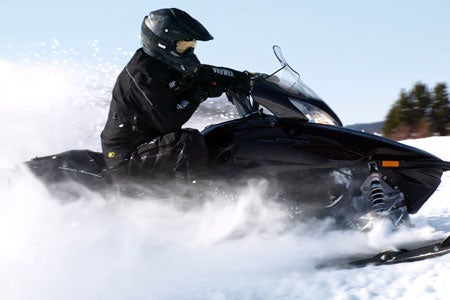 At the turn of the century Yamaha may have been a "me-too" in the sled biz, but making the turn after the first full decade, Yamaha is all four-strokes all the time. It's the only sled company to make such a dramatic change in its product line. The new four-stroke generation relies on a top-of-the-line Genesis quad, two triples and a very unique high-revving twin. The sleds offer ride-forward design, which had yet to be seen in an early 2000-ish sled, and totally revamped suspensions. And that quality? According to industry-tracker JD Power, Yamaha's four-strokes retain their value exceedingly well.
In the span of a decade, Yamaha has undergone a total reinvention of itself as it has embraced four-stroke technology to move forward.
Related Reading
2008 Yamaha Snowmobile Lineup Preview
2009 Yamaha Snowmobile Lineup Preview
2010 Yamaha Snowmobile Lineup Preview
2011 Yamaha Snowmobile Lineup Preview
2012 Yamaha Snowmobile Lineup Unveiled