Destination: Tabiona, Utah
A perfectly unique snowmobiling vacation
Story by Kevin Allred, Photography by Kevin Allred, Jan 06, 2011
If you're the snowmobiler looking for something new, unique and away from the places where "everyone goes," then listen up. Tabiona, Utah. Never heard of this place? You're probably not alone as Tabiona is a quiet little town, North of Highway 40, between Heber City and Duchesne, UT. But it's where you will find
Tabby Mountain Lodge
, a four million dollar, 12,000 square foot; thirteen-bedroom lodge nestled on a private, thirty-four thousand plus acre Elk ranch.
This place is perfectly suited for snowmobilers. And, why not, as Ray Schoenfelder of Black Diamond Xtreme, a builder and marketer for lightweight snowmobile performance products out of Zumbrota, MN, is a co-owner. Schoenfelder explains the Tabiona area is not typically on the main radar screen of snowmobile areas. After spending several days last February in the Tabiona area and at Tabby Mountain Lodge, we learned firsthand what a great snowmobiling vacation opportunity this truly is. Selfishly, our first thought was to keep this place quiet — so good, bad, or indifferent, we're letting the secret out.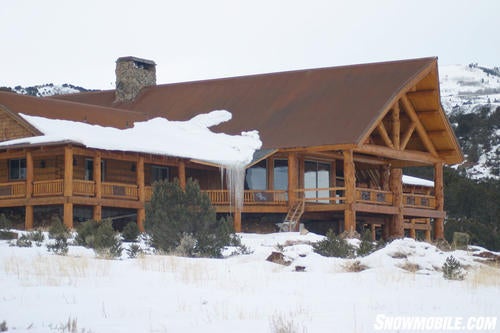 When it comes to snowmobilers, what they want most in their snowmobiling vacations is great snowmobiling. The sledding at the Tabby area is great, but we'll touch more on that shortly. This exquisite lodge is something to experience. To quote powder rider expert Bret Rasmussen, who runs some of his riding trips out of the area and is known to be all about the snowmobiling: "That staying in the lodge is worth the trip alone."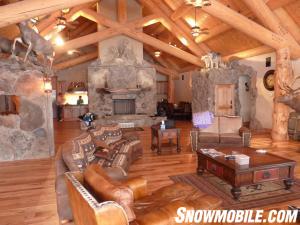 While at the Tabby Mountain Lodge, we were treated like royalty. For example, the lodge features a king-size commercial kitchen complete with an elegant dining area. Included in the price of each night's stay are three delicious home-style meals cooked by local chefs. After breakfast, all necessary lunch items are set into an on-the-trail lunch. Each of the spacious bedrooms is decorated with a Western flair, complete with sculptured 3-D murals depicting a Western scene. The generous bathrooms are complete with tiled shower and a jetted tub to relax in after a fun day of snowmobiling. The large lobby is a quaint gathering place set next to a crackling fire, where comfortable seating allows guests to have a great view of the elk on the scenic ranch. The entire lodge features full-sized, wildlife taxidermy scenes, which adds to the total western feel of this remarkable place. The lower level is set up as a conference center complete with wireless internet and power point suitable for corporate retreats.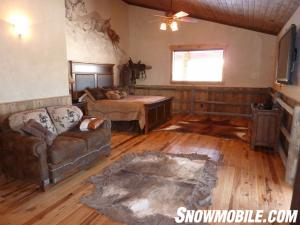 After our stay at the Tabby Mountain Lodge, we would agree that the lodge alone is worth the trip. But, as mentioned earlier, the sledding is also well worth the trip. Schoenfelder says depending on the snow year, there are many miles of trails right on the private ranch. But typically you will want to trailer the sleds about 20-minutes from the lodge to Hanna, UT where you will be riding in the Wolf Creek area, a popular destination.
Most locals access the Wolf Creek area from the West side by Heber City or Kamas. We found the Hanna side was not crowded and very accessible. This riding runs to the Wasatch-Cache National Forest in the Uintah Mountain Range. Non-Utah residents will need a non-resident sticker. The riding ranges from gentle Aspen covered slopes, open meadows to play in, but for the serious mountain rider, there's plenty of challenging steep and deep stuff as well. One of the reasons Bret Rasmussen recommends the area is because there is the necessary terrain to instruct his clients during Ride Rasmussen Style clinics. We found this area provided plenty of thrills.
This area offers a variety of terrain and scenery that's equal to any place we've ever ridden. The three days we spent there was some of the best powder we rode in all last season, confirming the slogan on Utah's license plate, "Greatest Snow on Earth."
Yup, we are always looking out for our fellow snowmobilers. So once again listen up. If you want an out of the ordinary experience, plan to book a stay at the Tabby Mountain lodge, 435-770-2598, or 801-380-1055, be sure to mention you learned about them on Snowmobile.com.
Related Reading
Destination: Island Park, Idaho
Ontario Adventure to Moosonee
Elliot Lake Rocks for March Sledding!
Quebec's Unique Gaspe Region