Ontario's Northern Corridor: Incredible Spring Trail Riding
Where winter comes early and stays late
Story by Craig Nicholson, The Intrepid Snowmobiler, Mar 11, 2011
All good things must come to an end. But in Ontario, that inevitably takes a lot longer to happen. So if you want to extend your sledding season for as long as possible, look to Ontarioís Northern Corridor in OFSC District 15. Running from Cochrane to Hearst and all points between, this bilingual region boasts the best riding over the longest season in Ontario.
The backbone of the Northern Corridor is TOP Trail A, running east/west, parallel to Highway 11 where the regionís main population centers are also located. This proximity to snowmobile-friendly towns means that TOP A is a fully serviced trail, with plenty of food, fuel and lodging choices. If you start your Northern Corridor adventure in the east at Cochrane, a great place to stay is the North Adventure Inn, located just west of town on Highway 11. More importantly, the North Adventure sits with direct trail access at the junction of TOP A and TOP A108C. It features loads of secure parking, a heated garage, outdoor hot tub + sauna and on site restaurant & bar. Fuel is just a minute down the trail towards town.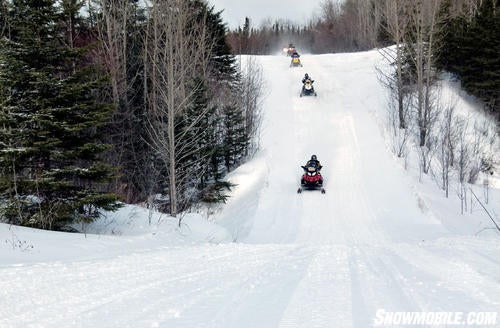 If you enter the Northern Corridor from Hearst, your best bet is the Companion Hotel. With direct trail access, it has a restaurant and bar, two hot tubs + sauna, heated garage and ample parking. Regardless of which end of the Northern Corridor you stage from, be sure to stay at each of these lodgings at the far end of your journey.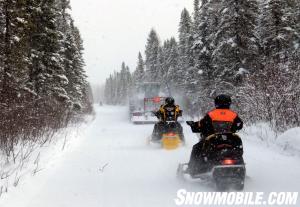 Sure, TOP Trail A anchors the sledding in this snowmobile paradise, and it used to be that a trip to Cochrane meant a ride out to Hearst and back, about a 600-kilometre (375 mile) round trip as the crow flies. But now there are many other equally good options. Riders who ignore the myriad of club trails in the Hearst, Kapuskasing and Cochrane areas are missing half the fun. These club trails show as orange on the district trail guide and on the OFSC Interactive Trail Guide. Not that TOP A is ever crowded, but these trails get even less traffic, making them a great alternative that can really help rack up the klicks. Just remember that services are very limited on these routes, so be sure to gas up before departing the main TOP A corridor.
For example, the direct TOP A distance from Hearst to Kapuskasing is about 132 kilometres (88 miles), but we extended our dayís riding total to over 300 (186) by sledding club trails around both Hearst and Kap instead of just following TOP A.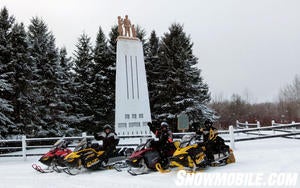 Another fantastic sojourn from TOP A is the ride from either Cochrane or Smooth Rock Falls north to Abitibi Canyon on TOP A103. Itís a full-day round trip, especially allowing for some playtime among the canyonís hills. Lunch and fuel are available at Fraserdale, where Extreme Tours maintains a base camp that now boasts doublewide trailers so thereís more room for riders who arrive for lunch. Be prepared to pay cash for everything here.
We also rode another great loop from TOP A, heading south on TOP C towards Timmins, and then swinging back north on TOP A106C. If you also take Club Trail L103 east to TOP A to swing back in to Cochrane as we did, youíll be able to add on extra klicks by doing the Cochrane loop counter clockwise: TOP A108Q/L101/A103 and TOP A into town.
So what did riding the Northern Corridor like? If you took every logging road, utility corridor and unopened road allowance youíve ever thrilled at and laid them end to end as one seamless trail system...that would come close. Generally, their trails are wide, smooth and flat; often they stretch out ahead of you as far as your eye can see, and just when you canít believe it could get any better than this, you turn the next corner and it does just that. There are plenty of great places to ride in Ontario, but few can match the consistently exceptional riding, kilometer after kilometer, hour after hour, day after day, that the Northern Corridor delivers.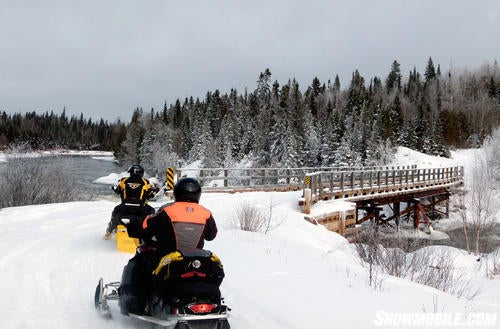 From the Greater Toronto Area (GTA) Cochrane is about a 10-hour drive, while trailering. Itís straight up Highway 11 and itís good going the whole way, with lots of services available en route. You might balk at that long a drive, but when the alternative is parking your sled until next winter, itís hardly any bother at all. So come early, come late: either to kick off your sledding early or to ride until the spring snow melts out from under your tracks, the Northern Corridor is the place to be.
Related Reading
Ontario Snowmobiling Offers Many Unique People & Places
Ontario Adventure to Moosonee
Choosing an Ontario Snowmobiling Destination
Go Ride Ontario!
Elliot Lake Rocks for March Sledding!