Polaris and Arctic Cat: A Snowmobile Success Story
Two U.S. snowmobile companies use new products to ride out recessionary times and grow
Story by Jerry Bassett, Photography by Jerry Bassett, Polaris, Arctic Cat, May 10, 2012
If you look at the two 'Made in America' snowmobile companies, Arctic Cat and Polaris, you'll find that they are both doing quite well despite what election year politicians will characterize as tough times.
Unlike the point-the-finger of blame at the other guy politics of today, real world business leaders buckle down, strap in and figure out solutions to survival. Today's powersport leaders could have whined and suffered. They didn't. Heck, Polaris and Arctic Cat both gained credibility with Wall Street analysts who probably aren't quite sure how these two companies have not only ridden out the recession but also manage to prosper. When you read a modern stock analysis of these two firms, it almost seems that the stock analyst writes with admiration.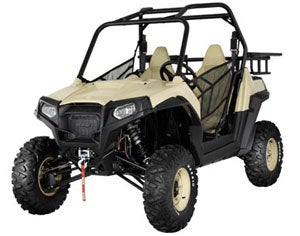 One reason could be, for example, that shareholder return in Polaris dating from April 2007 to April 2012 was 256 percent! Wasn't that a prime recessionary period? In fact, at the annual shareholder meeting held April 26 at Polaris' Medina, Minn. headquarters, Polaris chief executive officer Scott Wine started the meeting by announcing that the company's stock price had hit a new high. Not a bad way to kick off a shareholders' meeting.
We journeyed across town from our penthouse (okay, second floor) suite in St. Paul to Polaris HQ to see for ourselves how in the world these guys were doing it. After all, the recent first quarter report had come out and sled sales — quarter to quarter — were off 48 percent year-to-year. However, in the months preceding that, Polaris allowed that its North American snowmobile market share jumped five points by the end of 2011 reflecting "…the biggest retail sales increase in six years."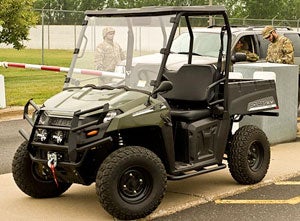 For the upcoming 2012 selling season, Polaris will be optimistic but realistic as well, expecting sales to be flat against an industry that will see a slight dip in overall sales due to the horrendous "no-snow" winter period from January to March 2012. Prior to that debacle, all sled makers were enjoying an excellent pre-season, which most likely made the losses less painful. It remains to be seen how that will impact this coming season.
Polaris and other companies acknowledge that dealers' sled inventories are up, but "manageable." That usually means good deals on non-current models and companies holding off on introducing a bevy of totally new sleds that would impact sales of carryover units. We have seen this at the annual photo and test sessions. There were new models, but truly new introductions were relatively modest.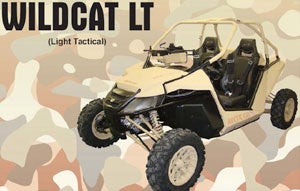 Polaris snowmobiles only make up 11 percent of the company's product mix compared to ATVs and side by sides that make up 69 percent. At Arctic Cat, snowmobiles and wheeled vehicles each represent 39 percent of the company's business.
Arctic Cat made a major commitment to its sled side last season where 23 all new models accounted for 75 percent of the model year 2012 sled line up. Able to maintain healthy sales during this recessionary period, Arctic Cat feels that if the industry rebounds to prerecession levels the company would enjoy a wholesale sales increase of up to 65 percent.
In the U.S., snowmobile sales dropped from about 80,000 units in 2007 to less than 40,000 by 2010, but began to reflect a modest 6.6 percent growth in Arctic Cat's 2011 fiscal year. During that time Canada showed an up tick of 8.5 percent.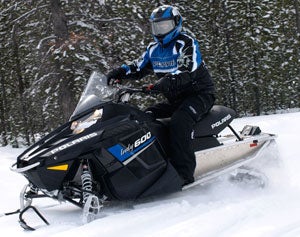 You'd think that the vagaries of winter would scare off stock purchases in powersport companies like Arctic Cat and Polaris. But when a company like Polaris can demonstrate a three-year return in shareholder value of more than 500 percent, potential investors have to realize that parking money in a savings account is less effective. And when these companies demonstrate a willingness to expand and diversify into synergistic growth, well, why not.
Arctic Cat expanded its ATV and all new Wildcat side-by-side four wheeler into a unique military application, the Wildcat LT. Likewise Polaris diversified into a defense and government sales group by transforming its wheeled products and certain electric vehicles. Polaris Defense claims to hold the leading market share position in ultra-light military vehicles. This group offers defense-specific units for utility, tactical needs and even an unmanned application for mine detection.
While Polaris' more than US$2.6 billion annual sales dwarfs Arctic Cat's 2011 sales of US$464 million, both companies show strong growth for 2012. In the first nine months of the current fiscal year, Arctic Cat already exceeded its entire sales figures for all of 2011.
Before we wax poetic about how well both companies are doing and have done in surviving a nasty recession, it may pay us all to be realistic about the past. In point of fact, Arctic Cat may be trending upward in 2012, but that still pales to how the company was doing in the previous decade. The company's balance sheet in 2004 showed net sales of US$649.6 million when ATV sales surpassed sled sales.
There is no getting around the fact that Arctic Cat stock hit a 52-week high of more than US$45 per share at the end of April. Compare that to March 2009 when you could buy a share for less than US$3. Stock watchers attribute the current strength to superior management as the company streamlined itself to manage more efficiencies in every aspect of its business such as better managing of dealer inventory and allowing improved ordering of some popular products.
It's a bit amazing to think that one man, Edgar Hetteen, founded both companies in quite small northwestern Minnesota towns and that both have gone on to become not simply snowmobile industry leaders, but world powersport product leaders as well. Polaris claims number one market share in North American powersports, out selling former leader Honda.
Polaris expanded the most in the past decade, diversifying out of sleds and ATVs to products like electric vehicles, on-road motorcycles and defense products. The company now has 11 subsidiaries, 43 distributors and more than 1,000 independent dealers in 130 countries, which generated more than US$400 million in sales this past fiscal year. We doubt that Edgar Hetteen's vision could have imagined that his companies would have grown and diversified to such a degree and that combined that they would reach sales worth more than US$3 billion annually!
Related Reading
Polaris posts record sales in 2011
Arctic Cat Reports Strong Sales Figures