Some Things You Should Know
A random sampling of sled updates, events and people making a difference
Story by Jerry Bassett, Photography by Jerry Bassett, Nov 12, 2009
As we get ready for the snow season here in the Midwest and think about snowmobiling to come, we need to take a few minutes and look at the run-up to the season. What updates have been made to various 2010 models since we rode them as pre-production and prototype models? What key events should we mark down on our calendar and plan to attend? And who are some of the people making a difference in the sport? You'll find a sampling here of sled updates, key events and significant people contributing to snowmobiling.
A WORD ON SNOWMOBILE UPDATES
Ski-Doo Updates
Since we test rode the 2010 Ski-Doo line of snowmobiles this past March in Grand Lake, CO, Ski-Doo made a number of revisions and updates to some of its 2010 Ski- models including:
• Manual rewind starter: All models will have a rewind starter, except 600 H.O. E-TEC models ordered with a factory installed electric start (same as last year). There is an accessory rewind kit offered as part number — 860 200 111.
• X-RS electric start: Although intended for hard-core users, the MXZ X-RS can be fitted with electric start by purchasing a kit. Part numbers are 860 200 264 for the 800R; and 860 200 263 for the 600 H.O. E-TEC.
• Expedition XU radiator: The Expedition XU 600SDI or 1200 4-TEC were fitted with an additional front radiator.
• Summit flat land calibration: While it's primarily designed for the steep and deep of mountain snows, Ski-Doo recognizes that some flatland riders enjoy breaking trail and boondocking with their Summit series. That's the reason why two models of 800R Summits (CTAC & CUAC) are offered with low altitude calibration from the factory. If you would like to re-calibrate another Summit model, there is a calibration kit available (Part number — 860200394).
• ESR (Easy Steering Ratio): The steering pitman arm (lever) on all XP and XR models will be the same and features a new ratio that reduces the steering effort by 20 percent.
• Tundra ski runner: Both Tundra Sport and LT come with carbide runners while the base Tundra features a steel only runner without carbide.
• Added models: Per Ski-Doo dealer feedback and request, Ski-Doo added these specific models to the 2010 line:
- MXZ Adrenaline 1200 4-TEC
- Renegade Backcountry 800R
- Renegade Backcountry 800R ES
• Added color choice: Originally only available in Regal Red, the 2010 GSX SE and Grand Touring SE add a Black-Black color option (which we like much better!).
• Shock Change: Ski-Doo added upgraded front shocks on the GSX LE and Grand Touring LE, switching from Motion Control to HPG. The change increased the retail price by +$100 USD/CAD.
Polaris Updates
The Minnesota-based snowmobile company also changed a few things in its sled line since we last rode them. Polaris' revisions and updates to its 2010 models include:
• Assault: The boondocking Polaris Assault model's IFS Front Shocks have been upgraded to Walker Evans Coil over Needle Shocks for better big bump performance and more adjustability.
• Rush Models: While previously indicating that Rush Models would not be shipped with a windshield, Polaris announces now that all Rush units will be shipped with the Low Black windshield. If you Snow Checked either a mid-height or tall windshield, it will be shipped in the Smoke color not clear.
SNOWMOBILING'S WORTHY CAUSES
Arctic Cat Joins Pink Ribbon Riders in Fight Against Cancer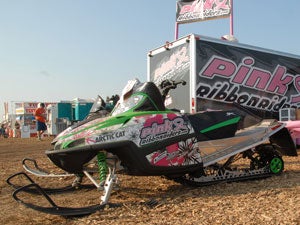 Pink Ribbon Riders is a snowmobile-oriented group on a mission to create awareness for breast cancer in women and men, and to financially assist those in need. For the past three years, Arctic Cat has proudly supported the breast cancer organization, by donating limited-edition Arctic Cat snowmobiles, which Pink Ribbon Riders used in raffle drawings to raise more than $30,000.
This past September at the annual Sno-Baron's Haydays event in Minnesota, Arctic Cat presented Pink Ribbon with a Limited Edition 2010 Crossfire 600. This unique snowmobile featured a one-of-a-kind Pink Ribbon Riders graphic package and the addition of several Arctic Cat accessories including a lightweight mountain seat.
You can support the Pink Ribbon Riders by visiting their website at PinkRibbonRiders.com, where you can learn about fundraising events and opportunities, including the purchase of raffle tickets to win this very special snowmobile. If you'd like to actively participate with the Pink Ribbon Riders, you can join them at one of their six scheduled winter events:
Pink Ribbon Riders Events
Date
Host
Location
January 8-9, 2010
Sugar Lake Lodge
Grand Rapids, MN
January 15 & 16, 2010
Fair Oaks Golf Club
Grafton, ND
February 13 & 14, 2010
The Eagles Lodge
Gaylord, MI
February 19 & 20, 2010
The Eagle River Inn
Eagle River, WI
February 26 & 27, 2010
The Ole Barn
Inlet, NY
March 19 & 20, 2010
Togwotee Mountain Lodge
Moran, WY
Snowmobilers Ride to Support a Diabetes Cure
In mid-February more than 90 snowmobilers will come together in Sault Ste. Marie, MI to begin MichCanSka 2010, an awareness ride to support a cure for diabetes. Covering over 4,000 miles, participants will end their journey 20 days later in Tok, Alaska.
Through MichCanSka 2010, riders will raise awareness and funds for The Diabetes Research Institute, a world-recognized research facility located on the campuses of the University of Miami and University of Alberta-Edmonton. Although MichCanSka 2010's roster is filled, you can sign up to participate in the 2011 ride.
For details visit the web site: MichCanSka.com.
PEOPLE MAKING A DIFFERENCE
Harold Butschke
This trail groomer operator from Oconomowoc, WI, labored on Wisconsin snowmobile trails for more than a quarter century before gaining recognition as International Groomer Operator of the Year this past season. Sponsored by his local snowmobile club, the Oconomowoc Throttle Jockeys, Butschke was named Wisconsin Groomer Operator of the Year and then honored as the International Groomer Operator in March by the International Snowmobile Hall of Fame.
While Butschke currently spends many hours each winter in the heated cab of a Sno-Cat groomer, he began his efforts by helping to found the Oconomowoc club back in 1972. He helped create a local trail system by setting out homemade trails signs and by representing the club at county and statewide snowmobile association meetings. He became a certified snowmobile safety instructor, worked to establish grooming efforts, helped establish the Waukesha County Groomer Corporation, and worked with the Wisconsin Department of Natural Resources to create and maintain more miles of trails.
As this season's International Groomer Operator of the Year, Harold Butschke puts a face to all of the groomer operators across the North American snowbelt who plod along at a 3-4 miles per hour every day and long into the night to make trails smooth and safe for the rest of us. Thank you, Mr. Butschke — and the rest of you groomer operators — for your selfless contribution to our sport.
Derek Klevgard
North Dakota snowmobilers recognize that contributions to the sport come from all ages of snowmobilers and have established a "Volunteer Spotlight" to highlight the contributions of young snowmobilers like 14-year-old Derek Klevgard of Casselton. This young man volunteered to assist the Rural Cass Snowmobile Club with its projects. He worked this past season helping with trail signage — making signs, putting them up at the start of the season and helping take them down at season's end. A freshman at Central Cass High School in Casselton, Klevgard has been an active volunteer at club events since he started riding along with his parents, Troy and Sheila. Now he takes every opportunity to enjoy the fruits of his volunteerism as he snowmobiles along the East Central Valley Trail that runs right behind his house.
As a featured volunteer in the SNO-DAK News, the official publication of Snowmobile North Dakota, Klevgard represents the up and coming generation of future snowmobilers. Through his efforts, Klevgard helps keep the sport alive and healthy in rural North Dakota. Way to go Mr. Klevgard.
Patsy Babin
The friendliness and confidence in Patsy Babin's voice comes across on the telephone as she answers the call at Infomotoneige Gaspésie, a free tourist information center for snowmobilers wanting to ride Quebec's Gaspe Coast. She and her cohorts respond to telephone (1-877-202-4636) or email inquiries (info@quebectrails.com). With more than a decade of servicing tourism in the Gaspe region, Ms. Babin can quickly and efficiently establish what you need to know and how to help you enjoy a snowmobile tour of the region. It doesn't matter whether you call from Canada, the United States or anywhere else in the world, she can help secure the appropriate trail passes, set up lodging along the trail and make suggestions for pit stops and "must see" photo opportunities. Once you arrive in the area, you can also call for an update on local trail conditions. If you get lost or suffer a breakdown, use your cell phone to contact Ms Babin and her staff, who are ready to help and have the connections to get assistance to you on the trail.
These services come with your purchase of a trail pass. If you need to find a nearby snowmobile dealer, find the best route to a destination, or want a suggestion for lodging, do not hesitate to call. Patsy Babin and Info Motoneigiste Gaspe are waiting for your call.
SNOWMOBILING EVENTS IN JANUARY
January 2010 looks to be an active month for vintage snowmobile enthusiasts. Eagle River, WI will be the scene of one of the biggest vintage racing events in the snow world as from January 8 to 10th vintage sled racers square off at 47th annual World Championship Derby.
Moving over to Minnesota the weekend of January 22-24 sees Pequot Lakes hosting the 16th Annual Antique Snomobile Rendezvous. This will be a weekend of vintage races, a vintage showcase and a presentation by Minnesota-to-Moscow participants Scott Eilertson and Lee Busse, who will speak about their 1990 international adventure. For information, contact Dave Guenther via email at ascoa921@tds.net.
Just a week later and about 50 miles down the road in Waconia, MN, vintage enthusiasts will gather again to participate in the "The World's Largest Vintage & Antique Snowmobile Event." Simply known in vintage circles as "Waconia," this event features a vintage show, various racing events, a trail ride, swap meet and the loudest sled contest. For more information, you can check out Midwest Vintage Snowmobile Shows online at MWVSS.com.