Summertime Sledding
Places to go and things to do for the serious snowmobile junkie
Story by Jerry Bassett, Photography by Bassett Archives, Jun 02, 2011
Winter has been reluctant to leave our part of the world, but it will and summer temperatures soon will range in the very unsnowmobile-like plus 80s! We'll enjoy the warmth for a little while, but we'll miss our regular dose of snowmobiling talk and friendship. We'll grow impatient with summer, those warm 80-plus degree days and the lack of snowmobile activities. We can only visit our friendly local sled shops just so often. And, besides, this time of year those folks are pushing ATVs, lawnmowers, outboard motors and the like. How do we get through summer without going totally "cold snowmobile" anyway?
To alleviate our fast approaching sled withdrawal, we chose a particularly gray, chilly, unsettled day to visit the worldwide web in search of snowmobiling things to do this summer. Wow! What we found could keep us pumping high-priced petrol into our Winnebago all summer long if we traveled about the countryside visiting the many weekend snowmobile-oriented events we found. A couple of them get underway this coming weekend. So we better give you the particulars right away.
June 3-4, 2011 — Milbank, SD
Lake Farley Park in Milbank, SD is the site for this annual show. A "must attend" event for many upper Midwestern snowmobilers, the event features Saturday judging for awards for Antique and Vintage Sleds, a Peoples Choice award and, even, an award for the Longest Distance Traveled to attend the show. A silent auction will be held Saturday morning. The proceeds go towards the show, so you are invited to bring any items you would like to donate.
The Swap meet runs from Friday through Saturday with Saturday night set aside for the awards banquet. On-site camping is available Thursday, Friday and Saturday night.
For more specific information, contact: Derrick Loeschke, Whetstone Valley Snowmobile Association. He can be reached via e-mail: Drl77@yahho.com or via telephone: (605) 880-3277.
June 4, 2011 — Allenstown, NH
The New Hampshire Snowmobile Museum Association holds its annual Spring Swap Meet this coming weekend at its Snowmobile Museum Complex in Bear Brook State Park, Allenstown, NH, beginning at 8AM.
The NHSA hosts this event with the idea of bringing antique and vintage snowmobile enthusiasts together for the opportunity to buy, sell or barter snowmobile parts, sleds, memorabilia, and just about anything snowmobile related.
Swap space costs $10 for a 10' x 20' space and is available on a first come first serve basis. Gate admission is free to everyone. If it rains, don't fret, the event will be held regardless of the weather.
Visit http://www.nhsnowmobilemuseum.com/ for more information and directions.
July 15-17, 2011 — Waukee, Iowa
Antique Snowmobile Club of America members will convene west of Des Moines on this weekend to chat antique sleds and hold association meetings. Held at Central Hawkeye Antique Acres (http://www.centralhawkeye.org/), which lies just off I-80, Exit 117, the site consists of 60 acres used for a tractor show, flea market, gas engine exhibits, and even Civil War re-enactment. Of course, this is a business meeting for ASCOA members and both a Board Meeting and general meeting will be held on site Saturday. That evening features a catered early evening meal followed by an auction. If you are a serious collector or wannabe collector you might want to drop by as this event will host the "who's who" of antique snowmobile collecting.
For more information about the event, contact:
Jon Dorman, organizer
Iowa Director, ASCOA
27011—582nd Street
Exline, IA 52555
(641) 895-5520
July 22-23, 2011 — Billings, MT
The 6th Annual Vintage Snowmobile Association National gets underway in Billings, Montana the weekend of July 22d. Hosted by The Western States Vintage Snowmobile Association (WSVSA), this event will be held at the Grand Montana Holiday Inn Hotel from 4-9PM Friday and again on Saturday from 9AM-5PM, followed by a Saturday evening awards banquet.
Event news can be found at http://www.wsvsa.com/. Plan to experience the hospitality of the west at this years exciting show.
July 29-30, 2011 — Thief River Falls, MN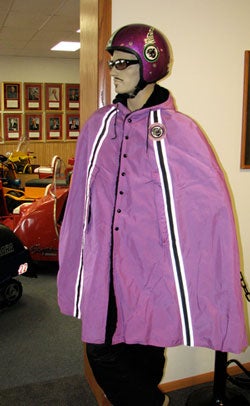 Arctic Cat celebrates its 50th anniversary as a snowmobile manufacturer as it hosts a major public celebration in The Cat's hometown of Thief River Falls. As host to this party, Arctic Cat plans two days of non-stop activities that will include factory tours on Friday and Saturday. "Years of the Cat" is a planned Arctic Cat product display, which will be the world's largest and is open to all Arctic Cat-related products regardless of model or year. There will be an "Arctic Cat-only" swap meet. Special 50th Anniversary clothing and memorabilia will be sold as well as special scheduled autograph sessions with Team Arctic heroes, past and present. The celebration will be open to the public and all events are free.
How good is your Arctic Cat trivia? Expect to see all kinds of things commemorating the 50 years of The Cat at this event. It may well test your memory as you should expect to see everything from vintage Arctic Cat sleds to Silverline boats to Scorpion snowmobiles, bicycles, purple Arctic Cat brand lawn mowers, ATVs, Wet Bikes, Tiger Shark PWC and all sorts of Cat memorabilia. Are you ready for Tiger motif seats? How about purple snowsuits? This special celebration of all things Arctic Cat should be well attended by more than just Arctic Cat fans. This should be a true "happening".
For more information, visit: http://www.arcticcat.com/.