Next Level Riding Clinics Review
Dan Adams will get you to your next level of deep-powder riding skill
Story by Matt Allred, Photography by Matt Allred, Created Oct 20, 2011
Email a friend
Print Friendly

RSS
Humans have drive. Throughout our lives, we have moments – perhaps moments lasting days, months or years – where we want to be better than what we were yesterday or the year before.
Driving schools help accomplish a goal to hone and polish a skill. Technical riding schools for snowmobile backcountry riding – extreme backcountry riding – have gained momentum in the Rockies. Dan Adams is one such rider who has taken his acumen, his professorship, to the snowy classroom.
Adams, an original Sledneck and star of many backcountry snowmobile films, and a rider who has branded his image and style on the towers around Alpine, Wyo., is an elite rider who offers much. His goal is to teach the novice, skilled and master mountain rider more than what they know. He will promote himself as a rider who has done it. Yes, he walks the talks and is one who has "been there, done that."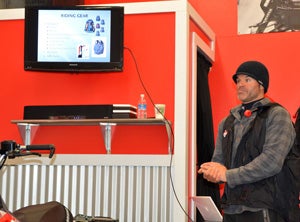 Adams is the man who teaches by example. For your information, visit his informative website to learn more about his school, Next Level Riding Clinics
His website's opening statement gives you a strong clue:
"These clinics consist of various drills and closed course exercises that target the fundamentals of snowmobiling in mountainous terrain. Be prepared to be tested on avalanche safety and awareness as they are practiced and emphasized throughout the clinics.
"Whether you are a beginner or an experienced rider these clinics will help you reach your 'NEXT LEVEL.' Join me, Dan Adams, Polaris Factory Freerider, as we explore everything from deep powder filled meadows to steep technical terrain aboard the best mountain sleds in the industry. So if you are looking for the challenge of a lifetime, and have the desire to improve your skills, you are ready for Next Level Riding Clinics!"
When fellow rider Kim Steele and I joined Adams at his clinic, we were welcomed by a man who has a clean modern shop and amenities that match a Fortune 500 company. Given that, Adams is very CEO-like. He takes charge. Yet, he is very much a coach, a mentor, a motivator and one who helps his students realize they have it — the ability to master snowmobile, mountain and terrain.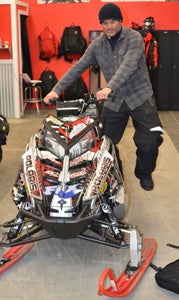 Back to the shop. Adams begins his clinics with an in-depth avalanche class. As an avalanche instructor myself, I was impressed and came away better educated. Adams' avalanche class is interactive and meant to scare a rider into being safe. Balance though, is Adams voice. He teaches that with knowledge comes confidence. With confidence comes awareness. Awareness breeds a desire to ride the Rockies. Adams is more than a lecturer – he is a demonstrator, giving credence to first-aid, avalanche probe, shovel and beacon use, nutrition and recognizing hyperthermia.
After this classroom training, he then changes his training to focus on the snowmobile. Most riders know what a snowmobile is, but Adams gives more than just the basics, he introduces the snowmobile as an extension of mind and body, a colleague that transforms into a backcountry dancing and laboratory partner.
He explains runningboard and handlebar function and how these aid, rather enhance and amplify, body positioning, and hand and foot placement; all needed for his big snowy classroom.
Prior to joining Adams training program, clients submit a skills assessment. This assessment determines the training level Adams will deliver to his students; levels include: beginner, intermediate and advanced. Regardless of level, riders will learn much from him.
After the classroom lecture, Adams, with his guide, leads students to the steep-n-deep; to some of Alpine, Wyoming's finest country. Here he begins with the basics (dependent on skills assessment level). He sends his assistant out and away from the students, not far though, to demonstrate everything Adams discussed in class. The adage, "tell them what you are going to tell them, tell them, and tell them what you told them," is Adams' protocol.
Although Adams is a rider who has done very well as an extreme sled head, his training is not about him. He does not brag about his accomplishments. His training is about the student. When he hooks up with his steed though, he is a marvel on snow. Yet, he chooses to be the coach, leaving the heavy lifting to his assistant, when needed.
Adams will teach the fundamentals of sidehilling, downhill sidehilling, wrong foot forward sidehilling, linking turns, navigating through the trees on a 20-degree to 30-degree slope, how to get a snowmobile unstuck, and avalanche rescue, to name the most prevalent. When working from the bottom up, in a simple fashion, Adams will patiently work with a student until they achieve a certain level, then with Adams' encouragement, the student will move on to the "Next Level" in his or her training.
As class progresses on the snow, Adams provides a first-rate lunch for his students. Good grub. He knows his business as he is also a licensed outfitter in Wyoming and has all the rights and privileges to do so by the state of Wyoming and the surrounding National Forests. He is legit. His legitimacy shows in how he protects his students and his classroom, the surrounding environment. With a walk-the-talk attitude, Adams ensures his students have an avalanche airbag system on their backs and they are equipped with the essential beacon, probe and shovel. Then, as a precaution, Adams and his assistant ensure his students are kept from harm's way. This can be dicey though, as to learn the fine art of backcountry riding, the student must be thrown into the deep end; deep as in snow on the steep end. But, before the student is launched into riding up the steep-and-deep, Adams pulls snow condition and avalanche reports, and digs a snow condition pit to verify conditions. He is safe.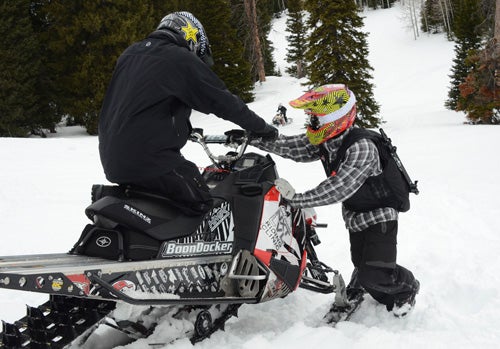 But, as a student, you are having fun and are being pushed to better yourself. All the homework is done, and you can learn a new backcountry skill without worry.
Alpine is high country. If you are from some low-laying lands, you will have to get acclimated to the thin air, as thin air makes oxygen exchange and lactic acid flushing arduous, Adams is conscience of this. He is a physical fitness nut, as he and his gymnast wife, Irina (who is originally from Russia) are conditioned to be in condition, that is, in shape. The Adams duo preaches diet and exercise as a means to stretch out one's life as a snowmobiler. This has meaning as backcountry snowmobiling in thin air, is hard work. Don't let your motorized-recreation hating friends convince you otherwise; let them spend a day chasing Adams and they will soon fade away.
Adams is a class act. He represents his Polaris sponsor well as he is a superb coach and motivator and a gentleman on the snow. His fashionably built RMKs are dialed for the customer to be trouble free. Speaking of his RMKs, Adams removes the center grab strap from the handlebars to eliminate any bad habits from being built. Learning to maneuver a 500-pound mountain sled on the steeps without a mountain strap is definitely moving to the Next Level.
For more specific information about classes, contact Dan Adams through his website at http://www.nextlevelclinics.com/ or email him directly at Dan@NextLevelClinics.com. If you want to visit the staff, dial in toll free at 888.565.8646.
Related Reading
Riding Rasmussen Style
Mountain Tech: Snowmobile Suspensions and Steering Posts
Rocky Mountain Power Teaches Winter Safety Skills
Make Your Snowmobile Powder-Worthy