Snow came heavy in late November, dumping plenty of the white stuff in the mountains so we could get in early rides on the two Polaris Pro Rides — an RMK Pro 155 and Switchback Assault with optional powder track; Ski-Doo Summit X 154 and an Arctic Cat M8 Sno Pro 153 Limited that we took delivery on for our season-long evaluations.
We also have a Yamaha Nytro MTX 153 that's in transit to our local dealership, Rexburg (Idaho) Motor Sports.
With the early snow we anxiously focused on the three "800" mountain sleds, although we can offer some baseline statistics on the Switchback Assault, which we will run the Assault against its RMK Pro brother, just to see how the crossover fares versus a straight-up powder model.
By The Numbers
Before we broke any snow, we were anxious to weigh the new metal, especially since they were dry — void of any moisture build up. Eventually we'll evaluate these mountain muscle sleds in a side-by-side real-world rumble.
This is a spicy year as Polaris introduced the Pro Ride RMK, a completely new mountain sled. If you've read any of the Polaris brochures, the Minnesota-based company markets this sled as being very light. Facts being facts, we can verify that it, indeed, is.
For model year 2011Ski-Doo plopped its new E-TEC 800 motor into its XP Summit 800 X. Mated to the Summit is Doo's new SC36 mountain suspension along with a narrow front end (narrower than last model year's) and a non-ported track. Ski-Doo told us that the new motor and non-ported track added some weight to the XP Summit, but the performance gains would be well worth the added weight. To that end, we agree the performance gains (and handling) are worth the bump in weight.
For 2011 Arctic Cat, the tried and trued, and oh-so-trusted and reliable M8 remained unchanged from the previous year.
We've traditionally weighed the sleds as "wet," which is what we call "ready to ride," meaning all fluids are topped off — fuel, oil and coolant are at proper levels. Factory shipped tool kits were left on board, but owner's manuals or shipping papers were removed The issue with weighing a sled in its wet configuration is that various fluid capacities are different, with the biggest variable being fuel tank capacity. Here are the fuel capacities for each sled: Arctic Cat M8, 11.4 gallons; Polaris Pro Ride RMK, 11.5; and Ski-Doo Summit, 10.6 gallons.
According to the MSDS (Material Safety Data Sheet Premium) unleaded gas weighs 6.4 pounds per gallon. Based on that standard for a gallon of US fuel, here are the weights we recorded.
Polaris Pro Ride RMK Pro 155
Often times we hear from the manufacturers, that for mountain sleds, weight is king. Meaning, if an OEM's sled is the lightest, that OEM, and that sled, is king (provided handling is also spot on). If that's the case, then from our weighing, the Pro Ride RMK, which stands for Rocky Mountain King, is the Rocky Mountain "King." The new deep powder Polaris tipped our calibrated scales at an impressive 530 ready-to-ride pounds. Yet, does this weight savings translate to easy maneuvering? We will continue chasing this down to prove yes or no.
Arctic Cat M8 Sno Pro Limited 153
The Arctic Cat M8 was unchanged from last year, weighing in at 553 pounds.
Ski-Doo Summit X 154 800 E-TEC Electric Start
Ski-Doo's Summit came in at 554-lbs, a one pound difference more than Arctic Cat's M8. The weight for our Summit X is corrected since it shipped to us with a factory installed electric start. Weighed separately, the components for the electric start and came up with 20 pounds. Since the other 800's are manual start, we subtracted the electric start components from the sled's overall 575-pound weight.
Analysis
Did you pick up on the weight differences? The Pro Ride RMK is lighter than the other two 800s, by as much as 24 pounds, again in a wet, ready-to-ride configuration. Looking back one model year, did Polaris really achieve a 40-pound dry (not wet, ready to ride) weight reduction from its 2010 RMK Dragon? Polaris was right on with their weight savings as they reported at the model-year 2011 test session. Forty pounds is huge! Based on our 2010 model-year mountain sled report, the 2010 Polaris Dragon weighed in at 573 pounds wet, ready-to-ride; and it had a longer 163-inch track.
Generally, there is no more than six pounds difference between a 155er and 163er. By doing the math, we came up with 43 pounds difference, then correct for track length (deduct six pounds, 155 vs 163), which places the difference at 37 pounds lighter than last year's, not 40. Before you throw Polaris into the electric chair for three pounds (37 pounds not 40 pounds), remember our test weights are wet, ready to ride, whereas Polaris' weight calculations are based on a desert dry RMK Pro 155. The difference in fluid capacities from the 2010 Dragon RMK to the Pro Ride RMK 2011 easily account for those three pounds, along with other minor variables. Three pounds is a stupid no-never-mind. For us, Polaris was right on with its weight savings. We can't stress enough, to defend our argument, our weights are wet, Polaris' dry. Yet, for us to come so close using wet weights proves Polaris' weight figures are not gimmicky.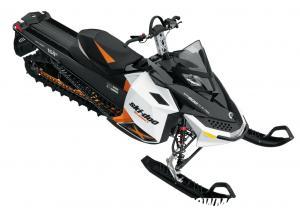 As for the Summit XP 800 E-TEC, yes it did gain some weight. As mentioned, Ski-Doo did tell us there would be added weight with the new E-TEC motor technology, suspension and track changes. Two years ago, in our 2009 mountain evaluation report, the XP weighed in at a wet 532 pounds. For model-year 2010, we did not have a XP Summit, thus our baseline is back two model years. So, where exactly, did the XP Summit X pick up weight? From the added electrical and electronics, exhaust system changes, injectors, a non-ported track, and some added structural gussets and supports, all for durability. When the XP Summit X 154 hit the snow in its debut, it was christened as the lightest 800-class mountain snowmobile on the planet, it no longer is. However, in our estimation, Ski-Doo has given the mountain rider a Summit X that feels and handles much lighter, with greater finesse than its predecessor. There are no arrows flying from our long bow to Ski-Doo; we give accolades to Ski-Doo for its positive, forward-thinking engineering in handing the mountain rider a Summit that holds a line through the trees. We will write more — give greater depth —as we labor through two full weekends of hammer-and-nails evaluation.
Arctic Cat's M8 Sno Pro remains unchanged and its weight remains consistent with last year's 2010, which means that the M8 is still a very smart handling mountain sled.
By The Book
After weighing the 800 class mountain sleds, we took to the mountains to verify, or disprove, our first impressions from riding these sleds last February at the West Yellowstone model introduction.
Especially in the mountains, weight is king. But we feel there is another important element for a mountain sled to be a great mountain sled (the king). Geometry and balance determine a sled's handling. For example, last year, our 2010 Polaris RMK 700 weighed in at 581 pounds in a wet configuration. Of our fleet of four sleds last year, it was one of the heaviest, but all those who rode the 700 RMK commented on how "It felt so light and nimble." The same is true of the Yamaha Apex MTX of yore. Heavy it was at over 600 pounds when fully wet, but a cream puff to handle. Here's where handling or geometry is as important (perhaps more so) as actual sled weight. We have been on heavy sleds that feel and handle as if they were lighter. And we've been on light sleds that feel and handle as if they were heavier. This all translates into how much effort goes into the day's ride. Not to contradict the importance of a lightweight mountain chassis, the key is light weight combined with handling. Then when the numbers are hit, and lightweight translates to superb handling, then the mountain sled is king. An ultra light sled will suffer a fast death when it gives a rider arm pump and torso fatigue from being heavy through the bars.
Our First Impressions
Ski-Doo Summit X 154 800 E-TEC Electric Start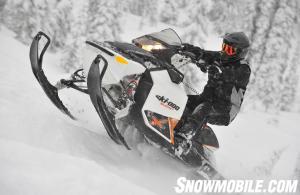 Mountain sled evaluator Kevin Allred gave a quick and all-encompassing impression, "I like this sled." The more time we spend on this new XP Summit X, with E-TEC 800 power, narrow front end, recalibrated front shocks, new rear SC36 skid frame and track approach angle, the more we realize the XP Summit X is easy to handle and sidehill. It is capable of throwing down technical maneuvers in the tress on the slopes, unlike the old XP Summit. Though this new 800 is heavier than earlier XP Summits, it feels and handles very light, lighter than the XP Summits of '08, '09 and '10.
Ski-Doo has delivered a minimal driver-input mountain sled. For this new Summit, how was it that Ski-Doo narrowed the front-end stance and maintained superb handling? Nicely done, Ski-Doo. The XP smartly launches itself on top of the powder and stays aloft very well, as did earlier XPs, but with the added benefit of Ski-Doo's SC36 rear skid geometry and non-ported track. The big 16-inch wide track floats the chassis so well. Up front, the E TEC motor is impressive.
Arctic Cat M8 Sno Pro Limited 153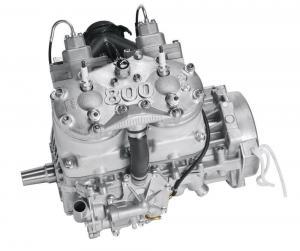 Arctic Cat's M8 comes to us unchanged from 2010, other than some shock valve changes to improve ride quality, which we noticed. The M8 has not been the nicest bull to ride when hitting the bucking moguls, yet for 2011, the shock valving is a noticeable improvement and it is a decent bump soaker. We like it. The M8 is now the oldest of the current mountain chassis of the four OEMs, going on six years. Its age is showing up in styling and appearance, but not in power and handling. No way.
When climbing aboard an M8 to brow beat a slope and its friends, the trees, is like meeting up with an old friend. Yes its appearance is dated, but the M8 is a skilled mountain sled. As Kevin Allred states, "The M8 still gets the job done, especially when it comes to back country handling. Six years of proven dependability does not to go unnoticed." If the only thing we find wrong with the M8 is its six-year-old styling, then, pooh-pooh, there is nothing wrong with the Cat and its Powerclaw track, direct drive, and H.O. EFI 800 power. Without the M8, the other OEMs may not have been challenged, thus we may not have the sweet Pro Ride RMK or the deft handling XP Summit X. Competition is good.
Polaris Pro Ride RMK Pro 155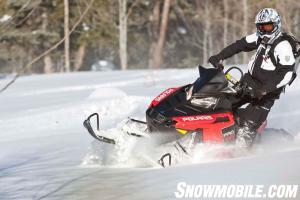 The Pro Ride RMK handles much like the 2010 Dragon RMK, which we really liked. But now, with the overall weight reduction, the Pro Ride RMK is a vast improvement over its predecessor — and the 2010 was a sweet ride. But, holy cow, the sled in its new and complete package is light and sweet handling.
The Pro Ride RMK requires minimal driver input when maneuvering through the backcountry. We have learned we can over ride it at times, flipping it over in nanoseconds. With its Series 4.1 mountain track, the Pro RMK floats on top of deep powder very well. As for the 800 CFI twin, which has seen some changes for 2011, it runs strong. The RMK's narrow profile allows it to stay glued to a sidehill. We now appreciate, finally, Polaris' narrow runningboards. Polaris refused to follow the crowd and go ultra wide, though they hit a compromise in 2009 on the RMK Dragon by adding some, not much, real estate to the foot boards.
Early Conclusions
Until we conclude our two-weekend long evaluation, we have no ribbons yet to pin on a mountain sled. Cat's M8 remains bread-and-butter and oh-so confident in the trees. Ski-Doo rebooted its Summit and has built a sweet ride; it needs to be flogged out. Polaris, well the North Star company has reached back to its Vertical Edge/Escape roots, refreshed its mountain line and has proven that less is more. We shall see. Stay tuned.
Related Reading
The Best 2011 Snowmobiles for the West
2010 Mountain Sled Report Card - Part One
2010 Mountain Sled Report Card - Part Two
2010 Mountain Sled Evaluation - Part One
2010 Mountain Sled Evaluation - Part Two