2011 Polaris 600 Switchback 136 Review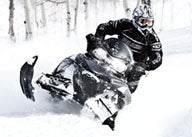 Serious performance from entry-level crossover
Don't count out the power and lure of a 600, especially at sea level and Midwest elevations.
Polaris' 2011 600 Switchback in the IQ chassis embodies Polaris' rich history in the crossover segment and shows its race-inspired and race-bred heritage.
If you are in the market for a snowmobile to take you off trail to plow the powder and crest a hill without asking you to sell your liver and one kidney on the open market, then the 600 Switchback is your ride.
Polaris' baby Switchback is filled with top components, is graphically appealing, built with a long tail, premium seat and handlebar, properly sized and reinforced runningboards, and powered by a robust 600 Cleanfire Injected (CFI) two-stroke Twin cylinder engine.
If we were entering into the off trail market as a first-timer or budget-minded consumer, and wanted the flotation and smooth ride from a longer chassis snowmobile, then the 600 Switchback would be a serious choice. Kid you not. Then, if we wanted to punch holes in some 700's or 800's psyche, we could slap on a lightweight single-tuned exhaust and an EFI control box and go punishing the big boy big bores.
This "budget" stretch track snowmobile is more than Polaris' more basic Shift 136; it is a serious East and Midwest boonie masher. Plus, if treated right, this can be a valid mountain sled, provided it is held within its operating design limit with its 1.25-inch lugs and 136-inch length. (But c'mon, how many of us are really that compliant?)
Good Power Choice
The Switchback's 600cc power is right for this sled. It spools up and snaps out of its launching blocks with cool viciousness. This is the trademark for this motor; it's an overachiever. With fast-built track speed, the Switchback, from corner to corner, will hang with the larger bore 800 crossover sleds. But of course, as a trail stretches long straight and true with quarter-mile spreads between the bends and twists, the 800s will pull the 600 Switchback, but if the crooks and twists are close together, then it's up to the driver and skill.
Check out the Switchback 600's technical aspects:
The front suspension is IQ with a ski stance of 42.5-inches. Cradled between the A-arms are Walker Evans piggyback high-end shocks. Skis are the standard IQ ski; made to tame the corners, but can be bullied into a push and washout.
The 136-inch rear skid is the IQ coupled, which is designed to smooth out the chatters with the front and rear working in unison. Its front rail shock is a Walker Evans internal floating piston (IFP), which remains cool when hammered hard. Heat dissipation is crucial. At the rear is a Walker Evans competition shock with user-friendly adjustments. You can dial in what you want to this coupled suspension. Front travel is 10-inches with 14-inches of travel at the rear skid. It is a bump soaker and drift player.
The track is a Camoplast Ripsaw with moderate 1.25-inch lugs. The Switchback's seat is Polaris' lightweight freestyle — a good seat — and the handlebars are fixed with a 5.25-inch riser block and end hooks. Still, we think with the high-end suspension products Polaris threw onto this sporty 600, it should have received the Pro Ride Assault's Pro Taper bars.
Snow Manners
Polaris' 600 CFI is rated at 135 to 140 horsepower. The motor's bore and stroke is 77.25mm by 64mm. Polaris broadcasts the 600 Switchback's dry weight at 499 pounds, almost 50-pounds heavier than the new Pro Ride Switchback Assault. Yes, heavy as compared to Ski-Doo's and Cat's crossers, but the well balanced and well-behaved IQ chassis acts light and nimble.
As we pummeled the trails and slopes around Island Park, Two Top and West Yellowstone, we found the factory settings for the shocks to be overly stiff — arm pump became common. If taking delivery of this sled, take the time or have your dealer adjust the shocks for your weight and riding style.
Though this IQ Switchback is heavier than the newer and larger-bore 800 Pro Ride Switchback, it does not feel as it is. The IQ chassis is a smart chassis and adapts well to changing trail, snow and woodland conditions. But you'll need to manage its shocks to get the best and most consistent performance from the 600 Switchback. We'd like to have seen Polaris throwing the Series 4.0 mountain track into this tough boy as we feel it could handle the taller lugs.
For the newbie to the crossover segment, the 2011 Polaris 600 Switchback is a full-meal deal boonie masher and trail killer. It will bash the powder and moguls in fine style.
2011 Polaris 600 Switchback 136 Specs
Engine
Polaris Liberty 600cc Cleanfire liquid-cooled two-stroke twin; Digital CD; Electronic fuel injection
Horsepower
130-plus
Drive
Polaris P85 drive clutch with Team LWT driven
Front Suspension
Polaris IQ A-arm with Walker Evans Piggyback shocks and up to 10-in of travel
Rear Suspension
Polaris IQ 136 Coupled parallel slide rail with Walker Evans IFP shock on front arm and Walker Evans compression adjustable shock on rear arm; up to 14-inches of travel
Length
120.0 in
Width
48.0 in
Height
48.5 in
Ski Stance
42.5 in
Track
15 x 136 x 1.25 Ripsaw
Weight
499 (claimed)
Fuel Capacity
11.5 US Gal (Regular fuel)
MSRP
US$10,199 (Base Pricing)
Related Reading
2011 Polaris 800 Switchback Assault 144 Review
2010 Polaris 600 Dragon Switchback Review
2009 Polaris Turbo Switchback Review
2011 Polaris Lineup Preview
All Things Polaris on Snowmobile.com