2011 Polaris Lineup Preview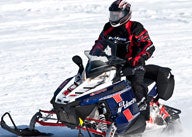 A major Rush influence in trail and off-trail models
With the earlier announcement of the new 800 Rush ProR and 800 Pro RMK, Polaris already unloaded the big news for model year 2011. Sort of!
The company's two introductions hinted at what will be a significant expansion of newness for 2011as Polaris rolls out the rest of its new model line up. According to Polaris' top snowmobile spokesman, Scott Swenson, "Over the past two years, we (Polaris) have a new sled in each segment for every customer."
He also claimed: "The best news is that we are on the gas and have 60 percent new for model year 2011."
Swenson stated that the 2010 600 Rush was the best selling Polaris this season. That easily explains why you'll find a big expansion of Pro-Ride models. In addition to the 800 Rush ProR, there will be a 600cc version. And significantly there will be more Pro-Ride models, including a very deluxe trail version, the 600 Rush LX, which swaps out Walker Evans shocks for Fox shocks. It seems a bit confusing to us old, gray-headed snowmo-writers as to exactly why Polaris breaks out the Rush into two camps, performance and trail luxury.
We can fathom the 800 and 600 Rush Pro-R models being aimed at performance riders. These are the top of the line sport performance models with the 120-inch Rip Saw with its aggressive 1.25-inch lug profile, 16-position Walker Evans Needle Shocks and updated rear suspension linkage.
We can accept that there's a new 800cc "base" Rush to go along with the 600cc Cleanfire powered stable mate and that these are defined as performance models. And we like the idea of an early season "Snow Check" Rush ProR LX. We feel that the 600 Rush LX should be more performance than "luxury." The real difference isn't so much in base equipment, but in "extras."
The Rush LX
Versus the base Rush sport model, the 600 Rush LX comes with electric start, mirrors and Turbo Silver styling. Just so you know, that's exactly how we spec'd out our long-term 2010 test sled from Polaris. It also included accessory bags, which will still be accessories for all the 2011 Rush models. In essence we were a year ahead of the "LX" curve, but we can certainly tell you that we thought of our demo Rush as more sport than trail luxury.
We really think the sled makers are all missing the point when they talk up trail luxury. Instead of downgrading the shock package from exclusive to Polaris Walker Evans to less featured Fox shocks and adding electric start ands mirrors to make up a luxury package, why not redefine this market and acknowledge that just because a rider might want electric start, mirrors and accessory bags doesn't mean he doesn't care about performance!
Frankly we find this a bit offensive. Adding electric start is a major convenience that really doesn't affect performance as much as everyone believes. Mirrors are as much a safety issue as a luxury issue. Mirrors allow you to keep tabs on riders coming up from behind and they keep you from turning your head to see if others in your group are still with you. Neither feature classifies you as a trail wienie. Indeed, we think they are extremely important features — as important as the tuning flexibility of Walker Evans shocks. Enough already.
Base & Sport
Suffice it to say that Polaris has two hot rod Rush ProR models with top line Walker Evans that are extremely snowmobiler-friendly. Then there are two base Rush models with a choice of 800cc or 600cc Cleanfire two-stroke Twins power aimed at the rider who wants Pro-Ride suspension comfort at a lower dollar buy-in. That leaves the 600 Rush LX, which is a more fully featured 600 Rush, and defined as a luxury trail sled.
The performance segment also includes a stylistically enhanced Turbo IQ, which features the Polaris-Weber four-stroke turbocharged 750 Twin in the IQ chassis. The Turbo IQ includes Walker Evans shocks, the seven-position Rider Select steering system, a carryover from the Fusion days that allows the rider to choose from among a ditchbanger "standup" setting to laidback trail cruiser position.
You'll also find two Shift models, the liquid-cooled 600 IQ Shift and the fan-cooled 550 IQ Shift. These models come with RydeFX MPV shocks and Shockwave track that measures 15×121 inches and has a 0.91 lug height.
As we mentioned, the 600 Rush LX highlights Polaris' trail luxury grouping. This grouping includes both solo and two-up models. New for 2011 is a 550 IQ LXT model that finds a fan-cooled 550 Twin powering a refined IQ chassis and offering extra features for one or two riders. Solo riders will find a Freestyle seat and added carrying capacity of a cargo rack on this 136-inch tracked sled.
In keeping with model design from 2010, the new for 2011 trail luxury models based on the IQ chassis come with a 136-inch track and suspension set up. There are two Turbo IQ models, the Turbo IQ LX and Turbo IQ LXT, with the turbocharged four-stroke and a one-up or two-up seating arrangement. Those models and the two-stroke 600 IQ LXT all feature a five-position Rider Select steering system.
Rush Influence
There is a definite Rush influence on the crossover and deep snow models as seen in the previously introduced 800 Pro-RMK. In fact, the newest Switchback is claimed to be a 50/50 blend of RMK and Rush. With both the newest Switchback and RMK models sharing the Rush-like front end, you can estimate that they both lost significant weight, which is exactly what off-trail riders want. Add in the power of the Polaris Cleanfire 800cc two-stroke Twin and you have serious choices available for model year 2011 if you are a backcountry rider.
Designed with the out-of-bounds snow explore, the Assault maximizes Polaris heritage of providing snow-ability in its serious off-trail models. Highlighting the 2011 Polaris crossover segment is the all-new 800 Switchback Assault 144, as much powder runner as it is backcountry assault vehicle. Model highlights include:
• 144-inch uncoupled skid frame with tipped up rails;
• A lighter Rush-type front end with 42.5-inch ski stance that helps this new Assault hit a design weight target of 460-pounds;
• Standard high-rise, aluminum construction Pro Taper handlebar;
• Walker Evans needle shocks with 16-position compression adjustability; and, a 15-inch wide by 144-inch long Cobra track with 1.352-inch lug height for off-trail grip.
Based on the IQ chassis is the 2011 600 Switchback 136 for riders who ride on trail more than off. Added to the Polaris model line for 2011 is the fan-cooled 550 Shift 136, which adds off-trail versatility as well as dollar value. It will complement the liquid-cooled 600 Shift 136 with which it shares a chassis.
But while the 800 Switchback Assault 144 will be geared more to the rider who likes to venture off groomed trails, the 2011 Polaris 800 RMK Assault 155 should be well suited for the serious deep powder rider. Think of this as a very serious crossover spinning an aggressive 155-in. Competition track with 2.125-in. lugs.
Deep Snow
But the headliner in Polaris' deep snow arsenal is the pair of 800 Pro-RMK models, the already announced 800 Pro-RMK 155 and the longer tracked 800 Pro-RMK 163. By blending in the Rush-type Pro-Ride front end, the Pro-RMK and other Rush-styled RMK versions can show an immediate 40-lb weight loss from Polaris' new construction methods. While there are fewer parts, the ones that remain are stronger and more durable than those on previous RMK models.
With the new lighter frontispiece, Polaris engineering rethought the rear suspension, making it lighter, more responsive and cleaner in snow. The RMK Coil-Over-Rear suspension was designed to give powder riders improved bump control and balance. Polaris designers state the new Pro-RMK is easier to steer and very "flick-able" in powder conditions, where quick reactions and efficient power mean staying out of deep trouble.
Along with the new Pro-RMK models comes the mentioned 800 RMK Assault 155, an 800 RMK 155 with proven 15x155x2.4-inch Series 5.1 track, 600 RMK 155 or 144 powered by the Cleanfire 600cc Twin and based on the IQ platform.
Utility sleds for 2011 include the four-stroke powered FS IQ Widetrak, the 600 IQ Widetrak and a fan-cooled 550 WideTrak LX. All utilize a wide 20-inch track for serious flotation and hauling capabilities.
As you would have expected, there is a serious expansion of Rush-inspired technology seen in this 2011 Polaris line. It gives Polaris models less weight, yet adds on-snow prowess and durability. As is tradition at Polaris, the pioneer of the pre-season "Snow Check", there will be a number of special offers to entice early purchases. Look for special edition versions of the Rush, RMK and Assault at your Polaris snowmobile dealership. Polaris hopes to entice enough early buyers to make up as much as 30 percent of its seasonal snowmobile sales. To generate such enthusiasm, Polaris aggressively uses its own Internet presence, demo rides, early season dealer events and special marketing programs. You will find a heavy emphasis paid to existing snowmobile customers, because, quite simply, as Polaris' Swenson says: "The existing customer is our best customer."
To get a close look at the 2011 Polaris line, visit a nearby Polaris snowmobile dealer or go to http://www.polarisindustries.com/.
Related Reading
2011 Polaris 800 Pro-RMK Preview
2011 Polaris 800 RUSH Pro-R Preview
All Things Polaris on Snowmobile.com