2012 Polaris Turbo IQ LX - Review
Polaris' turbo personal luxury cruiser is smooth, steady and impressively quick when you need it.
Story by Jerry Bassett, Photography by Jerry Bassett & Polaris , Jan 03, 2012
Although the newest Pro-Ride chassis models earn most of the attention for model year 2012, Polaris continues to offer a stalwart sporty trail cruiser that is sneaky fast and comes with features that none of the newer models can boost. Indeed, the 2012 Polaris Turbo IQ LX sports adjustable steering, a rather sumptuous 14-inches of rear suspension travel, and very nice-to-have luxury features like rearview mirrors, tunnel bag and tallish 16.5-inch smoke windshield to deflect wind and glare.
With all of that, this rather cushy personal luxury sport cruiser surprises with solid performance that is not just smooth, but quite sneaky. Ah, yes, the 750cc four-stroke twin delivers about 140-horsepower, putting it slightly ahead of the larger displacement cruiser four-strokes offered by Arctic Cat (1056cc twin and 130hp), Ski-Doo (1170cc triple and 130-ish horsepower) and Yamaha's Vector (1049cc triple and 125-plus horsepower). Polaris uses a quick-spooling turbocharger to give this sled nifty on-trail performance despite its smaller displacement. The Roseau, Minnesota engineering team went a step further to ensure surprisingly — and impressive — off the line acceleration by creating a 30 percent overboost for up to four seconds at full throttle.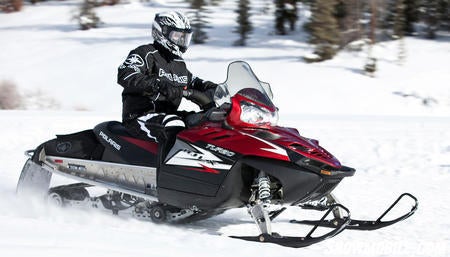 We admit to being extremely surprised at this sled's quarter-mile acceleration, especially that first rip at full throttle. The Turbo IQ LX pulls incredibly hard off the line and under full throttle it can easily exceed any trail speed limits in a matter of seconds. When the turbo 750 first appeared a few years ago, Polaris engineering needed to work out some heat issues, but those are long forgotten challenges, as this sled has become one of the most underrated in the Polaris line up.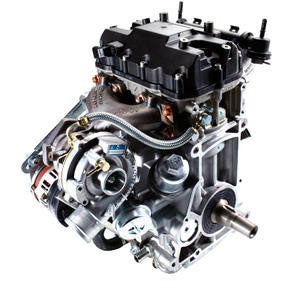 The power delivery has evolved into a strong point as Polaris programmed the turbo 750's output around its famed and durable Polaris P-85 drive clutch, which has been teamed with the reliable P2 secondary. This setup makes the Turbo IQ LX one of the most satisfactory everyday sport cruisers you can buy. We know. It doesn't have the latest Pro-Ride glory, but it has everything that a sensible snowmobiler will ever need.
The Turbo IQ LX stacks up very well when compared to the sport cruiser offerings from the competition. As noted, its performance meets of exceeds that of Arctic Cat's XF1100 LXR, Ski-Doo's GSX 1200 or the latest Yamaha Vector. When looking at the four sleds, you'll find they share many similarities other than four-stroke power.
Each of the four competitors comes with modified steering to provide greater rider ease on the trail. The Polaris has a Rider-Select steering setup that allows five positions. You can get a cruiser setting to suit long open trail sections or a more forward position to help you work more efficiently through moguls. Ski-Doo offers a version of tilt steering on certain models, while Arctic Cat retains individual handlebar positioning on its Twin Spar sleds. Yamaha's Vector introduced electric power steering, which provides significantly lighter feel. All in all, this category makes sport cruising infinitely easier than ever before.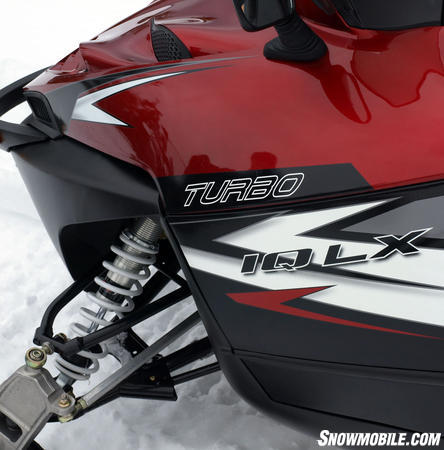 This sled class crosses over from pure sport and two-up touring to give buyers a relaxed "best" of both worlds. The Polaris Turbo IQ LX features the latest IQ front suspension design and relies on high pressure RydeFX shocks to control its 10-inches of travel. Proven reliable, the IQ front end carves sporty turns while allowing ample damping for end of day groomed trail bumps. The IQ rear suspension ties the front and rear arms together so that the gas shocks can give you a smooth ride while its 136-inch track length bridges annoying bumps.
Although smooth and capable, neither IQ suspension matches the latest Pro-Ride design. Still, Polaris Turbo IQ LX riders will not be left wanting as this model performs extremely well and is very positive on groomed trails. We have found this sled turns into corners with very little need to counter steer and its four-stroke power train ably assists the Polaris Phantom hydraulic brake for slowing your entrance to a turn. The sled will corner flat, leaving you with a good sense of sport riding that seems a bit unusual for a longish tracked cruiser.
The overall sense you get with the Turbo IQ LX is one of control. The sled does what you tell it to. It can accelerate quickly. It will dawdle along in a slow safari setting. Or, it can really scream across a lake when you just have to get on the throttle. We found the Turbo IQ LX surprising at virtually every level of riding. While it isn't designed to be a hard charging sport sled, it can move out impressively. It's not intended to be a corner carver extraordinaire, but it offers exacting trail manners when you want to make time. Its overall ride proves smooth and well-cushioned. And the rider positioning gets a boost from the use of the solo Freestyle seat and the adjustable steering.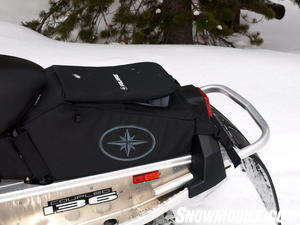 Add in standard features like the expected electric start and reverse gear, and it offers trail luxury with virtually no shortage of sporty performance. The tallish windscreen is a plus and goes along with the added amenities like the removable rear storage bag with 160 cubic inches of cargo space. Since this is a sport touring oriented sled, you rightfully expect the standard 12-volt outlet to plug in a GPS unit and a handlebar-mounted RCA plug for a heated helmet shield.
This also may be one of the best looking sleds in the 2012 Polaris model mix. The standard Sunset Red with black and silver trim sets this sled apart and gives it a rich look on the trail.
The 2012 Polaris Turbo IQ LX is designed for the serious rider who likes to mix massive trail mileage with occasional hardcore sport riding. The turbo engine provides the performance and the IQ suspension and chassis adds in honest and durable proven reliability. Everything else is a pure Polaris designed nice-to-have benefit.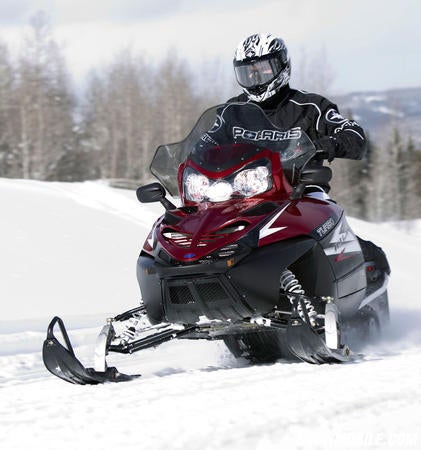 2012 Polaris Turbo IQ LX
Engine
Polaris turbocharged 750cc twin cylinder 4-stroke; liquid-cooled; fuel injection;
Horsepower
140 (estimated)
Drive
Polaris P-85 drive; P2 driven with mechanical reverse
Front Suspension
Polaris IQ — 10-in maximum travel; RydeFX Pro gas shocks with internal floating piston
Rear Suspension
Polaris IQ parallel rail; 13.9-inches of travel; RydeFX gas shock on front arm with Fox PS5 on rear arm
Length
120.0 in
Width
48.0 in
Height
48.5 in
Ski Stance
42.5 in
Track
15 x 136 x 1 RipSaw
Weight
599 (claimed)
Brake
Polaris Phantom hydraulic
Fuel Capacity
10.2 US Gal
Features
Multifunction gauge; 12v-DC outlet; 5-position Rider Select steering; Freestyle seat; 16.5-inch smoke windshield, rearview mirrors
MSRP
US$11,199