Mountain Snowmobiles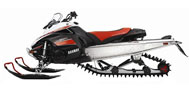 Mountain Snowmobiles
If pure horsepower and climbing ability is what you're after, mountain snowmobiles are the way to go. Mountain snowmobiles sell mostly in areas where the hills are steep and the powder is deep. These machines are lighter and feature longer tracks so they can stay on top of the slow. Long lugs help mountain snowmobiles dig through the deep snow and engines with a focus on high horsepower push rider and machine up impossible looking climbs.
Latest Mountain Snowmobile Reviews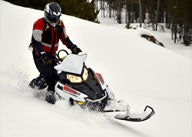 Polaris' 600 Pro RMK is not an 800, it just thinks it is
A solid choice for anyone, the 600 Pro RMK's features include excellent ergo's and the superior powder handling you would expect in a flickable lightweight 417-lb sled. Hard to believe it's only a 600 and not an 800!
Ski-Doo's beefed up backcountry play sled
Powered by the 800 e-TEC, Ski-Doo's Freeride offers chassis, track and suspension choices for backcountry adventuring.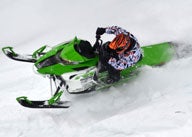 Cat's M8000 may be the most improved mountain player for 2014
In its third year, the Arctic Cat M8000 is regaining its heritage and once again the angry mountain Cat we've come to know.
Latest Mountain Snowmobile Reviews
2009 Ski-Doo preview

New engines and chassis, renewed desire to stay No. 1 top Ski-Doo's list for '09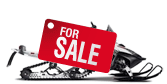 View All Mountain Snowmobile Photos & VideosPhotos & Videos
Mountain Snowmobile Photos

2012 Arctic Cat M1100 Turbo Sno Pro Review

2010 Polaris Turbo LX Review

2010 Polaris 700 & 600 RMK Review

2010 Yamaha Phazer MTX Review