2011 Ski-Doo Expedition Sport 600 ACE Review
Extreme versatility with a new quiet and efficient drive system
Story by Jerry Bassett, Photography by Ski-Doo, Nov 22, 2010
If you don't think that Ski-Doo places a premium on the success of its newest four-stroke twin, just check out the number and type of models that the new engine powers for 2011. There is an MXZ sports sled, a Grand Touring model, an extended track Renegade, a Tundra model and the multi-purpose Expedition Sport. Engineered by Rotax, the Advanced Combustion Efficiency (ACE) four-stroke twin displaces 600cc and will also displace the old technologies of both the 550 fan-cooled and 600cc non-E-Tec liquid-cooled twin.
Due to more stringent environmental and emissions standards for power sports vehicles, Ski-Doo and Rotax partnered — as they have since the early 1960s — to create a competent engine package that could be spread across current and future model lines. As with most modern snowmobile manufacturers, the existing model line-ups may appear extensive, but in reality they are quite simple, relatively speaking. There is generally a short-tracked platform for sporty trail riding. That platform can be stretched out to accommodate a longer track length, which can service the crossover models and two-up touring models as well as some off-trail utility versions. A wider platform allows the manufacturer to fit a wider engine drive system for serious mileage touring or trail sleds as well as some utility needs. The deep powder sleds can blend the most prominent front end with a long tunnel and generally remain somewhat narrow as to house the higher horsepower two-strokes demanded by mountain riders.
As you can note from Ski-Doo's current model line, there is quite an engine party existing into 2011. We fully anticipate that will come to a close by the 2012 model year and those "dirtiest" engines like the 550 and 600 carbureted two-strokes will simply go away from the North American market. That is where the new ACE 600 comes in. It should be among the cleanest engines in snowmobiling. Ski-Doo certainly expects it to be among the most fuel-savvy with a potential for 29 miles per gallon fuel usage. It has also been developed to be one of the most trouble-free and maintenance-free engines in the Ski-Doo line.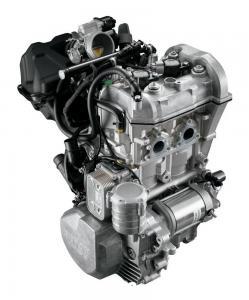 If the new four-stroke satisfies Ski-Doo's marketing plan, it means that consumers will have a nicely spaced set of options. The ACE 600 satisfies the needs of those willing to accept moderate power for outstanding on-trail mileage and minimal maintenance. The three-cylinder 1200cc four-stroke triple doubles the power of the ACE 600 but is every bit as smooth and offers up exceptionally smooth on-trail performance with a minimum of maintenance needs. For lightweight and power, Ski-Doo grabs those folks with a very clean-burning series of E-Tec engines in a 600cc or 800cc twin. Currently there is a PowerTek engine, but we could see that going away as continuing development on the latest E-Tecs should evolve into a base line horsepower with a higher output option available. That's a guess on our part, but it would follow Ski-Doo's historic patterns.
Just as with the powerplants, Ski-Doo diversifies the appearance of many models while basing them on a few proven platforms. The Expedition series combines touring and utility in a unique way. You might want to consider the 2011 Ski-Doo Expedition Sport as a really big-footed Grand Touring Sport. The pure touring version comes with the 137-inch lightweight Ripsaw track common to the solo riding Renegade Sport. The Expedition Sport plunks a 154-inch track on the snow with a full 16-inch width and 1.25-inch lug height. All three share the same REV-XP platform and ACE 600 four-stroke engine option. The end result differs.
The Grand Touring Sport seats two for groomed trail riding. The Renegade Sport suits a single rider and offers off-trail adventure. The Expedition Sport combines those features, giving a two-up experience on trail but also offering full off-trail capability as well. We haven't really tested the Expedition Sport in what we'd call challenging conditions, but based on the Grand Touring Sport and Renegade Sport responses, we'd judge the Expedition Sport as sound on or off-trail. The engine and clutch system delivers steady torque to churn through unbroken snow. The power is reliable and adequate to keep the long track engaged for running smoothly through wooded backcountry acreages. The combination of a handlebar-centered mountain strap and REV-XP front end should be nimble enough to let you pull the sled over and away from blown out stump divots.
| | |
| --- | --- |
| | |
At 131.6-inches this is a longish snowmobile, but fully capable of maneuverability in fresh snow, especially like the big snow dumps common to Michigan's Upper Peninsula and other Great Lake "effect" snow areas. Since high speeds won't be a big concern with this particular model, the combination of Motion Control shocks on the dual A-arm front suspension and the Motion Control and HPG dual on the rear skid rail should make this a good riding sled. Due to the sled's long 154-inch track, don't be surprised if you get a bit of "pushing" through the corners as that big footprint wants to keep the sled running straight. If you do get into trouble, simply tap the Brembo hydraulic disc brake. This high-end design is common to Ski-Doo and provides excellent braking control.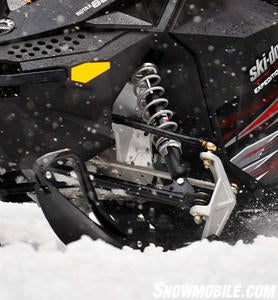 The new for 2011 Expedition Sport gives snowmobilers virtually all the capability of a Grand Touring but with greater utility. This is a perfect sled for serious winter sports fans as it can haul a portable ice fishing hut to an out of the way lake. It also means you don't have to totally close up the family cabin as this sled can transport you and your gear down a winter-closed county back road. And, it makes a relatively low buck way to entertain the grandkids for a weekend. The quiet, reliable ACE 600 twin lets you do frequent short trips without the need to worry about refueling.
Now, we've been implying that the 2011 Ski-Doo Expedition Sport is a relatively inexpensive sled; at US$9,599 there is good value here when you consider just how versatile this sled truly is. It also offers significant value in its base features. Obviously electric start is standard. So is reverse. Since the SC-5U rear suspension features an articulating action, you can back up and over obstacles like a snow-buried limb. You'll find the two-up seating with its backrest and rear rack will be worthwhile whether on or off trail. If you like to work through the trees and need more nimble handling, you'll like the adjustable front stance that can be set from 38.4 or 40.1 inches in center to center distance.
The Expedition Sport is unique in its approach as it satisfies many needs and would seem to be quite capable of doing virtually anything you want. Well, it won't be fast, but you'll drive by the fast guys when they stop to refuel as you have a potential 300-plus mile range from your 10.6 fuel tank. Combine versatility with a smooth, reliable, fuel-efficient power system and you have the basis for the 2011 Ski-Doo Expedition Sport!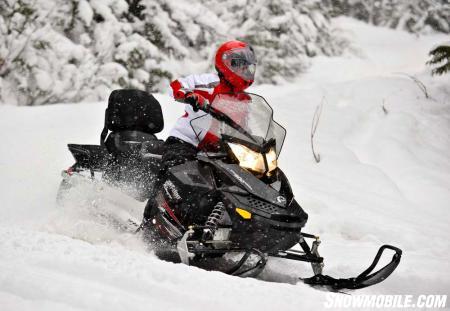 2011 Ski-Doo Expedition Sport
Engine
Rotax ACE 600cc four-stroke, liquid-cooled, twin; dual overhead cam; dry sump lubrication; throttle body electronic fuel injection
Horsepower
60 (estimated)
Drive
Ski-Doo eDrive primary with QRS secondary
Brake
Brembo hydraulic
Front Suspension
Ski-Doo double A-arm suspension; Motion Control shocks; 9.0-in maximum travel
Rear Suspension
Ski-Doo SC-5U articulating parallel rail slide with Motion Control shock on front arm and high-pressure gas shock on rear suspension arm; 13.4-in maximum travel
Length
131.6 in
Width
47.4 in
Height
52.2 in
Ski Stance
40.1 in
Track
16 x 154 x 1.5
Weight
537 lbs (claimed)
Fuel Capacity
10.6 US Gal
Features
Electric start; 20-inch tall windshield; steel handlebars with J-hooks
MSRP
US$9,599
Related Reading
2011 Ski-Doo MXZ TNT 600 ACE Review
2010 Ski-Doo Expedition 1200 4-Tec Review
2009 Ski-Doo Expedition TUV Rev-XU 600 Review