2011 Ski-Doo Grand Touring Sport 600 ACE Review
Smooth and quiet ride with 300-mile cruising range
Story by Jerry Bassett, Photography by Jerry Bassett & Ski-Doo, Jun 15, 2010
The 2011 Ski-Doo Grand Touring with the 600 ACE drive system should be a bellwether snowmobile. We doubt that it will be, after all, how many of us can get worked up about a modestly powered, two-up sled that most likely will see its bulk of production sold to rental operations?
Even so, this Ski-Doo sets the tone for the next phase of snowmobiling, which has to get serious about preparing for federally mandated requirements for all sorts of things like emissions, fuel use, etc. In a nutshell, sled makers have to clean up their act, which means that our beloved fan-cooled powerplants will be relegated to instant "vintage" status. Well, maybe they aren't your beloved powerplants, but for us curmudgeonly old snowmo-writers who got their start just as the new technology of "free-air" engines were sprung on us, the fan-cooleds are truly beloved. They sucked in air with all the ferocity of an asthma patient and because engineers had to leave extra room for heat expansion in these air-cooled engines they clattered like a box of tin cans dropped down a stairway. And they were seriously underpowered; making modern 550 fan-cooleds with their 60 horsepower ratings seem like miracles of engineering. Yes, we loved the fan-cooleds. The sled manufacturers liked them, too, as they made them the heart of their "base" models that gave consumers a low-buck introduction to the sport.
Fan-Cooled Replacement
While not gone, the 2011 fan-cooled powered sleds will be gone shortly and replaced with some cleaner more efficient engine that will have to cost more than the old clattering fan motors. Ski-Doo leads the pack of three — Ski-Doo, Arctic Cat and Polaris — by introducing its fan motor replacement with a cleaner four-stroke. Its 600 ACE (Advanced Combustion Efficiency) Twin will appear in a limited introduction to the future of Ski-Doo "base" models.
Ski-Doo tells Snowmobile.com that the company expects this new four-stroke to replace both the fan-cooled two-stroke and its carburetted liquid-cooled 600. There's a lot riding on this new motor and for 2011 its obvious that Ski-Doo considers the engine a serious player as it will be used in sport, touring and utility models.
We've already given you a first impression of the 600 ACE as a sport model in the TNT. Where the engine and its all-new clutch system really excel, though, is in the touring or cruiser line. It's here that the new power system should really meet and exceed a buyer's expectations. While the 600 four-stroke may be a bit shy on performance for a TNT sport model, it works extremely well as a cruiser powerplant. It's extremely quiet. It has excellent torque characteristics, useful for two-up riding. It manages average trail speeds well and it can get nearly 30 miles per gallon — though we'll believe that when we see it for ourselves!
First Impressions
When we test rode the 2011 Ski-Doo Grand Touring with the 600 ACE this past March in West Yellowstone, we began our ride with an open mind. Well, as close to an open mind as a veteran test rider can have. We've heard about every claim a snowmobile manufacturer can make. We didn't have any problems with the claims of smooth power. The Ski-Doo 1200 four-stroke delivered as promised, so we expected no less from the new 600 four-stroke. We were surprised at just how quiet it was. It really seems to purr at idle. A thrust on the throttle lever opens a single 42mm throttle body to push fuel that's ignited for a 12 to one compression ratio and a rating of 60 horsepower.
The drive-off power surprised us with its smoothness, an indication that the engine delivers above average torque at low to mid-level engine speed. The top end is said to be similar to that of the 550 fan-cooled Twin that it will replace. In the Midwest, trail cruisers should anticipate being able to easily ride at 50-plus on wide corridor trails with occasional peaks to 70 miles per hour on a hard-packed lake surface. That's just perfect for the Grand Touring customer. With a 10.6 US gallon fuel tank and claimed 29 miles per gallon, Ski-Doo suggests a traveling range of 310 miles! A Grand Touring rider can gas up on Friday night and not seek out a fuel stop all weekend. Or, if you are a serious high miler, it means you gas up at breakfast and refuel just before settling in at your end of the day destination.
Efficient Drive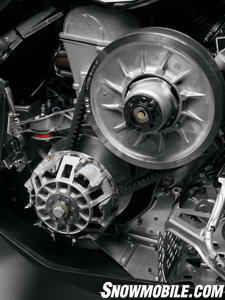 Ski-Doo's Grand Touring with the 600 ACE delivers added on trail efficiency thanks to the engineers totally rethinking how the all-new four-stroke engine delivers its power to the track. In most cases, from the earliest experiments with modest four-stroke engines, the idea was to maintain or tweak a sled's basic CVT drive. The basic centrifugal drive and rpm sensing system worked well enough. But, anyone who has ridden those early four strokes recognized that something wasn't quite right in the power delivery. Where a two-stroke drive felt relatively smooth and pulled efficiently, the tweaked for a four-stroke motor version of the drive just felt… well, odd and jerky. Some of that has to do with the differences in power pulsing between a two-stroke and a four-stroke. But, since sales of smallish four-strokes weren't significant compared to two-stroke sales, why spend the money to make a significant investment?
Ski-Doo engineers took the time and effort — plus engineering dollars — to examine how to make the new ACE engine power seamlessly and smoothly. It's truly noticeable in the Grand Touring and a bit less so in the shorter tracked MXZ sport model. We were stunned at how smooth the Grand Touring Sport with the 600 ACE worked. On our test ride we borrowed a Yamaha long-tracked Venture Lite, a sled we really like, as a point of comparison. Keeping in mind that the Yamaha four-stroke motor is a higher revving design and more powerful as well, we noticed a definite difference in smoothness in favor of the Ski-Doo.
To get this effect, Ski-Doo engineers reached over to their sister product line of Can-Am ATVs and looked at the ATV drive system. They found things they liked and recognized how they would need to do things differently for their snowmobile. The end result is the eDrive primary clutch, which is lighter by 3.1 pounds than the older Securistat-derived sled clutch. The important result is how the drive works without the seeming herky-jerky engagement to which we had become accustomed. While you won't be rocketed up to 50 mph, the acceleration action will be incredibly smooth. It's like the difference between an old Chevrolet Powerglide two-speed automatic and a modern Mercedes-Benz seven-speed 7G-Tronic transmission.
Budget Cruising
All of this smooth power works well in a two-up "budget" cruiser that's built on the lightweight REV-XP chassis and uses a double A-arm front suspension and a stretched SC-5 rear suspension. The shock package does signal efficient cost, as the front suspension shocks are the basic Motion Control design. That same shock is fitted to the front arm of the rear suspension while a high-pressure gas shock is used on the SC-5's rear arm. We found the ride compliant and totally satisfactory for all-day cruising.
We also liked the "J" hooks on the handlebar, long overdue but who's griping? Front-end bite seemed very good for a two-up touring sled, which should make this a favorite in a rental operation. Or as an every weekend long haul cruiser.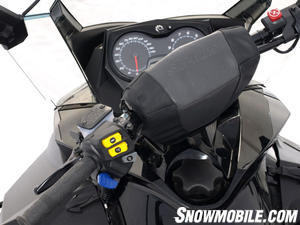 The sled comes with all the features you'd expect from a Ski-Doo touring sled — low end or high end! The windshield is tall to be effective. The gauges are easy to see and read. Mechanical reverse is standard as is the electric start and heated handgrips and rearview mirrors.
Ski-Doo styling is handsome, with its "stealth fighter" edges and deep contoured "bucket" seating, complete with passenger backrest and rear cargo area.
We found the 2011 Ski-Doo Grand Touring Sport smooth and efficient, with a design that will be nearly perfect for serious long haul riders. Heck, why bust your bank account upgrading to more power, speed and geegaws when this all-new 600 four-stroke powered version gives you such exceptional mileage in a package that delivers all the on-trail comfort and amenities you need for a suggested retail price of US$8,649?
2011 Ski-Doo Grand Touring Sport 600 ACE Specs
Engine
Rotax 600cc, four-stroke, liquid-cooled, twin; 42mm throttle body, electronic fuel injection
Horsepower
60
Drive
Ski-Doo eDrive primary drive with QRS secondary
Brake
Brembo hydraulic
Front Suspension
Ski-Doo double A-arm suspension; Motion Control shocks; 9.0-inches of travel
Rear Suspension
Ski-Doo SC-5 parallel rail slide with Motion Control shock on front arm and HPG on rear arm shocks; up to 13.4-inches of travel
Length
122.4 in
Width
47.9 in
Height
50.2 in
Ski Stance
42.4 in
Track
15 x 137 x 0.75
Weight
525 lbs (claimed)
Fuel Capacity
10.6 US Gal
MSRP
US$8,649.00
Related Reading
2011 Ski-Doo Lineup Preview
2011 Ski-Doo MXZ TNT 600 ACE Review
2010 Ski-Doo GSX Sport 550F Review

All Things Ski-Doo on Snowmobile.com