2014 Ski-Doo Summit Sport 800R Review - Video
Ski-Doo's "basic" 800 comes with attitude
Story by Matt Allred, Photography by Matt Allred, Jul 25, 2013
Not long ago, we chronicled our impressions of Ski-Doo's XM Summit X and the XM RS Freeride. They represent two capable deep powder backcountry snowmobiles that deliver a smooth ride, mountain skills, and sidehill smacks. Technology is steeped deep in the XM and XM RS chassis with Ski-Doo's tMotion rear suspension, FlexEdge track, S-36 front suspension and Rotax E-TEC 800R power. Nice.
But, Ski-Doo has not forgotten the beginner 800 mountain climber who has only $9000 to spend. Call out the 2014 XP Summit Sport. What is the "Sport?" Well, it is Ski-Doo's XP Summit Sport from model year 2013 with technology introduced in that year on all XM and XP Summit 800 platforms (S-36 front suspension with updated Pilot DS 2 skis), and track and rear suspension technology introduced that same year only on the XM Summit X and SP, (tMotion rear suspension with the non-ported Powdermax Flexedge track).
Heading into 2014 you'll find that the Summit 800 154 Sport is all grown up.
Now you may bemoan the fact that the Summit Sport 800 lacks E-TEC power. Don't despair; the Rotax-built Power T.E.K 800R was the shoot-out-at-high-noon motor for many years. I remember the famed REV Summit X RS that carried me to many dizzying heights. At 151 sea level horsepower, the motor is no wimp. In comparison, the 800 motor in the Polaris RMK produces only about five more horses. The no-ETEC decree comes about as a cost-savings, plus this carbureted 800 twin readily allows for aftermarket engine upgrades.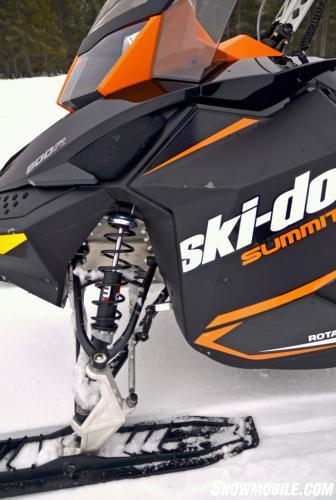 What else comes with its $9000 price tag?
• Brembo racing brake with braided stainless-steel brake line
• REV-XP X Narrow seat with 1.3 US gallons of storage
• RER electronic reverse
• Analog gauge with display
• Grab strap on the handlebar.
I think all mentioned above makes the 800 Summit Sport a good deal.
While the Sport does not boast high-end shocks, they are capable and ideal for the price-point mountain snowmobile the 800 Sport is. Up front, the shocks are Motion Control, likewise too for the front rail shock on the tMotion rear suspension. The rearward shock on the tMotion is an HPG, which is a stout and impact energy absorbing shock.
Unlike the XM Summit X and SP, the 800 Sport comes in one track length (154 in.) and its lug height is only 2.25, whereas the XM Summit X and SP can be ordered in the longer length (163 in) and come standard with 2.5-inch lugs. Given that, I feel the XP Summit Sport with Power T.E.K. is suited best for the 2.25-inch track, the motor spins it fast and does not labor down the Summit Sport.
COMPARISON: Read our review of the 2014 Ski-Doo Summit X
Remember, the 800 Sport is not an XM-chassis Summit, but an XP-chassis Summit. This is the chassis Ski-Doo introduced post REV and pre XM. The REV-XP platform, according to Ski-Doo, is "Extremely light, yet strong, it combines with the PowerT.E.K. 800R engine to deliver excellent power-to-weight ratio and value. Featuring advanced ergonomics for superior maneuverability in deep snow riding. [It also has a] minimalist design with aggressive styling."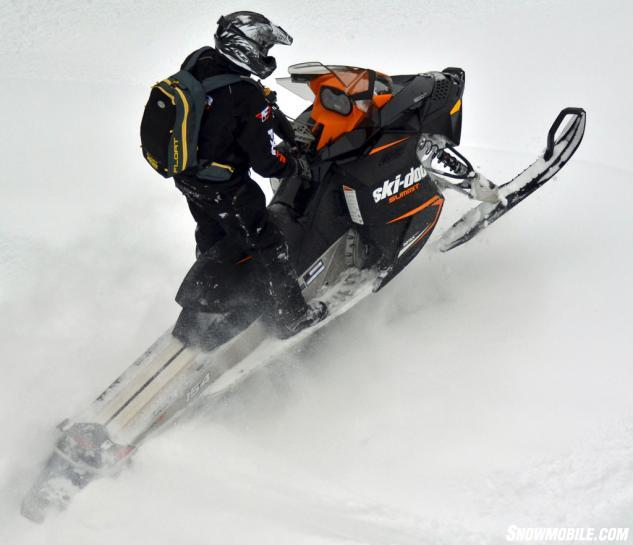 Ski-Doo's 800R motor is not controlled by electronic fuel injection. It uses two Mikuni flat slide TM 40mm carburetors to atomize the air-fuel mixture. This means adding a tuned exhaust system is easily accommodated. The 799.5cc motor also has 3-D RAVE as its exhaust valve controls. Drive and driven clutch consist of Ski-Doo's TRA-VII driver and QRS, respectively.
The tunnel on the Summit Sport is raw aluminum. This too helps keep its cost down. This is not a showstopper. It simply means snow and ice will flash freeze to the tunnel easier than a painted tunnel, like that on the XM Summit X and SP.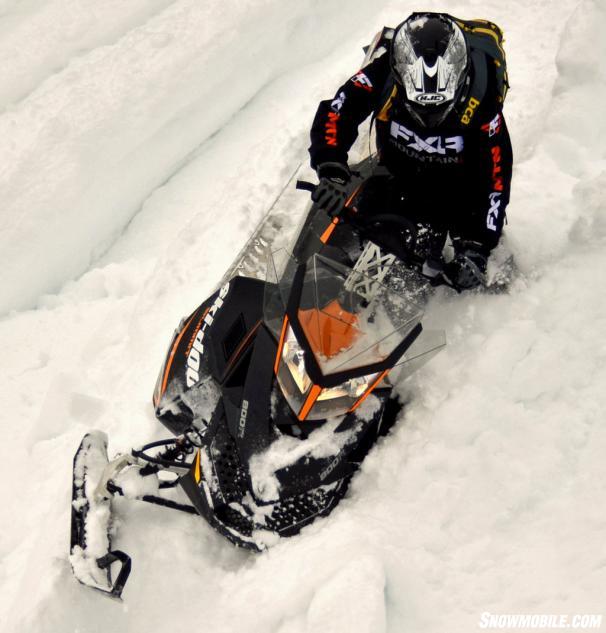 What is it like to ride the XP Summit 800R Sport? Well, it is very XP Summit-esqe with some nice roll-to-the-right and roll-to-the-left characteristics, delivered by the S-36 front end handling package, Pilot DS-2 skis, tMotion and FlexEdge. Many of my scoffs and jabs I threw at the XP Summit X of yore were quieted due to the aforementioned. As a memory kicker, when Ski-Doo introduced the S-36 handling package on the 2012 XP Summit X, we crowned it our Mountain Snowmobile of Choice; and that was without tMotion and FlexEdge tech.
COMPARISON: Read our review of the 2013 Polaris 600 and 800 RMK
However, the handlebar swing on the Sport's laydown post challenged my thinking. When I rode the Sport, the lighter-than-air feel was not present like it was with the XM Summit. Not to end there, time on XM Summit X and SP, and Polaris' RMK Pro and Arctic Cat's M8000 Sno Pro, where the bars swing mostly flat, rather than up and down, reminded me the Summit Sport 800 is an XP.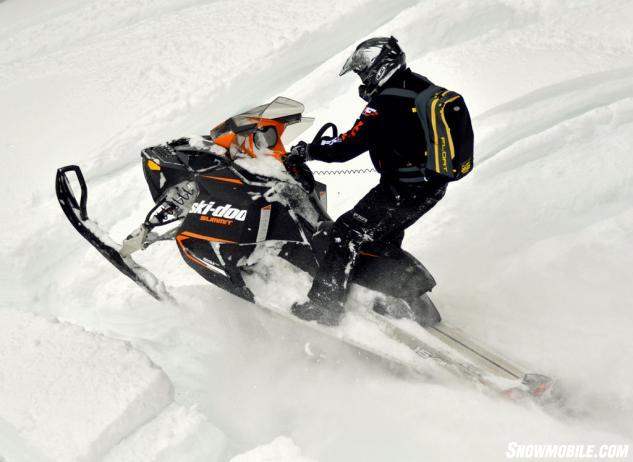 If you ride this sled, bring along your XP Summit flash drive, plug it in to your brain and do not remove it until the day ends. Like wakeboarding, snowboarding, and slalom water skiing, we train our muscles to react to a snowmobile's unique personality – a mountain snowmobile is no different. Muscle memory and brain mapping are essential. These are uncommon terms in the snowmobiling world, I know, but after years of being in this business, the brain and body plug into a snowmobile's DNA. Think of Avatar and the blue people with weird tails using their long hair locks to plug into their favorite condor-like bird. The XP Summit Sport needs to be ridden within its design.
COMPARISON: Read our review of the 2013 Yamaha Phazer MTX
Anyway, when test rider Kevin Allred and I rode the Sport, we had to reacquaint ourselves with the XP chassis. It took a little time, but we were able to take advantage of S-36, Pilot DS-2 ski, tMotion and FlexEdge technologies and go tree running and boondocking. We placed the Sport into the same rowdy country as we did the XM Summit X and SP. Was it a balanced ride? Yes, but ravine busting and side hilling were not as feathery light (through the handlebars) as it was with the two XM Summit variants. Can the XP Summit Sport package up enjoyable rides? Heck yes. For $9K, the Sport handcrafts real powder riding from its mountain-specific handlebars, runningboards with wide snow-dump holes and short seat.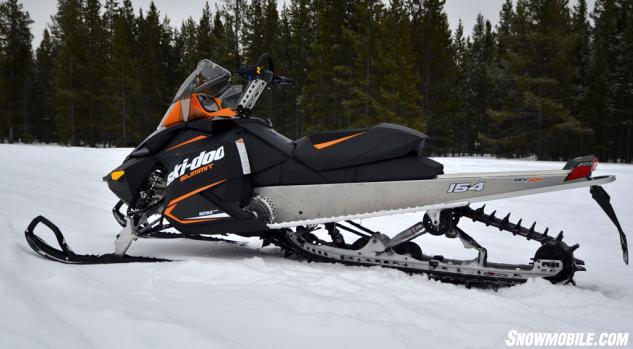 The XP Summit Sport is not an XM Summit SP 154. But for its purpose, it is a fun powder player. I believe it has purpose in bringing new entrants into the mountain-riding segment. However, the Summit Sport 800 may be relegated to rental snowmobile status. Its tall windshield makes it look "rental." I don't like it, though it is a functional windshield. If I were picking one of these up from my fave Ski-Doo dealer, I'd unmount the windshield, install a low-height windshield, and for more added bling, a rear tunnel bag using Ski-Doo's smart LINQ mounting system and go tear it up.
2014 Ski-Doo Summit Sport 800R Specs
Engine
Rotax PowerTEK 799.5cc; liquid-cooled, twin; two-stroke with twin 40mm Mikuni carbs
Horsepower
155-plus
Drive
Ski-Doo TRA VII driven, QRS secondary
Front Suspension
Ski-Doo dual A-arm with Motion Control shocks; 8-inches of travel
Rear Suspension
tMotion with Motion Control and HPG Plus gas shock; rear travel up to 15-inches
Length
131.3 in
Width
42.6 - 44.3 in
Ski Stance
Adjustable: 35.7 to 37.4 in
Track
16 x 154 x 2.25 PowderMax II Flexedge track
Brake
Brembo racing brake
Weight
455 lbs (claimed)
Fuel Capacity
10.6 US Gal (Premium unleaded recommended)
Features
Standard: analog gauge; REV-XP X seat with storage; pushbutton electronic reverse; mountain strap
Optional: key start; storage bags; rack; tank pads; optional windshield sizes; LinQ mounting system for accessories
MSRP
US$8,999