Hibbert outduels Martin again in snocross action
Arctic Cat pilot sweeps Pro classes in Fargo
Story by Staff, Dec. 13, 2010
Email a friend
Print Friendly

RSS
Tucker Hibbert put on a show at the AMSOIL Championship Series (ACSS) Dakota Magic Fargo National this weekend, once again showing why he's the best snocross racer on the planet. Hibbert piloted his Arctic Cat to wins on both the Pro Super Stock and Pro Open, besting rival Ross Martin (Polaris) each time.
Ski-Doo's Robbie Malinoski looked like the man to beat in Friday's Pro Open final after winning both of his qualifying rounds. It was Martin, however, that jumped out to the early lead. Martin looked in command with Tim Tremblay (Ski-Doo) in tow, while Hibbert worked from a bit of a distance. As the race progressed, all three riders would close within a sled length and the crowd sensed a Hibbert attack. As he worked to make his way around Tremblay, Hibbert actually came completely off his sled falling back to within the reach of Malinoski, only to remount and charge back.
At the halfway mark Hibbert moved into second. A few laps later Tremblay dismounted on a super cross style track that was becoming a serious challenge of its own. At lap 18 Martin showed that he would not be intimidated as he stuffed Hibbert in a corner approaching the finish line jump but then, to the delight of the crowd, Hibbert blew by on the next lap and went on to secure the victory. Martin was forced to settle for second, again, while Tremblay held on for third ahead of Malinoski and Justin Broberg (Ski-Doo) in his best run as a pro.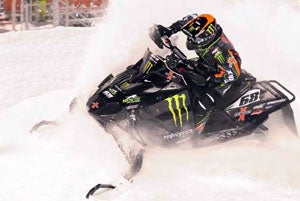 The racers had to deal with frigid conditions all weekend and Saturday's Pro Super Stock final was no different as the mercury plummeted and the biting wind made it fell like -25 degrees Fahrenheit.
The action on the track was everything you could hope for with Martin pulling out to substantial lead over Malinoski, Tremblay and Hibbert. Unlike some of the early events this year, Hibbert was dominant all day in qualifying with 1-1 finishes. As Martin set off in the early stages of the race there was hope that this would be his day. Throughout the mid-stages, Malinoski fended off charges by Hibbert, while Tremblay inched closer.
Just before the midway point, Hibbert made a high-low move on Malinoski for second and had lapped traffic and Martin in his sites. Moments later, Tremblay made an aggressive jump pass into Malinoski. That move forced Malinoski to retire for the day with obvious frustration. With eight laps to go Hibbert used his single biggest asset in his ability to read and create new lines to set up and then pass Martin. He would pull away to win in convincing fashion while Martin held off a rapidly advancing Trembley for second. TJ Gulla (Polaris) kept pace in the points chase with a fourth-place finish, while Garth Kaufman (Arctic Cat) finished fifth.
Semi-Pro Action
In Semi-Pro Super Stock action on Friday, Cody Thomsen (Arctic Cat) raced from behind to gain his second victory of the season. Kyle Pallin (Arctic Cat) led 14 circuits of the 16-lap main event and looked as if he would recover from a painful crash in Duluth in grand style. Pallin survived multiple challenges from Mike Bauer (Polaris) but in then end it was Thomsen who made the fewest mistakes en route to victory. Pallin would hang on for second with Bauer dropping to third ahead of Dylan Martin (Ski-Doo) and Derek Ellis (Ski-Doo).
Pallin would not let victory slip away on Saturday as he secured the Semi-Pro Super Stock win. Ellis stood next to Pallin on the podium in second, while Darrin Mees (Ski-Doo) finished third. Thomsen and Kody Kamm (Polaris) rounded out the top five.
Next up for the ACSS is the Piranha-X Western Nationals presented by Fly Racing at the beautiful Rio Tinto Stadium in Sandy, Utah on Jan. 8, 2011. This is a one-day national event that will be the only home appearance for the many tour riders from west of the Rockies.
AMSOIL Championship Snocross Series Standings:
Pro-Open Standings
Pro Super Stock Standings
Pos.
Rider
Sled
Points
Pos.
Rider
Sled
Points
1.
Tucker Hibbert
Arctic Cat
88
1.
Tucker Hibbert
Arctic Cat
87
2.
Ross Martin
Polaris
78
2.
Ross Martin
Polaris
79
3.
Tim Tremblay
Ski-Doo
70
3.
Tim Tremblay
Ski-Doo
77
4.
Johan Lidman
Arctic Cat
61
4.
TJ Gulla
Polaris
71
5.
Justin Broberg
Ski-Doo
59
5.
Garth Kaufman
Arctic Cat
52
6.
TJ Gulla
Polaris
57
6.
Johan Lidman
Arctic Cat
51
7.
Dan Ebert
Arctic Cat
54
7.
Dan Ebert
Arctic Cat
50
8.
Garth Kaufman
Arctic Cat
52
8.
Justin Broberg
Ski-Doo
48
9.
Robbie Malinoski
Ski-Doo
51
9.
Logan Christian
Arctic Cat
46
10.
Ryan Simons
Arctic Cat
49
10.
Robbie Malinoski
Ski-Doo
44