MotorFist partners with Judnick Motorsports
Snocross team to wear MotorFist racing gear
Story by Staff, Sep. 23, 2011
Email a friend
Print Friendly

RSS
MotorFist is has announced a new partnership with the Judnick Motorsports snocross team. The successful Judnick Motorsports team of riders and staff will be outfitted in custom MotorFist clothing for the 2012 snocross season.
Judnick's three-rider team of Ross Martin, Mike Bauer and James Johnstad will compete at the top-level of snocross racing in the ISOC Nationals across the country as well as Winter X Games.
Racing from November till March across the snowbelt, Judnick riders will experience weather ranging from frigid cold to mild spring conditions. MotorFist says its exclusive eVent breathable membrane fabric offers the best waterproof and breathability characteristics in the industry and is ideally suited to high activity cold weather sports. Using eVent fabric, MotorFist's product development team has designed a uniquely styled race jacket and pant exclusively for the Judnick team that the riders will wear in the 2012 season.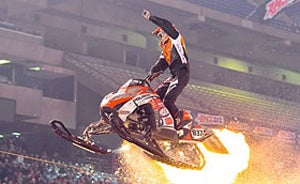 Judnick Motorsports is poised for another strong season with a strong three-rider team. Following an exciting 2011 season where Ross Martin dominated several races and battled for the lead in Pro Championships all the way through to the final race at Lake Geneva, Martin is a definite championship contender for the 2012 season. Mike Bauer will join Martin in the Pro class as he embarks on his first full Pro season following several successful seasons with Judnick Motorsports in the Semi-Pro class. Promising young rider James Johnstad will join the Judnick team for 2012 to race Semi-Pro in the ISOC Nationals.
"We are thrilled to be involved in snocross and excited to partner with one of most successful teams in the sport," says MotoFist President Brad Ball. "We are honored to have Ross, Mike and James wear MotorFist clothing and wish the team the best of luck in the upcoming season."
"We are fired-up to be working with MotorFist. They have the toughest looking, highest quality performance snowmobile clothing in the industry," says team owner Scott Judnick. "We can hardly wait to get to the track and prove it!"
The Wisconsin-based Judnick Motorsports team will run Polaris snowmobiles in 2012 and the team's primary sponsors will be Polaris Industries, Jack Links Beef Jerky, AmsOil, DuPont and MotorFist. The team will begin their 2012 season in November in Duluth, Minn. and race at 10 different venues until the championship final in Lake Geneva, Wis. in March. ISOC National races will be aired on Versus and Winter X Games on ESPN. For more information visit http://www.motorfist.com/ and http://www.judnickmotorsports.com/.