Polaris offers new Pure-Dry riding gear
Waterproof, breathable performance
Story by Staff, Photography by Polaris, Mar. 09, 2011
Email a friend
Print Friendly

RSS
For snowmobilers to keep dry and keep riding, Pure Polaris introduces its new Pure-Dry Polaris Gear.
Pure-Dry Polaris Gear uses Cocona Xcelerator fabric technology for premium waterproof performance and rapid evaporation of moisture generated by body heat. The Pure-Dry Polaris Vapor Jacket, Vapor Bibs, and Primo and Tahoe Gloves are designed to keep snow's moisture out (waterproof) and "xcelerate" the transfer of moisture away from the skin (breathable) to keep a rider warmer, drier and more comfortable.
The most effective way for a rider to stay dry and comfortable is by layering. Polaris suggests starting with the Pure-Dry Base Layer Shirt and Pants, which is designed to increase the waterproof/breathable performance. The next layer is fleece for warmth as desired, then the exterior layer.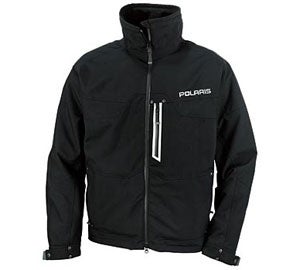 "Our staff is comprised of riders who, like all Polaris riders, demand outstanding waterproof-breathable performance you can count on to keep you dry and comfortable," says Scott Swenson, vice president/general manager PG&A and Snowmobile Division. "We've tested Pure-Dry gear in all types of riding conditions, and it delivers. Riders will appreciate its performance and its value."
How Cocona Xcelerator Fabric Technology Works
The Pure-Dry Polaris Vapor Jacket and Vapor Bibs use a nylon shell laminated with a film that contains the activated carbon of Cocona Xcelerator fabric technology. That contains activated carbon providing 800% more surface area. This promotes rapid moisture transfer and "xcelerated" evaporation. Polaris boasts that Cocona Xcelerator technology transfers moisture for rapid evaporation faster than any other fabric, and its breathability is competitive with that of any other fabric on the market.
Pure-Dry Polaris Gear Features
• Cocona Xcelerator fabric technology quickly evaporates moisture
• YKK Waterproof zippers
• Vapor Jacket has underarm vents with mesh fabric: Warm air can exhaust and snow is blocked from getting inside the jacket
• Vertical back vents on the Vapor Jacket let moist air exhaust and are not blocked by a backpack
• Adjustable cuffs have snaps instead of hook-and-eye fasteners to minimize ice and snow build-up
• Cocona fabric technology's activated particles in Pure-Dry Polaris Base Layer Shirt and Base Layer Pant absorb odors
• A whole system that works together to deliver extreme value