Ross Martin sweeps Pro classes at snocross finale
Polaris pilot clinches Pro Open title
Story by Staff, Mar. 23, 2010
Email a friend
Print Friendly

RSS
The final round of the AMSOIL Championship Snocross Series (ACSS) was all Ross Martin as the Polaris rider swept both Pro classes at the Nielson Enterprises Grand Finale at Lake Geneva Resort.
Martin had already clinched the Pro Open championship, but that didn't stop him from putting on a show in the final as he masterfully executed the most challenging track Lake Geneva has ever seen.
The heat was on from the start line with Brett Bender (Polaris) out front followed by Dan Ebert (Arctic Cat), Brett Turcotte (Ski-Doo) and Martin. Using nothing but raw power Martin charged hard and starting passing and positions changed rapidly. By the third lap it was Turcotte, Martin and Bender.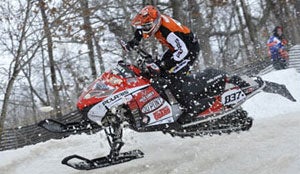 Behind the leaders Tim Tremblay (Ski-Doo) was putting on some heat of his own passing Bender. At the half way mark of the 14-lap final it was Martin in first followed by Turcotte and Tremblay with Martin making 56-second lap times. The top three finished the race that order.

"I wanted to win so badly in front of my family," says Martin. "I have been working on this all year. It was a good race. It feels so great."

Smiling from ear to ear Martin tossed out his goggles to the fans and gave away his race helmet to one lucky and very excited little girl in the crowd.
Martin finished the season with a commanding lead in the Pro Open points chase. Polaris teammate Levi LaVallee finished a distant second, followed by Tremblay.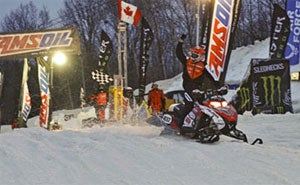 The Pro Super Stock final was more of the same. Martin took the hole shot and he didn't look back until he took the first place position on the podium.

While Martin made it look easy, the track was challenging and rough. Running 12 laps averaging just over a minute each, riders needed to be in top physical shape. With a pack of hungry riders breathing down Martin's neck, he said he used his energy to concentrate on his lines. Behind him positions changed within the first few laps. At the first lap it was Martin followed by Dan Ebert, (Arctic Cat), Steve Taylor (Ski-Doo) Tremblay (Ski-Doo) and Robbie Malinoski (Polaris). Tremblay started putting the pressure on and passed Taylor and Ebert taking over the second place position in lap 4. Ebert fell back to 4th place as Emil Ohman pulled up taking that third place spot.
"Once I passed Ebert it was a huge relief," says Ohman.

Martin felt the pressure and kicked it up a notch putting distance between he and Tremblay.
"He was so far away I couldn't catch him. I just held on," says Tremblay. "I didn't want to crash or do anything stupid. I kept the second place to play it safe."
This proved to be a good strategy for the first-year pro class rider. Tremblay walked away with the second place trophy and takes home the title of National Points Champion in the Pro Super Stock class.

Martin practically coasted over the tabletop finishing in first followed by Tremblay in second and Ohman in third.

The National Points Champions for Pro Super Stock are Tremblay in first, Martin in second and Ohman in third.
Semi-Pro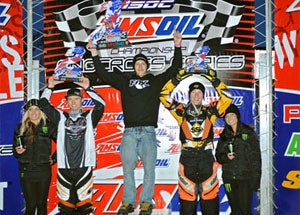 From the green to checkered for 10 laps of the Arctiva Semi Pro Open it was Cody Thomsen (Arctic Cat) in first, Logan Christian (Arctic Cat) in second and Justin Broberg (Ski-Doo) in third. The top three held their positions the entire race, but not without more than a few battles and near passes. The three young future pro riders finished the National Points Championships in the same order — Thomsen takes the first-place points champion followed by Christian and Broberg.

"I wasn't worried about the points," Christian said on the podium. "I just wanted to go out and have fun. I got in a groove and then it got really fun."

Christian and Thomsen were neck and neck as the two talented riders battled for positions.
"Cody had good lines and I just couldn't pass him," says Christian. "It was a fun race."

"I just tried really hard to stay focused and run my own race," says Thomsen. "I nailed it."
In the two Semi-Pro Super Stock finals Derek Ellis (Polaris) could not be beat. The Track Inc. Semi Pro Super Stock #1 final saw Ellis take the checkers, followed by Kyle Pallin (Arctic Cat) in second and Colby Crapo (Polaris) in third. Polaris riders also took spots four through eight.
The Air Force Super Stock #2 held lane changing passing excitement and battles on the field. A red flag in the 4th lap meant a restart and a second challenge for all of the riders. At the checkered it was Ellis again in first, Pallin in second and Logan Christian in third.
The ACSS handed out a handful of year-end wards following at Lake Geneva:
Event of the Year: Utah
Pro Rookie of the Year: Tim Tremblay
Fan Favorite: Levi LaVallee
Freestyle Athlete of the Year: Matt "Tinger" Tingstad
True Grit Award: Levi LaVallee
ISOC Employees of the Year: Jake Haugh & Todd Johnson
Most Improved Racer: Andrew Johnstad
Pro Stock Privateer: Paul Bauerly
Pro Open Privateer: Paul Bauerly
Team of the Year: Warnet Racing
AMSOIL Championship Snocross Series Final Standings:
Pro-Open Standings
Pro Super Stock Standings
Pos.
Rider
Sled
Points
Pos.
Rider
Sled
Points
1.
Ross Martin
Polaris
411
1.
Tim Tremblay
Ski-Doo
376
2.
Levi LaVallee
Polaris
311
2.
Ross Martin
Polaris
358
3.
Tim Tremblay
Ski-Doo
310
3.
Emil Ohman
Ski-Doo
316
4.
Robbie Malinoski
Polaris
297
4.
Dan Ebert
Artctic Cat
311
5.
Cory Davis
Arctic Cat
289
5.
Robbie Malinoski
Polaris
277
6.
Dan Ebert
Arctic Cat
271
6.
Cory Davis
Arctic Cat
258
7.
Brett Bender
Ski-Doo
267
7.
Levi LaVallee
Polaris
250
8.
Andrew Johnstad
Polaris
250
8.
Garth Kaufman
Arctic Cat
249
9.
Emil Ohman
Ski-Doo
247
9.
Brett Bender
Polaris
245
10.
Garth Kaufman
Arctic Cat
237
10.
Tucker Hibbert
Arctic Cat
243