Saskatchewan snowmobile registration fee increased to $70
Saskatchewan Snowmobile Association supports fee increase
Story by Staff, Nov. 02, 2009
Email a friend
Print Friendly

RSS
The Saskatchewan Snowmobile Association (SSA) has announced that the snowmobile registration fee will be increased to $70.
On behalf of its members, the SSA approached the provincial government to consider an increase to the $40 snowmobile registration fee. The provincial government engaged an independent consultant to review the recreational snowmobile sector and after "careful analysis," the government has decided to increase the fee to $70 so the SSA can continue to maintain the snowmobile trail network in a safe and sustainable manner. Even with the fee increase, Saskatchewan continues to have the lowest fee in Canada to register a snowmobile and use a provincially groomed trail system.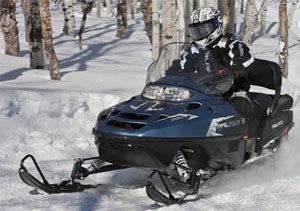 "Snowmobiling is a cherished winter recreation activity for the people of Saskatchewan and our trail network is a big part of that," says Dustin Duncan, Tourism, Parks, Culture and Sport Minister. "Sustaining and managing grooming operations, maintaining safer trails and supporting safety programs benefit all riders and contribute to healthy lifestyles and economic development of our great province."
"I would like to thank Tourism, Parks, Culture and Sport Minister Dustin Duncan and his officials from Tourism, Parks, Culture and Sport for working with the Saskatchewan Snowmobile Association to address the many issues that face the Saskatchewan snowmobile sector," says Barry Bradshaw, Saskatchewan Snowmobile Association chairman. "Snowmobiling and our trails are not only important to the folks that head out and have fun on them, they are also very important to Saskatchewan communities as they provide an economic and tourism boost during the longest season in our province."
The registration fee helps cover the cost of trail maintenance, replacing grooming equipment, additional safety training and promotion, assisting with upgrades to trail shelters, signs and provides long-term viability of the provincial snowmobile trail network.
For more information on Saskatchewan snowmobile trails please visit SaskSnowmobiling.sk.ca or GoSaskSnowmobiling.com.