Held off the top step of the podium last week in New York, Ski-Doo pilot Tim Tremblay has no such trouble this week, winning both Pro races at the Fargo, ND stop on the ISOC's AMSOIL Championship Snocross Series. Meanwhile, Kody Kamm (Polaris) swept the Pro Lites races at Buffalo River Race Park (BRRP) and increased his lead in points championship.
AMSOIL Pro Open Friday Final
A wild Friday night of Pro Open racing at the new Buffalo River Race Park was highlighted by a flawless performance by overall Pro Open points leader Tim Tremblay, who walked away with the overall win over first-time 2011-'12 podium finisher Emil Ohman (Ski-Doo) in second and defending Pro Open class champion Tucker Hibbert (Arctic Cat) in third.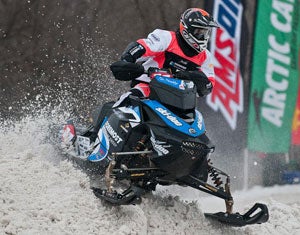 With Arctic Cat's Cody Thompsen pulling his second-straight Stud Boy Holeshot, teammate Kyle Pallin quickly moved into second, before Mike Bauer (Polaris) hopped into the second spot. Things would soon get a bit hectic as, according to ISOC race officials, Polaris' Ross Martin parked Pallin in a corner and was quickly black flagged. Martin, unaware of the (rolled) black flag, possibly due in part to the snowy conditions, took a couple laps before he backed his sled down - dropping five positions.
Tremblay would stay on the gas the whole time and put upwards of 11 seconds on Thompsen and a charging Robbie Malinoski (Ski-Doo). On lap seven Thompsen would wipe out in the rhythm section, giving Malinoski second place. Around this time Hibbert would suffer some sort of mechanical issue, which he would later explain on the podium was his kill cord getting pulled out on the far back corner on the half-mile track.
On lap 11 Ohman would move into second place when Malinoski appeared to suffer some sort of mechanical issue. At the same time Hibbert appeared back in the top five, from as far back as 11th, and was picking off riders left and right. Tremblay would cruise through the checkers, taking with him the red No. 1 plate into Saturday night's race. Ohman would hold off Hibbert for second.
"Tonight was really good for me in the final," says Tremblay. "I found some new lines in the parade lap that worked well for me in the race. There was a lot of new guys up front (Thompsen, Pallin and Bauer), which makes for some good racing for the fans."
"It's been two rough seasons for me, so to get back up on the podium makes me so happy," says Ohman. "I must really thank my team for everything tonight."
AMSOIL Pro Open Saturday Final
In front of a packed house Ski-Doos and Canadians dominated the Pro Open podium - the second time this season Ski-Doo has swept the overall Pro Open podium, and the first time a Pro Open class racer (Tremblay) has won back-to-back on the ACSS circuit this year.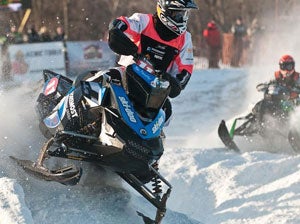 With Arctic Cat's Tucker Hibbert parlaying the top qualifying times/places into the No. 1 gate pick, Ski-Doo's Mathieu Morin would stun everyone - beating Tremblay and Ohman to the tape, with Malinoski and Garth Kaufman (Arctic Cat) rounding out the top five as the defending champ Hibbert struggled to get out of the first turn in the top ten.
By lap three Morin was still flying, posting a hyper-fast lap time of 41.386, and put three seconds on now second place Tremblay. Lap five of the 14-lap Pro Open main had Morin still up, but Tremblay was closing fast. Three laps later (lap eight) Tremblay took advantage of a Morin miscalculation in the rhythm section and blew past his fellow Canadian and into the lead - a lead he'd eventually extend through the checkers.
While Polaris' Ross Martin and Kaufman would dog each other for the next few laps, Hibbert mounted a charge and moved up onto Kaufman. The local from nearby Pelican Falls, Minn., would rail past Kaufman and move right onto Martin's track. But Martin would have none of it - holding off Hibbert at the checkers as they both caught up to Malinoski - all three finishing in the air when the checkers flew.
The final podium saw Trembley on the top step, with Morin in second and Malinoski in third.
"I had not started very well all day and finally got a pretty good start in the main, made a good choice for the final," says Tremblay. "Mathieu was pretty fast, especially during the early laps. But I was able to get the lead and had a pretty good race after that."
"I got an awesome start, ran and awesome race ... everything was perfect," says Morin. "I really liked the track and a big 'Thanks' to everybody!"
Sledhead 24/7 Pro Lite Friday Final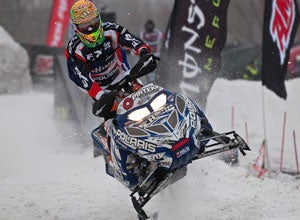 Rocketing his Polaris sled out to the Pro Lite holeshot was Kody Kamm, followed closely by Ski-Doo rider Derek Ellis and Polaris' Jake Scott.
As the three broke away from the rest of the field, Kamm put about 1.5 seconds on Ellis at the halfway point of the ten-lap contest, while Ellis had about a two-second lead on Scott. As the final laps clicked off, Kamm made up some more time on Ellis in the middle section of the half mile course and Scott stayed well ahead of fourth place Travis Muller (Ski-Doo) and fifth place Corey Watkinson (Ski-Doo).
At the checkers it was Kamm, Ellis and Scott making up Friday's Pro Lite podium at BRRP.
"I had an OK start, got into the lead on the first lap and stayed there," says Kamm.
"That was a good race," says Ellis. "We really have to give it up to the guys at BRRP. They really pulled this place off."
Sledhead 24/7 Pro Lite Saturday Final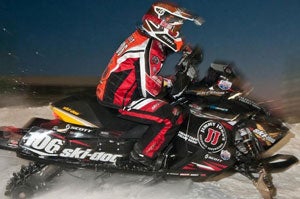 Ripping a clean holeshot through the crisp Minnesota air, Ski-Doo's Derek Ellis led the Pro Light race early, towing Polaris' Colby Crapo and ACSS Pro Lite series points leader Kody Kamm into the first turn and through lap two.
Then, on the side rhythm section - in one fell swoop - Kamm disposed of both Crapo and Ellis to forcefully take the lead. Crapo went down in the action and Ellis held on strong for second. But it would only be a matter of time - like one lap - when Kamm had put four seconds up on Ellis.
While Kamm cruised to a seemingly effortless win (nine-plus seconds), Ellis remained in second - the same first/second Pro Lite podium finish as the night before. That said, the fans' attention was focused on an absolutely ballistic battle between Polaris riders Jake Scott and Andrew Carlson for fourth and fifth, the ferocity of the duel putting them right on the tail light of third place runner Brett Nastala (Polaris). Scott, who placed third on Friday, waited until the final lap to get past Nastala (fourth) - while outlasting Carlson (fifth) as well.
"That was a fun race, actually," says Kamm. "I got a third place start and I obviously had some good lines, so I'm happy with that."
"I had a good run at the front, got the holeshot and have to thank my team for that setup," says Ellis. "It frustrating getting second again, but it's better than a lot of other positions."
ACSS Pro-Open Standings
ACSS Pro Lite Standings
Pos.
Rider
Sled
Points
Pos.
Rider
Sled
Points
1.
Tim Tremblay
Ski-Doo
425
1.
Kody Kamm
Polaris
432
2.
Ross Martin
Polaris
410
2.
Derek Ellis
Ski-Doo
394
3.
Robbie Malinoski
Ski-Doo
398
3.
James Johnstad
Polaris
321
4.
Darris Mees
Ski-Doo
336
4.
Andrew Lieders
Ski-Doo
303
5.
Tucker Hibbert
Arctic Cat
333
5.
Jake Scott
Polaris
282
6.
Justin Broberg
Ski-Doo
274
6.
John Stenberg
Ski-Doo
274
7.
Garth Kaufman
Arctic Cat
274
7
Travis Muller
Ski-Doo
272
8.
Mathieu Morin
Ski-Doo
261
8.
Corey Watkinson
Ski-Doo
268
9.
Brett Bender
Polaris
239
9.
Andrew Carlson
Polaris
251
10.
Johan Lidman
Polaris
236
10.
Brett Nastala
Polaris
248