Tucker Hibbert to race six snocross events
Team Arctic rider looks to stay perfect in 2009-10
Story by Staff, Nov. 17, 2009
Email a friend
Print Friendly

RSS
Tucker Hibbert will pilot his trademark, blacked-out Monster Energy/Arctic Cat Sno Pro 600 at six select snocross events this winter.
Hibbert is scheduled to hit two exciting new venues on the AMSOIL Championship Snocross Series (ACSS) tour in Milwaukee and Salt Lake City. He will return to New York, after a two-year absence, and will also be racing fan favorite events in Duluth and Shakopee, Minn. Also, Hibbert has already received his official invite to ESPN's Winter X Games 14, where he hopes to win a record-breaking ninth medal in the snocross event with a gold medal four-peat.
"I'm really excited about my schedule this winter. I'll be racing at venues from one side of the country to the other, so fans from all over will have the opportunity to see a race in person," says Hibbert.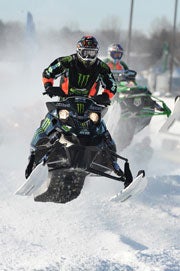 Monster Energy is returning as the team's title sponsor and is committed to supporting Hibbert's racing year-round. As announced earlier, he is continuing his career-long partnership with Arctic Cat to race the third generation Sno Pro 600. Other returning sponsors are: Castle X Racewear, Stud Boy Traction, Fox Racing Shox, Spy Optic, Speedwerx, Kicker, One Helmets, Digital Ink Design & Graphics and Asterisk. Joining the team this winter is Leatt-Brace. Hibbert began wearing the Leatt neck brace the summer of 2008 and has not rode without it since. Leatt is the leader in neck protection and its highly praised brace was recently named "Product of the Decade" by Motocross Action magazine.
Last season, Hibbert rode flawlessly in every snocross race he entered. He begins his quest for another undefeated season on Thanksgiving weekend at the ACSS tour's season opener in Duluth, Minn. If you cannot make it to a race this winter, you can watch the all-new, one-hour, Sunday afternoon race coverage of the ACSS tour on VERSUS. For Hibbert's complete schedule, visit Tucker-Hibbert.com.
"Last year was unbelievable. Being undefeated puts a lot of pressure the crew and myself but we're prepared to do it again," says Hibbert. "I'm fortunate to have an amazing group of people behind my program. I just got home from a week of riding and testing and am confident my Monster Energy/Arctic Cat will be ready to rip at the season opener in Duluth!"
Related Reading
Team Arctic racers aim high for 2010
Arctic Cat employees sign Tucker Hibbert's race sled
2010 Arctic Cat Sno Pro 500