Bushy Mountain Motorsports
4541 Hwy 421N
Wilkesboro, North Carolina
28697

Visit Website
Get a Price Quote from a Dealer in your area
Bushy Mountain Motorsports Reviews Write A Review
i took a 1977 honda goldwing to this dealer and was assured that they were able to repair it , I was told that it needed the carbs rebulit , the manager , Mr jeff Huffman talked withme after i had a hard time geting to talk with the mechanic and i found out that they were having a l.ot of issues with personal, the machanic no longer worked there that had started the repairs to my machine , after a few months i was told that they could not do anymore to my bike so i went to pick it up had to pay them 800.00 plus dollars to get it out and when i did they had the brake calipers off of it hangiong lose , the seat was not on the machine and the machine would not run at all , to the best that i can tell the carbs had never been taken off of this machine ,
This machine was left to me by a younger brother who passed away from cancer so it means a lot to me , i still have not gotten it fixed but i would never take anything nor buy anything from these dishonest ,theives .
I am in the market for a new honda forman but will buy a kamahumayamasuki from china before i would spend a dime on gas to drive to these dogs !!!!
Please be careful when you are dealing with these peole .
Featured Snowmobiles
Most Popular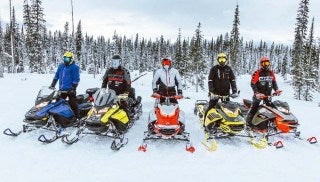 Electric Ski-Doo Coming By 2026
Find a Snowmobile Dealer near you
Enter your ZIP code below to search for Snowmobile dealers near you.