Full Throttle Powersports, Inc.
1994 Remount Rd
Gastonia, North Carolina
28054

Get a Price Quote from a Dealer in your area
Full Throttle Powersports, Inc. Reviews Write A Review
STAY AWAY!!! DAMAGED EVERYTHING THEY TOUCHED!!! TOOK FOREVER!!! GUARANTEED TO MESS UP YOUR RIDE, BILL YOU FOR PARTS NOT INSTALLED. Went in for a carb cleaning and was talked into sealing the tank and a new pepcock assy. They had the bike for over 30DAYS, I called every week and heard every excuse. The tank was supper sloppy, the pepcock was billed as a NEW PART but after noticing it was INSTALLED WRONG and the gas lines had damage, I was told it was a rebuild kit (a grommet) Then there was the gas leaking from the tank where the valve was installed, and the stripped and stuck screws in the side panels. They billed me for a fuel filter and there WASN"T ONE installed. Shop fee's, they said they couldn't start the bike after it was serviced, charged for spark plugs that it didn't need. The list goes on. I got a refund on some of the petty things but got totally screwed by these guys. They must call labor ready and hire anyone with two arms to do their service. DO NO NOT GO HERE AT ANY COST!. They said to bring the bike back in and they would fix it but I wouldn't let them touch my leaf blower. Everything they touched was damaged. This is not written out of spite, they truly damaged everything they touched, and billed me for parts that weren't there.
I am in the market for a side by side, went to the gastonia area because there were a few places around that area. The first place i went on the main drag of Gastonia was a Kawasaki, Honda place, I didn't like any of their stuff, but I was there maybe 30 seconds and I was approached by a salesman. He was friendly and answered all my questions, he gave me his card and told me where Full Throttle Motorsports was. It was only a mile away and I was anxious to try out some of the polaris machines, they look good and generally have the best machines in the industry. I am BIG on customer service, I like to be taken care of or at least ACKNOWLEDGED THAT I EXSIST AND THAT I MAY PURCHASE SOMETHING FROM YOU. My father and I were there at least twenty minutes. It was like we were invisible, I saw one guy running around not ever talking to a customer, but just going from room to room. I saw another guy in the office, he would occasionally look up and look at me and then continue to do whatever he was doing. I actually walked by his office multiple times just to see if he would actually engage me, but nothing! This really has soured my image of Polaris and I will be telling this story to others and warning them about this place. Twenty thousand dollars in hand and I'm ignored???? I ended up buying a Can Am, treated me great and with respect, that's all I needed.
Polaris really needs to know about who is distributing their product so poorly.


I bought a 2012 Zuma 50 in April of 2012. In May I took it in to replace my back tire. I informed them that Zuma was loosing a lot of drive power on hills. The said it must be the drive belt and the clutch weights. I commented that the bike was a little over than a year old. So consented to have the belt and weights replaced. Then the service manager told me it could take about a month to get the parts and that the upper management was aware and upset about this issue. I was really suprised and bothered as this was my main vehicle and this was a bike that is still in production and it shouldn't be hard to get the parts that in production. So I canceled the order for the belt and the clutch weights. Jump a months ahead and I was checking the gap on my spark plug and the damn thing broke off and there was no way for me to get the remaining piece out. That's my fault and have no problem paying for the repair and labor. Well the repair took about 3 weeks. I called to check on the progress, and low and beholed the service guy said that my cylinder and piston were worped due to over heating (even thought originally stated it was only a belt)I countered they're accusation. I always kept proper matenece oil, tranny fluid and coolant. At no point did I ever see the over heat light come on. They countered with we have never seen that happen any other way. I said order the parts piston ring set, piston, piston pin and the cylinder. They said that the part could be back ordered for a few months. This confounded me as Yamaha is a international bike builder and never heard of a major dealer having this type of parts supply problem. I made several calls to corporate and they said that the best they could do was to try to put a rush order on it. Everyone from the dealer on up to corporate were less than understanding. I still tried to no avail that the engine never overheated and felt this was a factory defect. I kept calling and was never getting a return call on the progress of getting the parts or work out something with the pricing of the repair...which is up to $725. Even two of the service personal stated that they would be pissed as well. This dealer Full Throttle Powersports, Inc in Lowell , NC. The corporate HQ out of Los Angeles was less then helpfull in fact they were condescending at almost ever call.
Featured Snowmobiles
Most Popular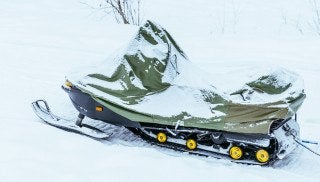 The Best Snowmobile Covers
Find a Snowmobile Dealer near you
Enter your ZIP code below to search for Snowmobile dealers near you.