20890 US Highway 169
Grand Rapids, Minnesota
55744
800-799-7297
Get a Price Quote from a Dealer in your area
I have been an intermittent customer at this dealership for over 20 years. The reason say intermittent is because sometimes I do business with them for pure convenience and lack of time to go elsewhere. I limit the amount of business I do with them due to the poor attitude of the owner and general manager. I have witnessed both of them treating their employees and customers with outright disrespect. Both are very unprofessional. They seem to think they're entitled to your business. It's no wonder they have such a high employee turnover. I feel sorry for the employees that stick it out and continue to work there. I would suggest you go elsewhere, but if you do need to spend your hard earned money at Ray's remember the poor conditions their employee has to endure just to make a mediocre living.
Easy to work with , They have a great spot to test drive their ATVS and side by sides and that is why I purchased one from Rays
They will Msrp even the loyalist of customers!
Featured Snowmobiles
Most Popular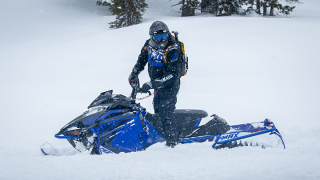 Yamaha to Stop Producing Snowmobiles
Find a Snowmobile Dealer near you
Enter your ZIP code below to search for Snowmobile dealers near you.