4820 N.W. 13th Street
Gainesville, Florida
32609

Get a Price Quote from a Dealer in your area
Streit's Motorsports Reviews Write A Review
This place is now a part of the national "Ridenow" chain. It's called Ridenow Gainesville. The people have mostly been changed. They lost the Kawasaki franchise while under the previous owners and haven't got it back yet. The mechanics seem to be much better than the old place but I only use them for tire changes. The new people have sold many, many more bikes than the old people just in the little time they have been there. From what I hear, there are plans in the works that will result in a new larger facility.
I took a YFZ450 down here to get fixed because it quit running. They completely tore down the carb and the top end and told me that the engine had to be rebuilt and quoted me a price of about $1600. I just recently sold this fourwheeler completely disassembled. The buyer put the engine back together using the same parts that came out of it, and it runs perfect. The service guys are full of crap most of the time and try to hose you. Luckily I did not have them rebuild the engine. Basicallly, they had no idea what was wrong with it so they told me It has to be rebuilt.
Featured Snowmobiles
Most Popular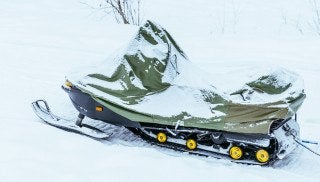 The Best Snowmobile Covers
Find a Snowmobile Dealer near you
Enter your ZIP code below to search for Snowmobile dealers near you.