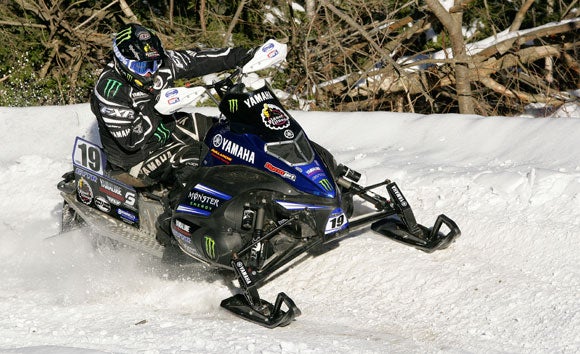 Yamaha snowmobiles had a successful Jan. 26-27 race weekend in everything from the snowy X Games in Aspen, Colo. to frigid cross-country competition in Minnesota and Maine.
Leading the charge for Yamaha was Doug Henry, formerly a motocross champion and now a snowmobiling inspiration, who led most of the X Games SnoCross Adaptive race aboard his FX Nytro RTX before ultimately finishing a close second. In Minnesota, Ben Lindbom won the 50-mile USXC Semi Pro Improved event, while in Maine, Erik Frigon grabbed a strong third in the 20-mile USSC East Pro Open race, both aboard Nytro RTXs.
Henry rewrote the motocross rulebook when he won the 1998 AMA Motocross title on Yamaha's YZ400F four-stroke. After suffering a career-ending spinal injury in 2007, he then rewrote the rulebook for handicapped athletes by outfitting a Yamaha snowmobile with a special shock-absorbing seat to race snocross. After taking a bronze in X Games 14, this weekend Henry returned to Aspen and led nearly the entire final aboard his specially outfitted sled before finishing second to Mike Schultz and claiming a silver medal.
"My Yamaha gave me a great start and put me out front, and after that I just tried to have fun," says. Henry. "Thanks to Yamaha Snowmobiles for getting me the equipment and to ESPN for putting on the event."

Read more