Five of the Best Boa Snowmobile Boots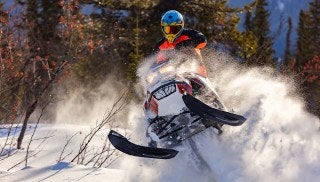 Snowmobile boots that are functional on and off your sled
Freezing cold toes are no fun when you are out for a ride. These boa snowmobile boots will protect your little piggies when the mercury drops.
No one likes to get cold feet, especially when snowmobiling, and maybe when getting married. Picking the right pair of snowmobile boots is vital to the enjoyment of the ride. Not only do you need warm boots, but also supportive boots that function just as well off the sled as they do on.
While not absolutely essential, the boa closure system is ideally suited to snowmobilers. Lacing up your boots, or simply tightening or loosening them a little, can be done with the turn of a dial. You can even do it with a gloved hand – perfect for those cold winter morning rides. Boa snowmobile boots make it faster and easier to take them off or put them on. Plus, they are laced with stainless steel wire that is built to last, so you won't have to worry about breaking a lace before you get out and ride. The boa closure system adds some cost to your snowmobiling boots, but when you consider you may own a pair for many years, the added convenience makes up for it – at least in our opinion.
Here are some staff favorite boa snowmobile boots that pass the test of being warm, functional, comfortable and ready to take on the adventure that you have in mind.
Lead Photo Courtesy Shuttestock/Wlad Go
1. Editor's Choice: KLIM Adrenaline Pro GTX BOA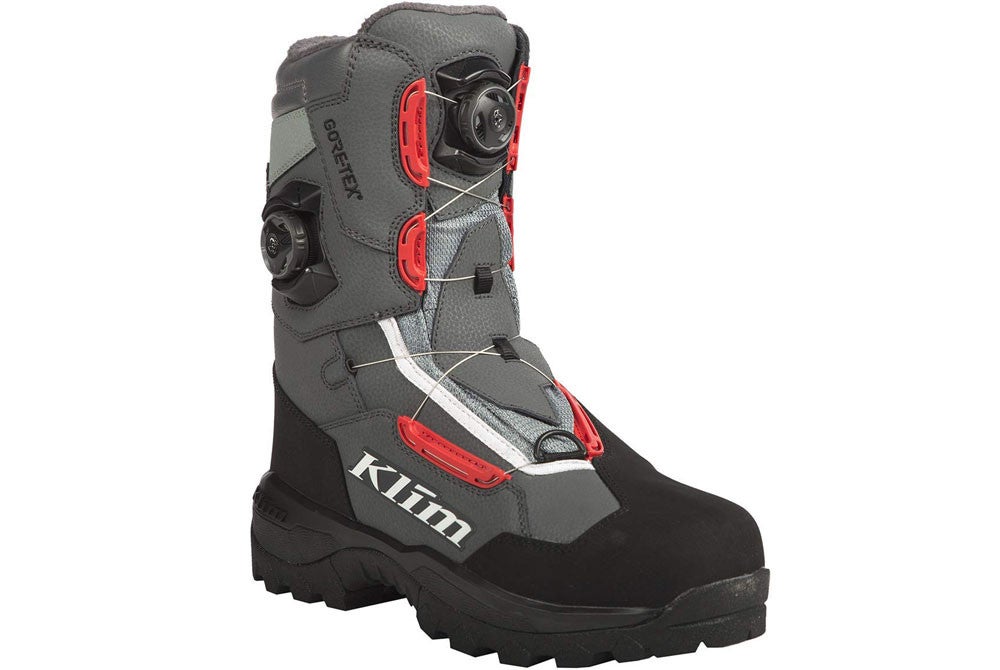 Of course, you know Klim is going to bring it when it comes to technical riding gear. The all-new Adrenaline Pro GTX boot is Klim's latest advancement in comfortable boots made for extremely technical conditions. The plan going into the these boa snowmobile boots was to tweak their previous design to add more support for your foot and for you as you tackle the terrain. The GTX boots have an advanced Boa closure and 600g Thinsulate insulation. They are guaranteed to keep you dry with complete GORE-TEX outers. They recommend a technical sock be worn to get the most out of the boot, which isn't a bad idea anyway. These boots also have a forward design with stiff support against movement that aren't going forward. This helps keep you planted and protected, while at the same time, being comfortable – Just as you'd expect from Klim.
2. Runner Up: FXR Black Ops X-Cross Pro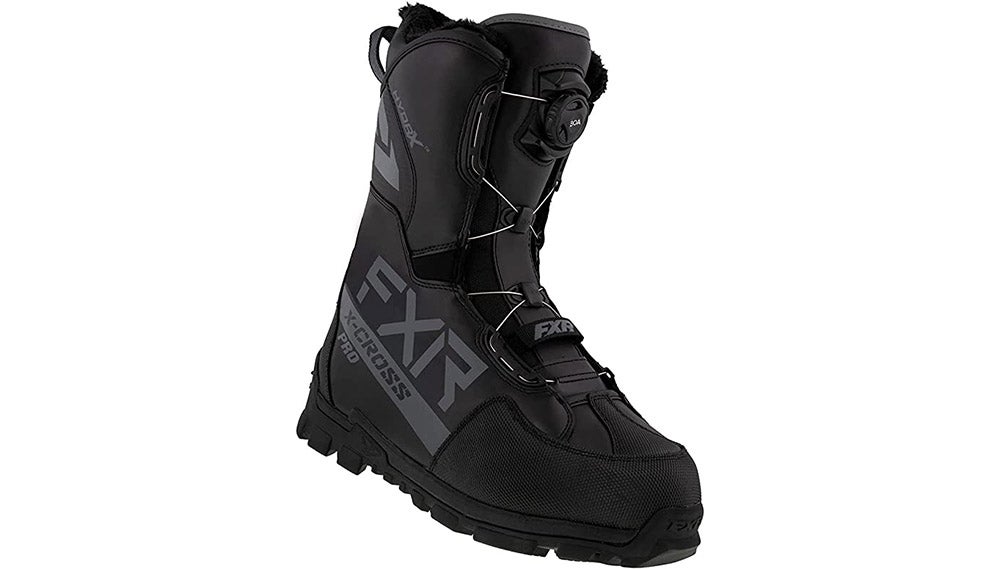 Boa technology is something you'll see with many of the top boots. It is a simple system that has replaced standard tie-laces and lets you really get a snug and secure fit. FXR Racing created the Black Ops X-Cross Pro for those wanting the ultimate in extreme terrain riding and warmth. They are rated to -40° C with 600-gram insulation, but there's so much more to these boots. The 2-piece tongue provides a positive fit for maximum comfort so you get the best flexibility, stability and protection while on your sled. Additionally, this boot has a fixed liner with fur lining for further comfort and warmth, while minimal seams in the sled-contact areas minimize possible damage from high contact points. When you're off the sled, the 20mm thick EVA midsole gives you plenty of traction in the snow, and the 2mm rubber reinforced toe cap provides protection from cold and whatever you might stumble across under the snow.
3. CastleX Charge Atop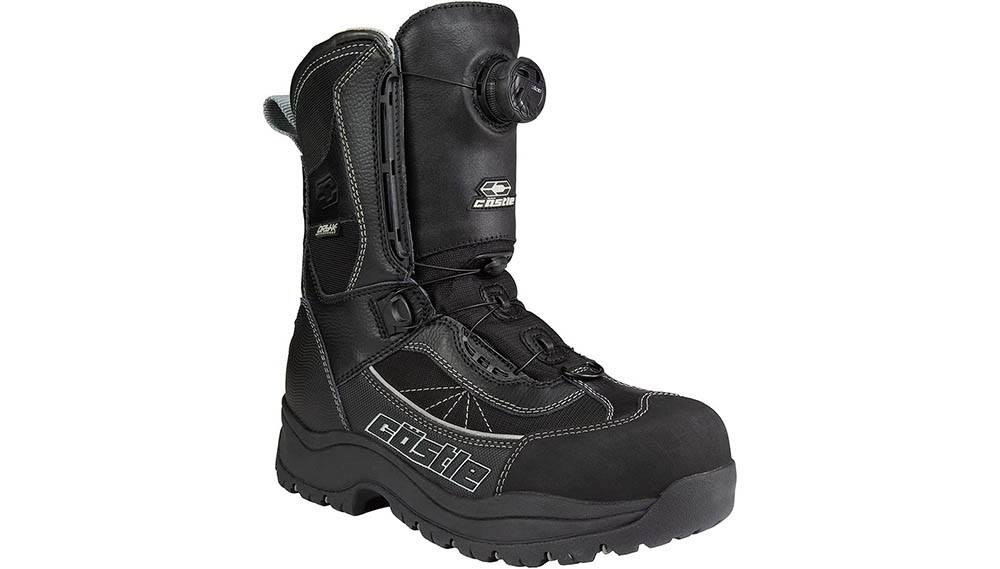 As one of the leaders in performance snowmobile gear, CastleX has a boot that comes in at a close second on our list of best BOA snowmobile boots. This rugged snowmobile boot features a 3-layer Merino Wool blend that provides plenty of insulation to keep you warm, while providing plenty of moisture wicking air mesh to keep your feet dry. Furthermore, the CastleX Charge Atop has a fully integrated Castle DRY-X waterproof membrane to keep your feet dry even in deep snow, and the ColdShield Technology from CastleX helps to keep your feet comfortable with the removable insole that is manufactured from wool with a metallic heat reflecting layer.
4. 509 Raid Single Boa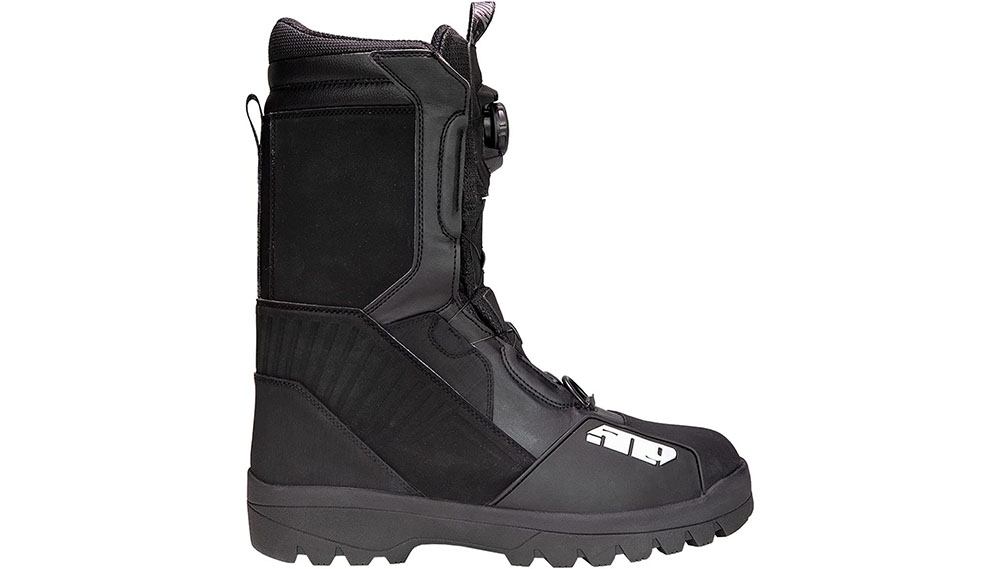 Probably best known for its lineup of snowmobile goggles, 509 has some other gear worth looking into. The 509 Raid Boa snowmobile boot comes with 600g of Thinsulate insulation, 5TECH waterproof and breathable liner, Raid rubber reinforcements engineered to stand up to sharp running boards, and a dual boa lacing system with quick release M3 Lace reels and aircraft stainless wire. That dual boa lacing system lets you fine tune the upper and lower zone fit with the turn of a dial. All of this combines to make the 509 Raid Boa one of the best snowmobiling boots available.
5. Korker Polar Vortex 1200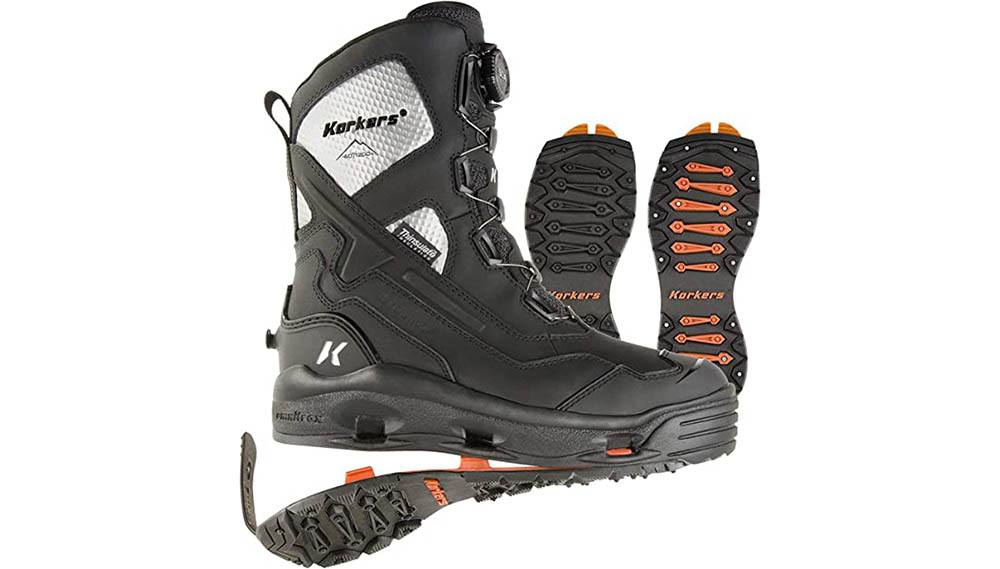 While not a traditional snowmobile boot, these boots from Korker are something you should look at for a warm, dry boot that has tremendous support for activities on the sled and off. These boots feature 1200g of 3M Thinsulate insulation for maximum warmth of your feet while out on your sled, and the 100% waterproof construction ensures that your tootsies stay dry. If you venture out and feel a little chill in your feet, don't fret because for additional warmth, Korker has integrated Farenheight Heat Warmer compatibility into their premium aerogel frost barrier footbed. One of the best selling points of these comfy winter boots is that they're available with their OmniTrax 3.0 Interchangeable soles. You'll get one set of Winter Rubber Lug soles and for those icy days, you can swap the soles out for the IceTrac Studded Rubber Lug soles that feature a total of 332 carbide studs to give you solid traction on the slippery stuff.
Why is the Boa lace system better than traditional laces?
In one word, simplicity. The Boa lace system allows for tightening of your boots with simple turn of a knob, quickly and evenly. No more fiddling around with two laces, trying to pull them together with frostbitten fingers. Even with gloves on, you can secure and even tighten the boots if they settle after a little bit. They're just easy and convenient.
What are the most important factors to look for in boots?
First and foremost for us, you want your boots to be warm. Why bother spending the money on them if you end up with frostbitten toes at the end of your riding day. Your boots should have plenty of insulation in addition to being 100% waterproof that helps to keep your feet warm, and of course with all of this you want your boots to be comfortable. Think that you'll be in these for hours and how much can you really enjoy your riding if your feet are killing you. Finally we like our boots to have a good sturdy sole with plenty of traction. Remember that you're not on your sled the entire time of your riding adventures. You want to have good traction while you're taking your breaks as well.
Additional Resources
Recent Updates
10/18/2022: Removed obsolete product, added new product (Korkers Polar Vortex 1200, FXR Black Ops X-Cross Pro, and CastleX Charge Atop), Added FAQ
---
We are committed to finding, researching, and recommending the best products. We earn commissions from purchases you make using the retail links in our product reviews. Learn more about how this works.