Ken Block Dies In Snowmobile Accident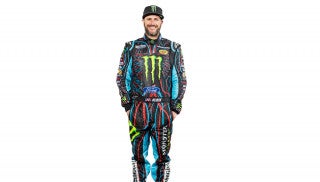 Ken Block, the driver behind an empire of hooligan driving videos and a co-founder of DC Shoes and the Hoonigan stunt driving brand, has died in a snowmobile accident.
Details are limited, but it seems Block was alone at the time of the accident, but on a group ride with friends. Reports indicate Block's snowmobile flipped backwards and landed on him as he attempted a steep hillclimb. He was declared dead at the scene of the crash.
Block, born in 1967, competed in skateboarding, snowboarding, and motocross events over the years, but was best-known for his rally driving career, which kicked off in 2005. Block was Rally America Rookie of the Year for the Vermont SportsCar team; teamed up with Travis Pastrana, Block went on to form Subaru Rally Team USA. Over the next decade, Block tore up the rally racing scene around North America and also entered WRC events, X Games events, FIA Rallycross and World Rallycross events, and appeared on Top Gear. He raced the Baja 1000 as well, earning a fourth in the trophy truck category in 2021.
He started as a racer, but Block was best-known in recent years for his stunt videos promoting gymkhana stunts. He also appeared in several video games.
While most of these adventures were based around dirt or pavement, Block did hold the record for the world's fastest snowcat, a tracked Ford Raptor. See it below:
This wasn't the only modified snowcat that Block built. See his tracked Can-Am Maverick below:
Although Block was not as well-known for his snow adventures, he certainly enjoyed riding in winter as much as he enjoyed driving the rest of the year, and we wish to extend our condolences to his family and friends and fans at this time.