2021 Polaris Switchback Assault 146 vs. Arctic Cat Riot 8000: By the Numbers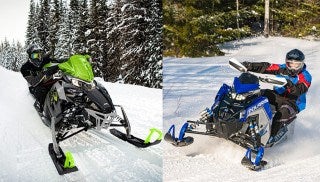 Battle of the 50/50 crossover snowmobiles
The 2021 Polaris Switchback Assault 146 and Arctic Cat Riot 8000 compete head-to-head crossover segment. Let's see how they compare…by the numbers.
Crossover sleds have turned into a very big business. Blending the best of trail and backcountry machines, crossover snowmobiles are just the ticket for someone who doesn't want to lock themselves into a specific lifestyle.
Two examples of rigs their helpings from both ends of the trail buffet are the 2021 Polaris Switchback Assault 146 and Arctic Cat Riot 8000. Packed with off-trail goodies, they're able to let loose and have a bit of fun in the powder but won't beat you (or the groomed trail) up on the way back to camp.
While some crossover sleds lean more towards off-trail riding, these two competitors are in the 50/50 category – for riders who want something equally adept on the trail and off.
Power and Performance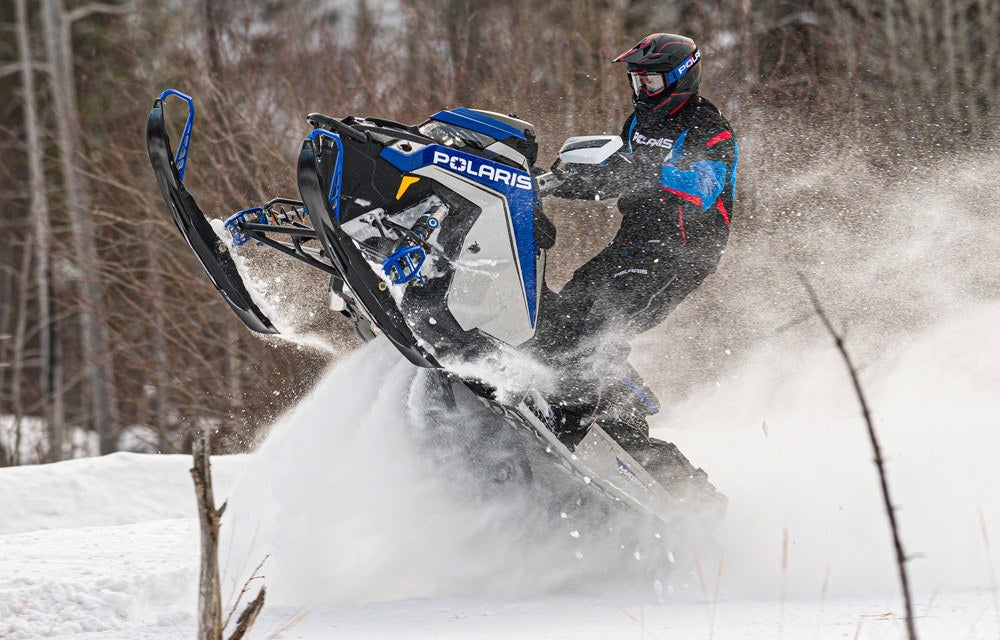 Under the Polaris composite hood is a liquid-cooled 840cc twin, essentially a bored-out version of the 650-class Patriot engine with which it shares piston stroke. The company boasts this mill delivers quick throttle response while the Cleanfire injection system means it should light at the first flick of its ignition key.
Arctic Cat has enjoyed adding extra zeros to its model designations lately, putting the 8000 sticker on machines with a 794cc engine. This two-stroke has dual stage fuel injection but it's worth noting AC recommends a minimum of 91 octane in the Riot 8000's tank. Be sure to stick a few bottles of octane booster in your cargo bin, just in case the gas station in Nowheresville only serves regular.
Suspension and Track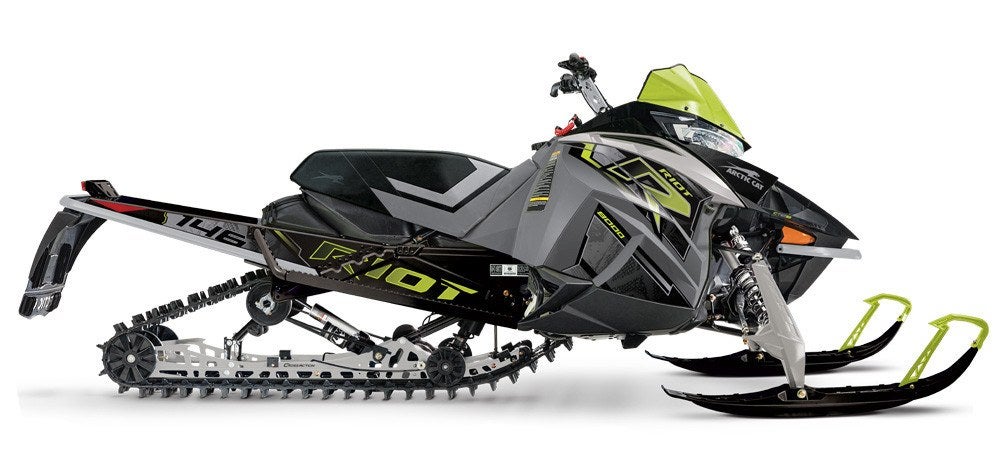 Polaris has made a lot of noise about the Matryx platform, deployed here with 2-inch Velocity front shocks and like-sized suspenders on its 146-inch track. Front travel is about 9 inches but the track can yawn a good 16 inches, which is at least as wide as your author used to yawn in match class. The 146-inch track on the 2021 Polaris Switchback Assault 146 can be fitted with a number of different lugs from the 1.35-inch Cobra Clipped to a 2.0-inch crossover unit.
Billed as an Arctic Race Suspension, the Riot 8000 uses 1.5-inch diameter shocks all around, supplied either in-house or by Fox depending on the application. It has the same front travel as the Polaris, but a bit less rear travel at 13.5 inches. The 15-inch wide track is 146 inches long and lugs vary from 1.35 to 1.6 inches. Skis are 7-inch wide G2 ProClimb units.
Size & Weight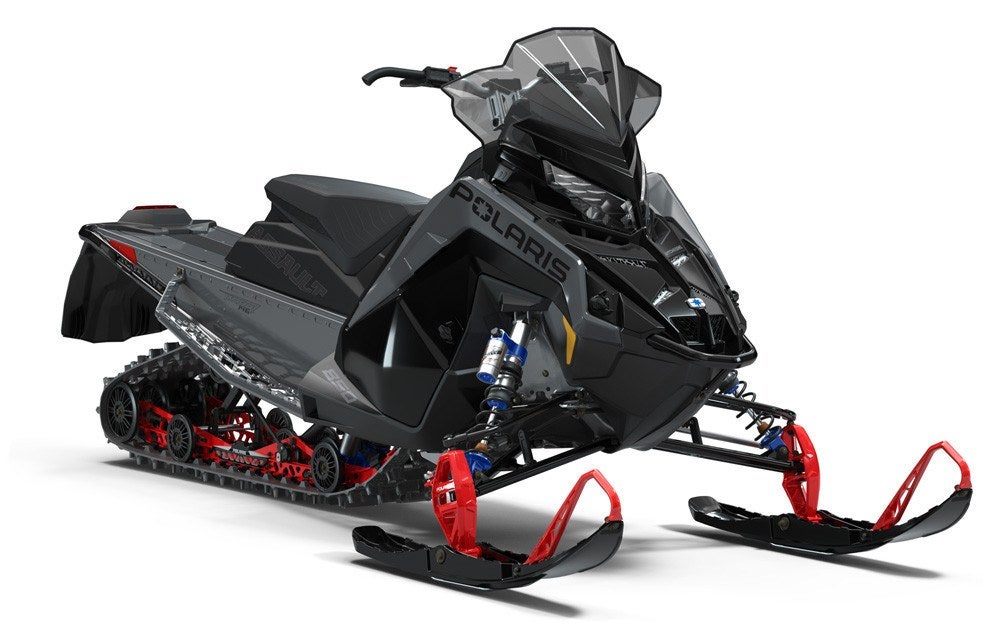 Dry weight of the 2021 Polaris Switchback Assault 146 is listed at 476 pounds, so bank on 500+ by the time fuel and lubricants are added. Overall height is 54.5 inches with a 47-inch wingspan. The entire sled stretches 125 inches in length. In terms of stability, the ski center distance is 42.5 inches.
2021 Arctic Cat Riot 8000 owners will be doing a bit extra heavy lifting when they get bogged down, as their sled has a roughly 520-pound dry weight. Listed in the same order as the Polaris for easy comparison, overall chassis height is 48 inches on a 48.5-inch width. Chassis length is 132 inches and the ski stance can be adjusted between 41.5 and 43.5 inches.
Comfort
Built upon the all-new Matryx platform, Polaris claims a breakthrough rider dynamics thanks to a snocross-inspired cockpit that reduces effort while also improving rider connection to the sled. A tremendous glove-touch compatible application of the Polaris RideCommand system is placed front and center, packed with configurable gauges and a ton of maps. Six projector beams peep out from the NightBlade headlight for after-dark rides.
Speaking to the off-trail half of these 50/50 sleds, the Riot 8000's running boards are reinforced with an extrusion for added rigidity for those times when you get big air. An optional rear rack permits owners to haul more gear on this single-rider machine. Look for a set of deluxe digital gauges to keep tabs on that high-revving twin.
Styling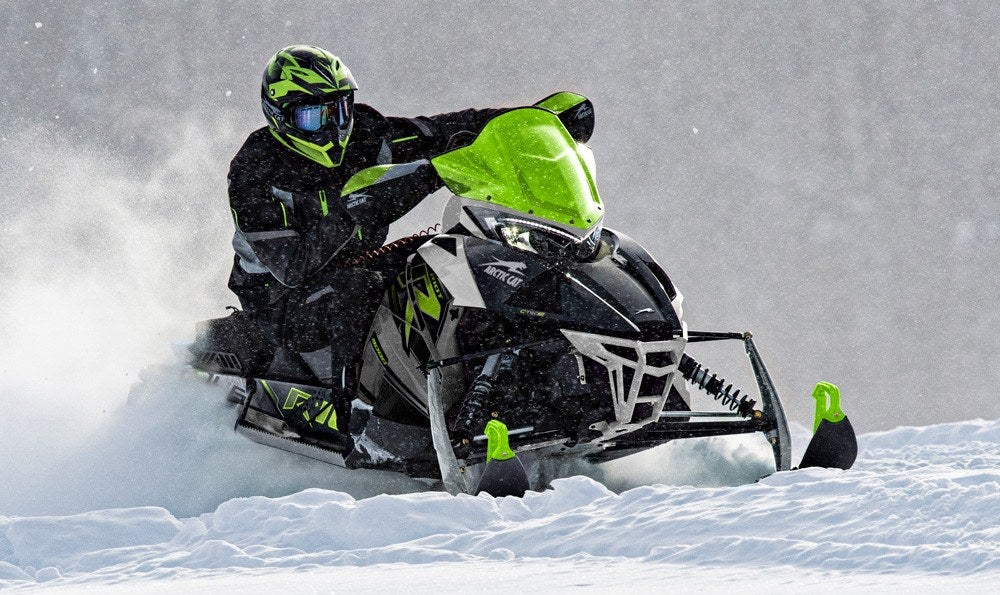 The new Matryx platform provides an upright and almost forward-canting look to the front cowl and windshield on the 2021 Polaris Switchback Assault 146. Its nifty NightBlade headlight looks mean and pairs well with the signature Polaris pointy-edge styling cues. Seven base color schemes can be paired with a handful of tunnel and rail colors permitting you to build a unique sled.
Traditional shades of Arctic Cat green are all over the Riot 8000, including an available green tint to the windshield. A blend of orange and blue are also on tap for those who don't care for the typical AC paint. Riot's headlights sweep back around the cowl and some of its windshield options stand less tall than the Polaris.
Pricing
Both these sleds are right on top of each other in terms of price. Polaris prices the 850 Switchback Assault 146 at $15,799, while Arctic Cat places a price tag of $14,695 on its Riot 8000.