Ontario Snowmobile Training Is Only Available Online Now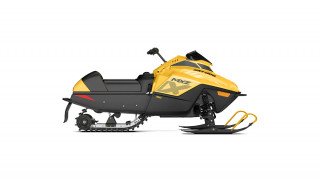 Looking to ride a snowmobile in Ontario, but you don't have a drivers licence? The province's snowmobile training course has moved completely online this season, with no in-person classes available at this point.
While those aged 16 and older must have a drivers licence to ride a snowmobile on public land in Ontario, this raises a problem for the under-16 age group, as they are not old enough to drive a car yet. As the online training website says: "In Ontario, all snowmobile operators who are at least 12 years of age and under 16, or if you are 16 years of age and older but do not possess a valid Ontario drivers license, you are required to take an Ontario-approved Snowmobile Safety Course and obtain a Motorized Snow Vehicle Operator's Licence (MSVOL) before riding on public lands."
Logically, then, Ontario's program is open to kids as young as 12 years old. The course is run by the Ontario Federation of Snowmobile Clubs.
The online program began development through the COVID-19 pandemic, and now the classroom sessions that were previously available are discontinued. The online program uses a combination of illustrations and animations to liven up the training, delivering the same content that was previously available in-person—trail etiquette, rules and safety and a lot more. Now, though, it's at your own pace and your convenience.
Fee for the program is $40, and once you've passed the online exam, you can print off your certificate and you're on your way. You can find more details here, and register here. Note that the course is intended for Ontario residents only.