Four Ski-Doo models recalled
Problem with fuel system has resulted in four explosions
Story by Snowmobile.com Staff, Apr. 11, 2008
Email a friend
Print Friendly

RSS
Bombardier Recreational Products Inc. (BRP) of Valcourt, Que. has recalled several of its Ski-Doo models due to a problem with the fuel system that has led to four fuel tank explosions. Nearly 2,000 snowmobiles in Canada are affected by the recall.
All four explosions occurred in Rigolet, which is on the northern coast of Labrador in Canada. An investigation has determined that under extremely cold and dry weather conditions (temperature of less than -30°C (-22°F) and less than 50% relative humidity), electrostatic charges were accumulating on components within the fuel tank when the engine was left idling.
According to Transport Canada and BRP, at a certain level of accumulation, charges dissipated suddenly, sparking in the vapor space volume of the partially filled fuel tank. This ignited a combustible mixture of gasoline and air, causing an explosion.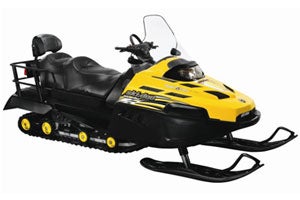 Under normal circumstances, the air/fuel ratio of the vapor space of a fuel tank is overly rich in fuel, which inhibits ignition of the mixture. However, in the Rigolet cases, the fuel came from the same single bulk storage tank. The storage time between the moment it left the refinery and the time it was used in the community of Rigolet exceeded eight months. This lengthy storage period effectively lowered the vapor pressure characteristic of the fuel and allowed the vapor space mixture in the fuel tank to reach the ignitable range. BRP says this was a significant factor in the explosions.
The following four models have been recalled:
Expedition TUV 600 HO SDI - 2005 (Model Number: FB5A & FB5B)
Skandic SWT V-800 Yellow - 2007 (Model Number: FP7B)
Skandic SWT V-800 Yellow - 2008 (Model Number: LS8B)
Skandic SUV 600HO SDI Black - 2008 (Model Number: B8H)
Owners of these snowmobiles should immediately stop using them and contact an authorized BRP dealer, who will replace the current fuel filter assembly of the fuel feed line to the engine with a new assembly in which the hoses and quick connectors feature components having a higher electric conductivity. BRP says this will electrically bond the components of the fuel delivery system and connect them to the ground via the fuel filter bracket that is fastened to the chassis.