Christian Brothers Racing Report: Duluth National Snocross

The Christian Brothers snocross racing team did not get off to the strong start it was looking for at the Duluth National Snocross in Duluth, Minn.
Fresh off a Thanksgiving Day of turkey, stuffing and football, fans and racers funneled onto the hill at Spirit Mountain Friday night for the Dominator race, a head-to-head bracket-style elimination event that held a $10,000 check for the winner. CBR riders Logan Christian and Garth Kaufman were eliminated by two riders who ultimately faced each other in the money round.
"The Dominator was a lot of fun," says Garth Kaufman. "It's the first race of the season and it helps us get our feet wet and get the sleds dialed in."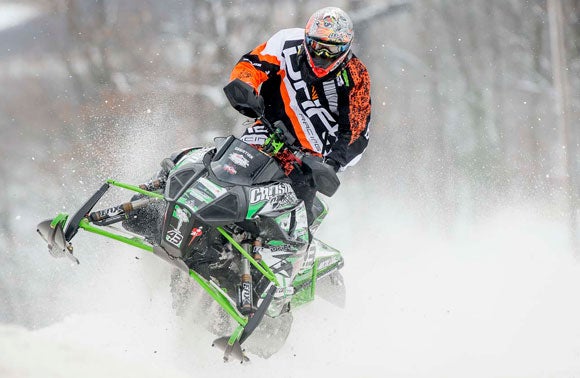 On Saturday night the team came back to compete in Round 1 of 16 events scheduled for the 2012-2013 season. Christian went 2-3 in heats on his DRIFT Racing/Troy Lee Designs-backed Arctic Cat, grooming his path into the front row for the final. Kaufman had trouble getting momentum on his Michelob Golden Draft Light-sponsored Arctic Cat and ended up in the LCQ where he came up short on a transfer spot. With snow falling under the lights, the green flag flew and Christian powered off the line into a spot near the front of the pack and held his ground for the entire race, claiming a 7th place finish.
"It was such a short track we were into lapped sleds early in the race, so it was hard to tell what place I was in," says Christian. "I just kept pushing and hoping for the best and it paid off with a good finish."
Round 2 took place Sunday afternoon under overcast skies. A couple of mid-pack finishes landed Christian in the LCQ which he won, earning a spot in the back row for the final. Kaufman's day went bad when he got t-boned by another racer during heat racing. The impact knocked his side panel loose which resulted in a black flag. With a large field of racers on hand for the opener the non-finish meant he wouldn't even earn a spot in the LCQ at Duluth, a race where he's stood on the podium in past years.
"We did everything right, the sled was working and I felt good," says Kaufman. "The circumstances didn't play out like we hoped and that's how it goes sometimes. We will look forward to the next race in Bessemer, Michigan."
Sunday's final was another chaotic one and Christian ran as high as fourth place until falling back to 10th.
"I won the LCQ and I got a real good start in the final from the back row," says Christian. "The track was so small, you had to be aggressive to pass anyone and that meant banging them. Unfortunately I fell victim to someone trying to pass me and got knocked off my sled."
Evan Christian went 2-3 in heats and went on to claim a podium finish in the Transition 8-12 class. CBR-backed rider Trent Wittwer also scored a third-place podium finish in the Junior Novice 10-13 class.
"The team had a great weekend," says team co-owner Dwight Christian. "Two podiums, strong heats, solid finals, the sleds are working great and everyone is healthy. We need some luck to go our way, but we are heading into the next race in great shape looking to take some more podiums!"
Up next for the Christian Brothers Racing team is the ISOC Blackjack Snocross National in Bessemer, Mich., Dec. 7-8, 2012.