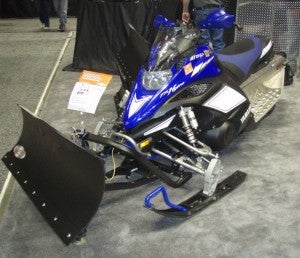 We were at the Indianapolis Dealer Expo recently when we came upon an interesting snowmobile product. Cycle Country, a company known for making ATV and UTV accessories, was displaying a Yamaha FX Nytro outfitted with a plow it calls "Ski Force."
The design was taken largely from one of the company's ATV plow systems. Like Cycle Country's ATV plows, the snowmobile plow was attached to the machine via the front A-arms. A driver-controlled remote operates the winch, which raises and lowers the lightweight plow blade. You can see the Ski Force in action in a video below the jump.
If you've got a snowmobile with reverse and front A-arms, the Ski Force (MSRP $699) should fit your machine.