The Best Modular Snowmobile Helmets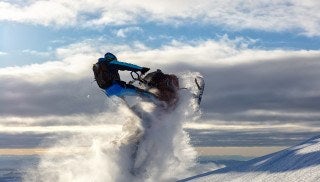 Find the right modular helmet for your needs and budget
When it come to picking the right piece of gear for your next motorized, snow covered, back country adventure, there is none more important than a quality modular snowmobile helmet.
Snowmobiling offers challenges that other motorized sports don't, especially when it comes to gear. When looking at helmets, we need something that provides the safety we must have for riding at higher speeds, often in tight trails, and with other riders close by. When you add in the cold, which can be extreme, well, it puts a lot of demands on what type of helmet we want to use. Modular snowmobile helmets offer safety, comfort and versatility that can make the ride more enjoyable. Here are five of the best modular snowmobile helmets that can make your riding adventure more fun.
Lead photo courtesy Wlad Go/Shutterstock
1. Editor's Choice: Castle X EXO-CX950 Electric Modular Snowmobile Helmet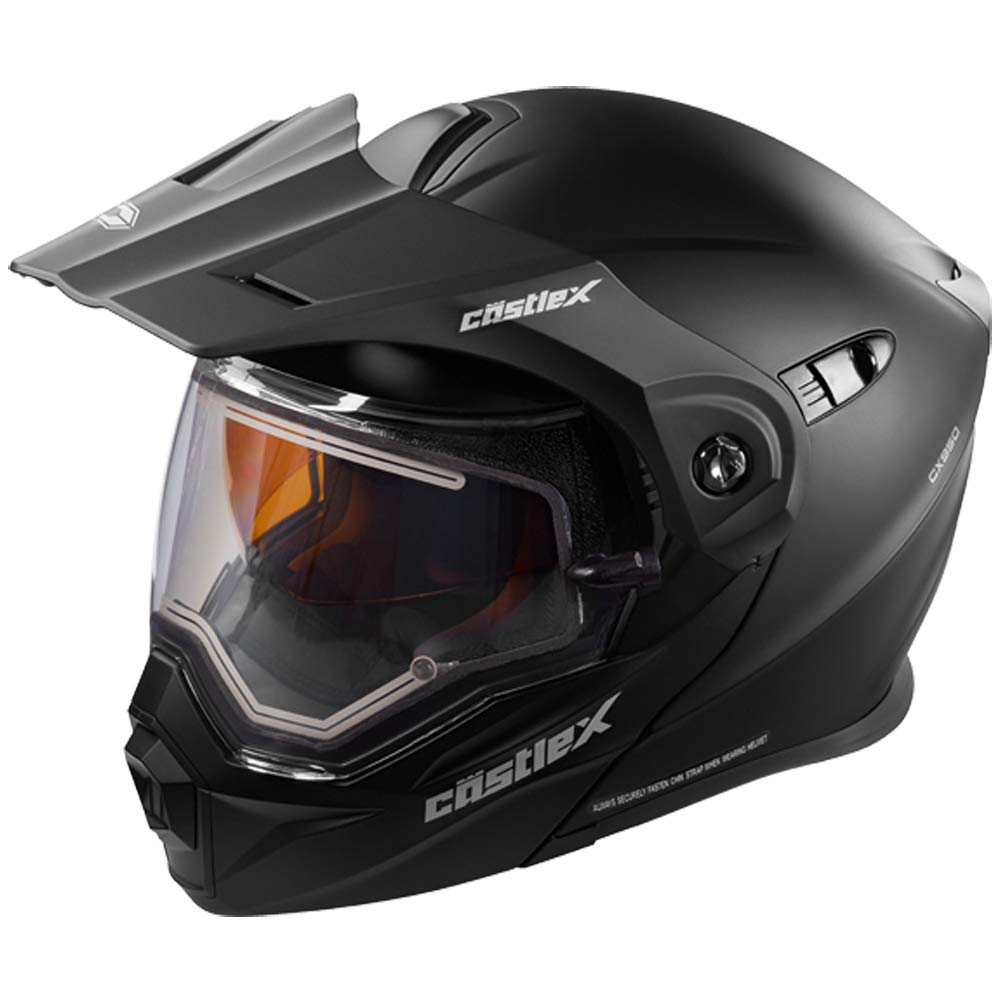 When it comes to modular snowmobile helmets, the Castle helmet is, in a word, sweet! It has an advanced LG polycarbonate shell that was developed by Scorpion. It has an easy, flip-up chin bar and an electric, dual-pane lens. The ultra-wide eyeport allows a full field of vision and allows riders to wear most any prescription glasses. If you prefer not to use the visor, it can easily be removed. The helmet's Kwikfit padding is antimicrobial and allows for a custom fit. There are ports for adding communication systems, too. The chin skirt and breath box are included and the lid has a five-year warranty. This is easily one of the best electric modular snowmobile helmets available.
2. Best Dual Sport Inspired Helmet: 509 Delta R3L Ignite Helmet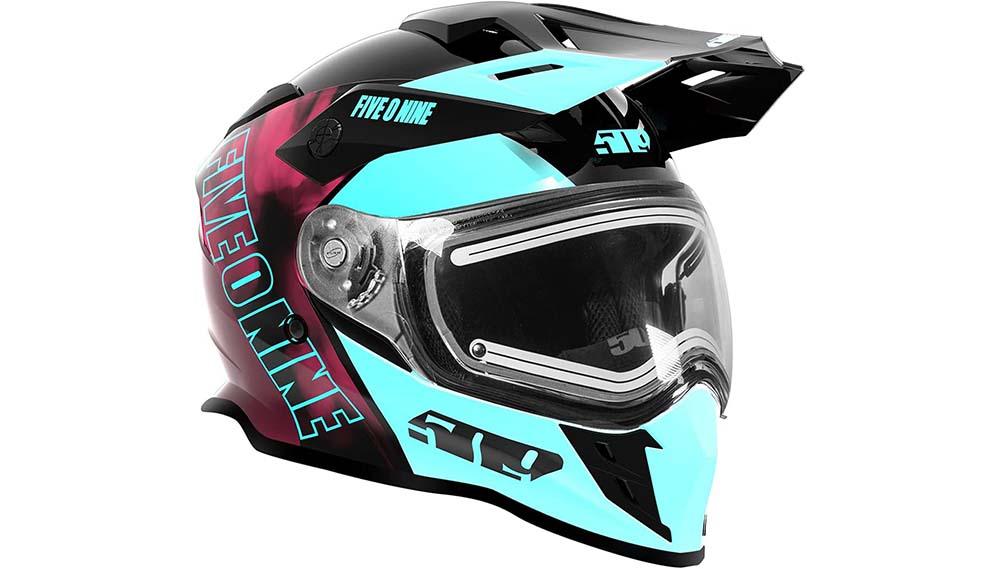 If you want to talk innovation, you need to include 509 in the conversation. The Delta R4 Ignite helmet is a different take on a modular snowmobile helmet design and it flat works. It comes with the company's Ignite dual-pane heating technology for clear, ice- and fog-free vision in sub-zero conditions. 509's face shield is oversized for a maximum field of view. It flips up instantly with the push of the glove-friendly button. The helmet was designed for warmth and convenience and that includes 509's climate control venting and their famous, glove-friendly Fidlock magnetic strap buckle. All these features, as well as being one of the best looking lids, makes the 509 one of the best modular snowmobile helmets on the market.
3. Most Hi-Tech Helmet: HJC i90 Modular Electric Snowmobile Helmet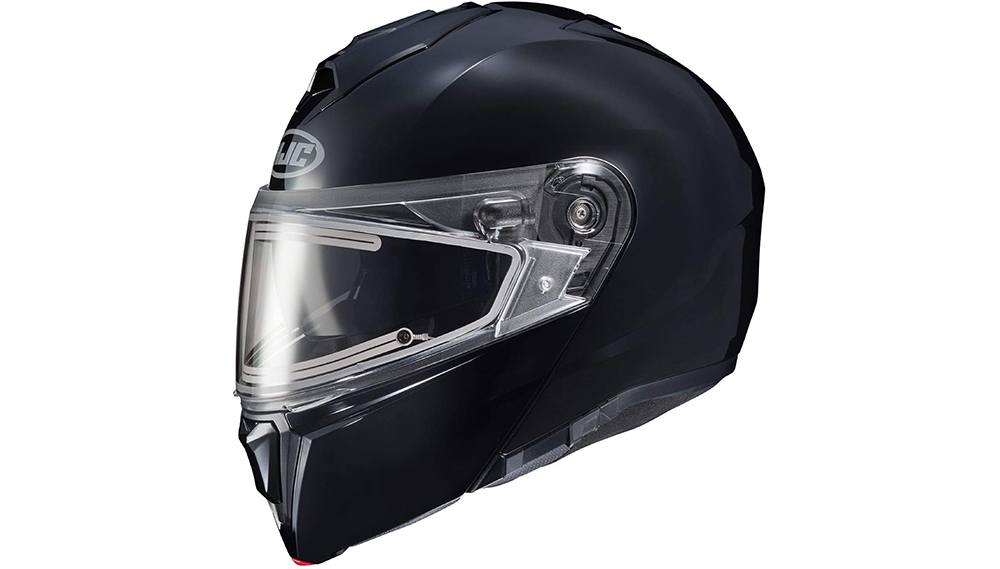 When it comes to making top notch helmets, HJC is a veteran in the game and it shows with the high tech features that they've included in their i90 Modular Electric Snowmobile Helmet lineup. To the untrained eye, the i90 looks like any traditional touring helmet but this helmet is loaded with features like HJC's HJ-33 Dual-Lens Frameless Snow Shield that is both AC and DC current compatible, glove friendly center one-touch open/close locking system, and Advance Channeling Ventilaiton (ACV) with seven intake and two exhaust vents built into the helmet. This helmet is also designed to readily accept the SMART HJC 10B and 20B Bluetooth communicators. With these features, the HJC i90 has definitely earned its place on our list of best modular snowmobile helmets.
4. Typhoon TH158 Dual Visor Snowmobile Helmet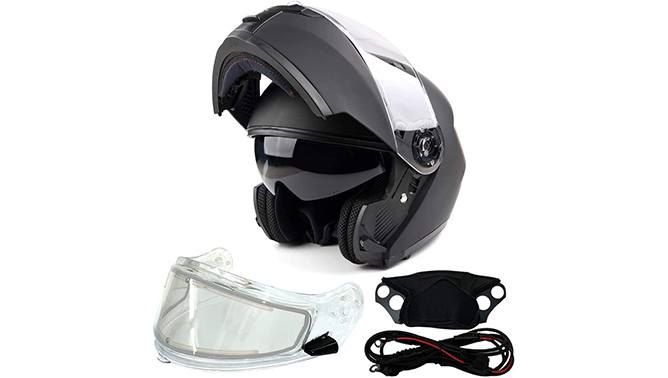 While you might not know the name Typhoon as well as some other helmet manufactures, it doesn't mean that they don't make a good helmet. The TH158 dual visor snowmobile helmet is proof of that. The Typhoon TH150 helmets feature a double pane shield to prevent fogging, that is also coated with an anti-fogging agent to ensure you have the clearest vision possible on your next snowy ride. The helmet also includes an adjustable breathbox and chin skirt to help keep your face warm and protected from the wind. As for the modular feature of the helmet, the face easily opens with an easy to actuate button and an integrated retractable sun visor is perfect when you need to ride into the sunny afternoons.
5. Ski-Doo Modular 3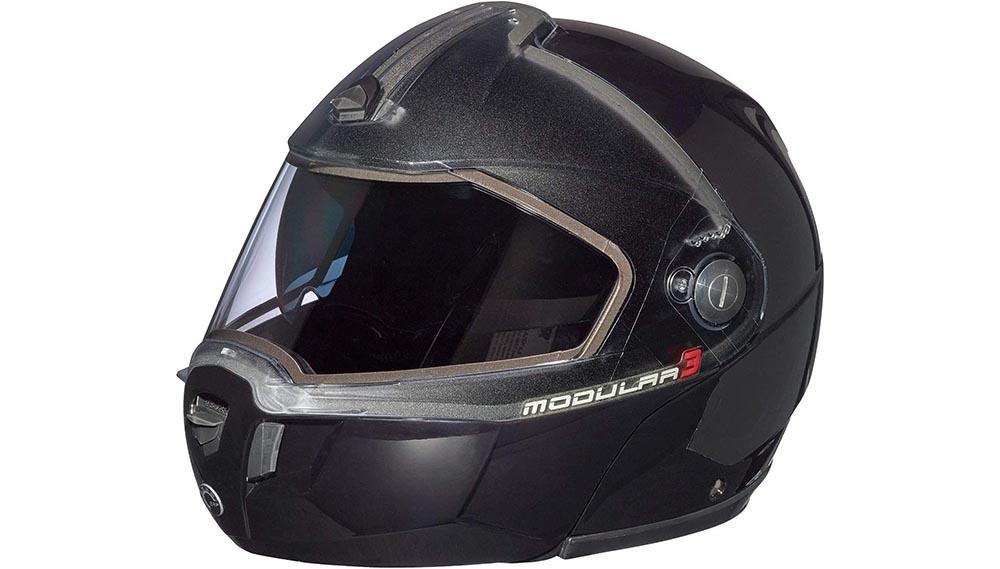 No talk of the best modular snowmobile helmets can really take place if it doesn't include something from Ski-Doo. The Canadian snowmobile manufacturer produces some of, if not the most advanced helmets on the market for riding in even the most extreme conditions, and the Modular 3 is no exception. The Modular 3 features a Polycarbonate shell that is both tough and light weight, a optically-correct dual lens visor, an adjustable sun shield that raises and lowers with the touch of a button, and a convenient quick-release chin strap.
Additionally, it features a front push-button release that is integrated into the jaw section along with a Breath Evac fog-resistant mask system. One of the best features is that it is also ready to receive most Bluetooth communication systems so you can stay connected with all of your buddies on the trail. Regardless of what brand of sled you ride, this is a helmet you should look into.
What Makes the Best Modular Snowmobile Helmet?
Above all, the most important factor for a helmet is comfort. It should still fit like a helmet should – snug – but it should be comfortable to wear. The next factor is quality. You want the helmet to do its singular job – keep you safe. If a helmet can't provide a serious level of protection for your head, it's not worth much. It's for that reason that cost isn't a factor in determining the best helmet for you. Wear the best helmet you can afford, but always wear a new helmet. Never buy a used one because you don't know what it's been through. Any helmet, no matter the cost, needs to be replaced if it's ever been dropped or been in an accident.
What is the Difference Between a Motorcycle Helmet and a Snowmobile Helmet?
When looking at modular helmets, the only real differences are that motorcycle helmets don't have the heated or dual-pane visors to deal with fog and frost. They also don't often come with any sort of breath box to keep your face from freezing. Structurally, they're the same, so if you have a good street helmet and want to wear it out riding the sled, you're good to go. You just might get a little cold.
What is the Warmest Modular Snowmobile Helmet?
The most important factor with warmth and helmets is blocking the wind. You still need some ventilation for comfort, but if you can block the wind, you'll be pretty warm in any helmet. Of course, from this list, the Ski-Doo Oxygen is going to be the warmest due to its overall design. But with any helmet, as long as your skin is covered, you should be pretty comfortable.
What Key Features To Look For In A Modular Snowmobile Helmet?
Aside from a good fit, which is the most important, key features to look for are glove friendly helmet and shield opening, electric shield for anti-fog, and good ventilation properties to help keep you comfortable while out riding.
Additional Resources
Recent Updates
10/11/2022:Updated product links, removed obsolete items and replaced with new products (509 Delta R3L and Ski-Doo Modular 3 Helmet)
1/26/2022: Updated product descriptions, removed obsolete product, updated product links, added new product (typhoon modular helmet)
10/5/2021: Updated product descriptions, ranked products, updated product links, added resources, and additional question to FAQ, replaced Bell helmet with HJC i90 modular snowmobile helmet.
---
We are committed to finding, researching, and recommending the best products. We earn commissions from purchases you make using the retail links in our product reviews. Learn more about how this works.