7 Things Modern Sledders Won't Need to Worry About
If you start snowmobiling this season here are 7 features of snowmobile equipment you may never have experienced
Story by Jerry Bassett, Photography by Jerry Bassett Archives, May 24, 2012
When I bought my Jeep Wrangler sans power anything, my teenage son asked me where the switch was to lower the window. I thought about that when I recently read an article about technology things that modern kids will never have to worry about. Like my son, how many kids would know what a roll-up window handle in a car does? Or what vent windows were for on a pickup truck? When watching old 1950s TV shows, don't people using phone booths seem odd? And in this age of cellular phones, did you ever wonder how Clark Kent would change from everyday newspaperman into his costume as Superman? Eh, probably not.
That article caused me to wonder about the experiences modern day snowmobilers will miss as the sport continues on. Did you ever consider that if a person began his snowmobiling career this season there would be things that you've experienced that he would never experience, unless, of course, that beginner started out on vintage sleds. Then he'd gain knowledge of past things that many sled head veterans took for granted.
Thinking about some of the things a modern day first time snowmobiler would never experience caused us to generate a list of things that a newbie would miss.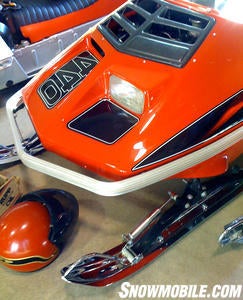 Leaf spring Suspensions: Once used on virtually all sleds, you no longer see leaf springs used as suspension pieces for snowmobiles. There was actually quite a bit of technology applied to the venerable leaf spring system. To make the front ends lighter and more responsive, snowmobile manufacturers sought out different varieties of steel to make up the leaf springs. There were tapered leaf spring designs and there were breakthroughs like the move from multiple leafs to one-piece spring support. While most sleds feature a set of leaf springs per ski, a few manufacturers went to a singular transverse leaf design that offered travel for both skis. One of the last such applications was seen on the Yamaha Snoscoot, but the idea also graced the front end of the lightweight SnoPony.
About the only place a modern snowmobiler will see a leaf spring is as an overload spring on a utility or touring sled.
Steel Skis: While we're at it, how about skis made of steel? The industry scored a big breakthrough when it decided that plastic skis offered greater advantages to the ubiquitous steel ski. The switch to plastic skis may have been a "western powder" thing. In the ever-present desire to reduce weight and improve snow-ability, powder riders look for any opportunity to shed ounces.
Although steel skis could be stamped out effectively and they could be easily replaced, manufacturers found that plastic skis were not only lighter but also created less friction and made sleds faster overall. The plastic ski started to be seen on higher performance (and higher-priced) sleds where weight savings and added speed counted the most. Nowadays it is extremely rare to see a steel ski on any sled made this century.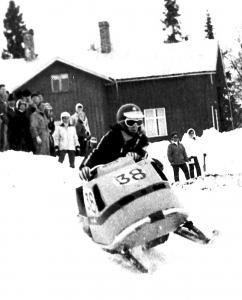 Bogie Wheels: Where did all the bogie wheel suspensions go? To the vintage supply houses. Bogie wheels still remain in the guise of support wheels on modern sled suspensions, especially around the axles and to relieve friction wear on slide rail hyfax. But once upon a time bogie wheels were "the" constant in snowmobile suspensions. The beauty of the bogie wheel suspension came in its versatility. Bogie suspensions could carry you over deep snow, glare ice or no-snow conditions. They were relatively simple and very cost-efficient. But they were bumpy and left little in the realm of handling.
Arctic Cat went away from the bogie wheel suspension early on and created quite a controversy amongst brand loyal snowmobilers. Ski-Doo stayed with bogies for an extended period and it was very common for Cat and 'Doo owners to battle on about the merits of their sleds based on the suspension designs. The Cat slide suspension offered an improvement in ride versus bogie suspensions, but it was more limited in its use. Of course, that argument still goes on.
Cleated Tracks: Northern Minnesota snowmobile manufacturers believed that the only good track was a cleated track. Whether the track featured three bands of rubberized fabric held together across the bands by a full-width or two-third cleat design varied by sled maker. Polaris liked the full width cleat, while Arctic Cat favored the two-thirds cleat design.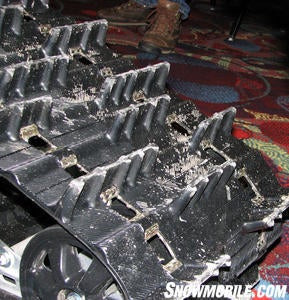 The cleated track was hard to beat when it came to grabbing snowy terrain, but when you came to an icy corner, hang on as the metal cleats wanted to skate and slide the sled in a whipped frenzy.
Like the bogie wheel suspension versus slide rail suspension battle, there was a big battle in belief over non-cleated rubber tracks versus cleated track designs. Since Ski-Doo was the Number One selling sled early on and the biggest proponent of rubber tracks, it was again mostly a battle between Ski-Doo and Cat riders. When Yamaha entered the sled business in earnest, the company sided with the Ski-Doo way and went with non-cleated rubber tracks.
When it came to racing, both Polaris and Arctic Cat successfully used traction products on their cleats to get them to handle in the corners. Of course traction product manufacturers also designed pieces for the rubber tracks to negate the cleated track advantage.
Today, however, cleated tracks have all but disappeared as track technology advanced, but you can still the influence of cleats in some of the modern day deep-lugged rubber track design patterns.
Welded Handlebars: Most modern sleds feature handlebars that can be adjusted via a center pinch plate or changing a riser bar. The age of one-size-fits-all welded handlebar designs seems to have ended. If you have a chance to visit a vintage sled event, note the number of non-adjustable handlebars. Of course, based on the primitive seating position of the 1960 and 1970 sleds, being able to move a handlebar would not have mattered very much.
Back in the "golden days" of snowmobiling, you adapted to the handlebar setting. Nowadays with optional risers and even replaceable handlebar designs, you can adapt the sled to you. Arctic Cat with its IRP (Infinite Rider Positioning) and creative telescoping handlebar offer options that definitely make old-style welded to the steering post handlebars a distant memory.
Hand Warmers: If you ever thought that snowmobiling could be really cold, try a vintage pre-handwarmer sled. Thank goodness that transition happened. Praise be to Jim Hollander and Hot Grips, which pioneered the concept of heating snowmobile handlebars back in 1976. While somewhat slow to catch on at the snowmobile manufacturer level, heated handlebars and throttle thumb warmers are not only now standard fare but actually undergoing a bit of a revival in design.
When warmers actually caught on as necessary standard equipment, they usually featured a two-step treatment of "high" and not high. Yamaha pioneered the idea of digitally controlled and multi-setting heating elements. Today we see Polaris and others offering heat out to the bar ends and more variable heat settings for improved ride comfort.
Heated grips seem like a no-brainer as a concept, but it took quite a few years to get us to having them as standard equipment.
Reverse: There are still people resisting the idea of reverse gear on a snowmobile. However, most likely there are more sleds with reverse than people resisting the concept. In the good old days, when sleds weighed about 250 pounds, yanking a sled around to change direction wasn't that big of a deal. Now that sleds weigh double that on average, it is a big deal and fortunately Ski-Doo's Rotax engine group came up with an electronic reverse for its two-strokes. With virtually no weight penalty to having a reverse gear, most folks prefer it.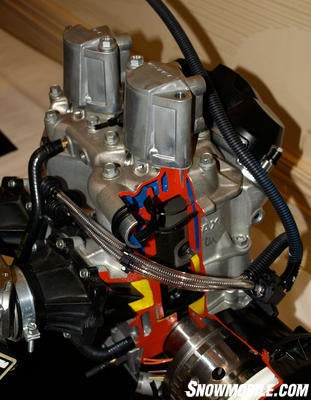 Prior to RER (Rotax Electronic Reverse), adding reverse added weight and mechanical complexity. The idea of adding weight for reverse proved repugnant to powder riders, but the electronic reverse system has been embraced.
Today, most new snowmobilers can't believe that sleds didn't come with it as standard equipment.
Other things first time sledders may never experience if they become snowmobilers now may include things such as old-fashioned Tillotson carburetors, or carburetors in any form for that matter. Electronic fuel injection and the promise of direct injection offer advantages that carburetors never can. We can say good-bye to pre-mixing oil and gasoline as modern sleds are either oil-injected two-strokes (thank you to Yamaha for pioneering the concept in sleds) or four-stroke engine designs. And modern hydraulic brakes far surpass the old band brakes.
In the future, features that we now have as options may well be standard fare. Multi-purpose digital gauges, electronic fuel gauges, adjustable seats and footrests come to mind. It was fun to experience the old ways firsthand, but we much prefer the sleds of today and look forward to the sleds of tomorrow.