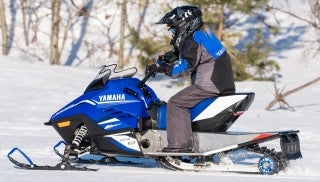 What is the market for transitional snowmobiles?
Admittedly, Yamaha made its point when introducing its all-new SnoScoot to an assorted collection of snowmobile writers this past January. This new 200cc trail-ready entry for model year 2018 serves as the gateway snowmobile for both Yamaha and Arctic Cat. The Cat version carries its own moniker, ZR 200, but remains essentially the same as Yamaha's SnoScoot.
Yamaha wants us to believe that there is a shortage of options for youngsters or newbies that precludes them from moving up from a kid-sized Kitty Cat, ZR 120, SRX 120 or whatever. This dearth of low-powered entry level gateway snowmobiles may be holding back the youth of the snowbelt from taking a next step in their snowmobile riding evolution. Yamaha and Arctic Cat want the answer to that question of what do young riders graduate to after they outgrow that kid-sized sled to be their new 200cc option.
If, indeed, as Yamaha stated at the SnoScoot intro, those used Enticer 250s, Jag 340s, Ski-Doo Elans, original SnoScoots and such are truly used up, what is the next step for young snowmobilers? Is that hand-me-down 100-plus horsepower sport sled a real option for a kid coming off a Kitty Cat?
If you check for used sleds on line, you'll find a wide variety of options. But most won't be viable for a youngster. What shape is that used sled apt to be in? This isn't exactly like an online dating matchmaker site where the participants share the truth about themselves and hold back nothing. Yeah, right! No, online options remain buyer beware.
It may be possible to find such a good used sled at a dealership. You'll be taking chances on sled quality, but at least it'll have some backing from the dealership. Maybe.
Other than these two new 200s, what options does a youthful rider have today? In our view, there are some viable opportunities. Right away we recognize that the days of low-powered entry-level snowmobiles with 250cc to 440cc modestly powered sleds have gone away. Sort of.
Ski-Doo provides one option that gets readily overlooked. Check out the Ski-Doo MXZ Sport with the 600cc ACE four-stroke. Granted you could buy two 2018 SnoScoots for the retail price of the MXZ Sport 600 ACE, but if you had this sled for five seasons or so and shared it with a couple of up-and-coming younger riders, it could satisfy growth spurts taking your young snowmobiler from Kitty Cat through your 100-plus horsepower hand-me down sport ride. Well, that's a bit of an exaggeration, but what the Sport 600 ACE offers is a versatility not provided with the 200s. While your young rider can transition from a Kitty Cat to the ZR 200, where does that rider go next? You seem to be faced with the same dilemma.
What we seem to forget with the Ski-Doo 600cc four-stroke is its "learning key," which effectively dumbs down the drivetrain. You can have your dealer program the Sport 600's electronic "key" to minimize performance. As the seasons pass and your young rider progresses, you can make a change up to full-on performance, which will be about 60 hp. Don't overlook this option as it effectively offers you a full-sized trail-ready modern snowmobile with the performance parameters you'd get in an old-fashioned 340 or entry level fan-cooled 440 trail sled. When the youngster achieves the experience and abilities for riding, the sled offers growth to satisfy that level of competence. Double the cost of the 200, but double the useful life of the sled – youth to adult.
We admit that we tend to overlook that capability and doubt that Ski-Doo dealers promote the feature when selling these models. Like us, we look down on the MXZ Sport 600 ACE as a rental unit or a slow sport sled. Oddly, though, we favor our 2006 MXZ 550 when we know, logically, that the modern 600 ACE version surpasses it in virtually every way. Add in the functionality of the learning key and the 600 ACE makes good sense as a gateway sled for younger riders on their way to an 850 or bigger.
Looking over the list of 2018 models leaves us with few options that we'd want an 8-12-year-old controlling. If those kids are like we were at that age, moderate, controlled snowmobiling won't be the reality. They want throttle to the bars. Our next-door neighbor's little girl liked to hit the driveway berms with her Ski-Doo Mini Z and get big air. You really think your kid is more controlled?
Other options are few. Polaris has a fleet of 50-horsepower Indy 550s that could make sense. All feature dual carburetors and basic CVT drives. Too bad Polaris didn't offer a single carb Indy version to serve as a stepping stone sled. When the young rider became more accomplished, the twin carb setup could be added.
Cat's ZR 300 with its 65 hp 700cc liquid-cooled twin is about as minimal as Cat's 2018 line offers. And, Yamaha essentially has phased out its entry ride, the Phazer, which had 80 hp from a high-revving 500cc twin.
So, yes, Yamaha and Cat have a point about there being few gateway snowmobiles to transition riders from kid-sized to full-sized sleds. Oddly, though, previously no sled maker seemed overly concerned with this issue. Check out modern sled advertising and the sled maker product websites. Where are the family images, the club ride photos, the group riding? What you do see are sleds flying over powder, riders hanging out around the turns, etc.
Are the sled makers wrong and this writer's just an old fuddy-duddy (an old term!)? Perhaps, but despite the snowmobile industry's claim that this is a family sport and that it supports the family snowmobiling lifestyle, there has been marginal advertising support of that in recent years. Understandably, the sport has shrunk, leaving the snowbelt's deep snow areas as the prime marketing target. Action and adventure riding is where the industry currently is. Two-up touring, entry level low buck snowmobiling and offering viable transitional sleds for future riders comes in second to the demand of expanding sales in the prime market. Cat and Yamaha are taking a risk with their 200s, but where do those riders go after they use up those sleds? And, how big and viable is that gateway marketplace? We're about to find out how active the market is for a modern $4,000 200cc transitional sled. No matter how well-crafted it may be. Have you bought yours?